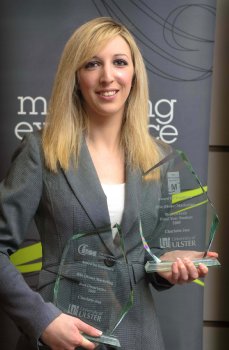 Six outstanding University of Ulster marketing students were recognised for their exceptional achievements at a special ceremony in the Jordanstown campus today.

The University's Department of Marketing, Entrepreneurship and Strategy annual Marketing Excellence Awards celebrate the dedication and hard work of marketing students from the class of 2008/2009.

Charlotte Jess, who won Best Overall Final Year Student and Best BSc Dissertation, acquired the position of E-Marketing Executive at Randox Laboratories in Crumlin just a few months after graduating last year.

"I thought the degree course was excellent and in particular the year-long placement at Translink proved totally invaluable – it was really thanks to this work experience that I got this job at Randox," she said.

"I'm really enjoying working here and I feel very fortunate as some of my friends are still looking for a job in marketing.

Professor Rodney McAdam, Head of the Department of Marketing, Entrepreneurship and Strategy said: "All of these award winners were outstanding students. For those who left university last summer, we are glad to hear today that many of them have gained employment in marketing.

"This is a day of celebration which brings together our students, family members, academic staff and sponsors."

The winners were:

Charlotte Jess, BSc (Hons) Marketing, from Carrickfergus
Marketing Institute of Ireland Award for Excellence - Best Overall Final Year Student
Chartered Institute of Marketing Award for Excellence - Best Dissertation

Claire McCamley, MSc Marketing, from Maghera
Envision Management Consultants Award for Excellence - Best Dissertation

Catherine Robinson, BSc (Hons) Marketing, from Ballymena
Hastings Hotels Award for Excellence - Best Overall Second Year Student

Emma Hawthorne, BSc (Hons) Marketing, from Carrickfergus
Property News Award for Excellence - Best Overall E-Marketing Student

Richard Kee, MSc Marketing and Entrepreneurship, from Dundonald
Wrightbus Award for Excellence - Best Overall Final Year Student

Dominic Darby, MSc Agri-food Business Development, from Belfast
Moy Park Award for Excellence - Best Overall Student