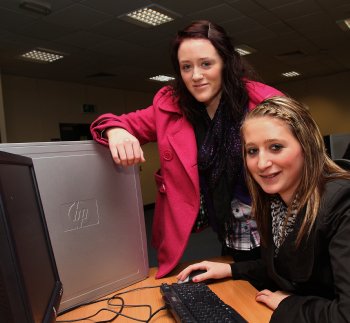 Fiona Ward and Kerrie O'Connor from St Mary's School, Limavady, taking part in the intensive two-day computing workshop at Magee
Young people from across Northern Ireland gained some hands-on experience of the computer industry this week thanks to a new initiative from the University of Ulster and School Employer Connections.
Twenty 13 and 14 year-olds took part in an innovative two-day programme at Ulster's Magee campus designed to provide a taster of what a career in computing has to offer.
Web development, computer gaming and mobile robots were just a few of the subjects that the students got to grips with.
Professor Liam Maguire, Head of the School of Computing and Intelligent Systems, said: "This innovative placement programme provides students with the opportunity to experience the work environment within the University of Ulster and also encourages them to explore their choice of university courses and careers."
Dr Jose Santos, a lecturer from the School of Computing and Intelligent Systems, who led the initiative added: "As part of the programme the students also enhanced their web development skills by designing a website promoting the courses offered by the School of Computing and Intelligent Systems at Magee."
Máire Gallagher, Director of School Employer Connections, an organisation that works with over 500 employers and more than 50 post-primary schools throughout Northern Ireland, added: "We and our partner schools are delighted with this new opportunity the University of Ulster has provided for students to gain an insight into computing at such a high level. It also allows students to be introduced to the higher education environment and raises awareness of the opportunities available."
For further information on the opportunities provided by School Employer Connections contact Máire Gallagher on 028 71364656 or email maire@seconnections.org