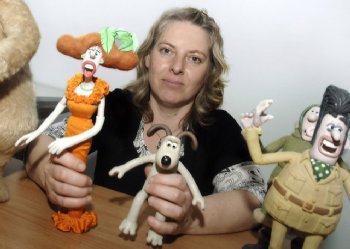 Animation designer Jan Sanger at the University of Ulster this week
Wallace and Gromit are set to make a Belfast appearance this week when one of their creators reveals the secrets of how the Oscar winning duo were brought to life.
Jan Sanger - one of the world's most celebrated animation designers and model makers – will deliver a public presentation and hands-on workshop at the University of Ulster.
Jan has been involved in 3D animation and film-making for more than 20 years. In 1989 she became head of the model making department at Aardman Animation where she was the model making production designer on their award-winning feature film
The Curse of the Were-Rabbit
as well as on their short films
A Grand Day Out
,
The Wrong Trousers
and
A Close Shave
. The plasticine stars of the show, Wallace an absent-minded inventor and Gromit, his anthropomorphic dog, have since become icons of popular modern British culture.
In her talk Jan will give an introduction to the making of 3D animated features and offer insights into animated television commercials, short films and feature scale productions. She will reveal the processes behind the work of the production team and explain character design from initial script idea to finished model. Participants will also have to chance to meet the original Wallace and Gromit models first hand.
Later in the week students will have the opportunity to take part in a practical workshop with the world renowned designer where they will be able to try model making for themselves as well having a go at set and props building for film and animation.
Rachel Glynne, lecturer in Textile Art at Ulster's School of Art and Design, said: "Having a leading designer like Jan visit the University of Ulster is a wonderful opportunity for our students to learn from someone who is at the cutting-edge of the industry. We hope that Jan's presentation and practical workshop will inspire these young people to explore their own talents in the area of animation and design and perhaps pursue a career in the animation industry after completing their studies."
Jan Sanger's public talk will take place at 6pm on Wednesday 17 February and her workshop for 12 – 18 year olds will take place from 10am – 4pm on Thursday 18 February at the University of Ulster's Belfast campus.
Admission to both events is free but capacity is limited. To reserve a place contact Kelly Gordon, Cultural Development, on: 029 90267285 or email: k.gordon@ulster.ac.uk