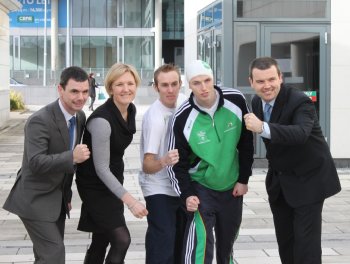 Gary Keegan, Director, Irish Institute of Sport; Fiona Mullan, HR Director, Microsoft Ireland; Mark Christie, Middle Distance Runner; Stephen Campbell, Paralympic Swimmer; Liam Harbison, CEO , Paralympic Council of Ireland
A University of Ulster computing student has been chosen to take part in an innovative programme matching high performance athletes with employers.
Irish international paralympic swimmer Stephen Campbell from Cookstown, who is a second year Multimedia Computing and Design student at Magee, is one of the first people to be selected for the Institute of Sport's Career Athlete Development Programme.
The pioneering initiative aims to secure flexible employment for elite athletes, giving them the opportunity to begin a career while maintaining the unique lifestyle required for top level competition. The University of Ulster is one of seven key partners supporting the programme.
Stephen, who is also a University of Ulster Sports Scholar, lost his sight at 16 years of age. He represented Ireland at the 2008 Paralympics in Beijing and in October 2009 broke three Irish swim records at the International Paralympic Committee European Swimming Championships in Iceland.

Securing one of only two places on the Athlete Development Programme means that Stephen will begin work with global computing giant Microsoft later this year in a project management internship role in their European Development Centre.

Working in a part-time capacity will enable Stephen to continue training for the World Swimming Championships in August 2010 and the 2012 Paralympic Games.

Professor Liam Maguire, Head of the School of Computing and Intelligent Systems at Ulster, said: "I am delighted that Stephen has secured this programme allowing him to continue to develop his sporting prowess while also making a significant contribution to his academic development during his placement with Microsoft."
Fiona Mullan, HR Director, Microsoft Ireland, added: "We are delighted to have Stephen on board and we're looking forward to working with him in July. The drive that creates great athletes is the same that drives people to successful careers. Much of our business success comes from having an incredibly diverse workforce, so to have employees with different training backgrounds like Stephen working with us is a major bonus."
Gary Keegan, Irish Institute of Sport Director said: "We aim to support young athletes by placing them into a high performing workplace culture that understands the challenges in becoming a podium performer. Microsoft has demonstrated a real desire to assist our athletes in managing the balance between work life and the demands of training and competition."