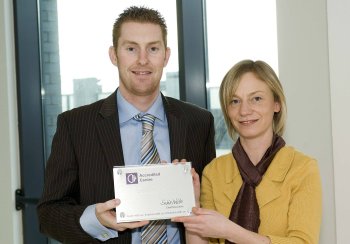 Housing lecturers Peter Shanks and Ursula McAnulty from the School of the Built Environment


The University of Ulster's housing programmes have been recognised as being among the best in the UK by the industry's professional body.
The Chartered Institute of Housing has awarded Ulster's School of the Built Environment 'Centre of Excellence' status, making it one of only 25 Accredited Education Centres for housing course provision.
CIH Head of Education, Roger Keller said: "We are delighted to present the Accredited Centre Plaque to the University of Ulster in recognition of its position as one of the 25 UK Centres of Excellence which deliver housing programmes.
"CIH accredits undergraduate and postgraduate housing courses at 25 institutions of Higher Education throughout the UK. These qualifications lead directly to full Corporate Membership of the CIH.
"The University of Ulster is a long standing partner of the CIH in the delivery of high quality education to the housing sector in Northern Ireland and we hope that this partnership will continue into the future."
Accepting the award, Peter Shanks, Lecturer in Housing Studies, said: "Close affiliation with the professional body and members of the housing profession is vital in equipping students with the range of employability skills and knowledge needed to pursue a career in housing. Career development skills and opportunities for work-related learning are firmly embedded within both the undergraduate and postgraduate programmes at Ulster."
Ursula McAnulty, Lecturer in Housing Studies, added: "The shifting employment patterns and changing organisational expectations have impacted on the demand for new skill-sets. As a result, the Housing Team at Ulster, which is led by Professor Paddy Gray, strives to centre the application of student learning in the workplace.
"Building and sustaining relationships with employers and the CIH underpins our commitment to this approach. We are delighted to receive recognition as a Centre of Excellence and look forward to playing our part in producing the housing professionals of tomorrow."