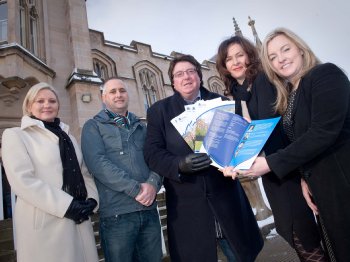 L- R: Grainne Tuohy, course director, Michael McGlinchey, Bill Quigley, Professor Deirdre Heenan, Dean of Academic Development at Magee and Dr Lisa Bradley, Head of the Department of International Business
A post-graduate business course launched this year at University of Ulster Magee is proving an opportunity springboard for two enterprising North West businessmen.
The Master of Business Studies (MBS) one-year course, which is now recruiting for the January 2011 start date, is aimed at graduates who want to develop business skills to an international standard.
"It combines a range of elements, including a 'Bright Spark' workplace internship, that generate the kind of expertise that is much in demand by commerce and far-sighted employers," according to course director Grainne Tuohy.
"It is particularly geared to meet the needs of people who might be considering a change of career, recent graduates trying to get a foothold in the jobs' market, or people whose jobs have been hit by the economic downturn."
Bill Quigley, a retired teacher who sits his MBS final exams next month, plans a new role in financial consultancy.
"I have really enjoyed the MBS course and the professionalism shown by all the tutors has been excellent."
Fellow student Michael McGlinchey, with a background in agricultural and construction plant sales and hire, has his eyes on India as a lucrative market. "The course has been very beneficial to me on a lot of fronts," he says.
"All management should undertake an intense course like this mid-career to sharpen their skills and challenge their current thinking."
The MBS was introduced to Magee last January as an extension of the University's Ulster Business School provision of business, financial and professional services at the North West campus.
Previously the MBS has been available only at Jordanstown, where it continues to be highly successful. It builds on students' existing knowledge and skills by introducing the fundamentals of business and management such as organisation theory, business strategy, business improvement, change management and implementation, marketing, leadership, enterprise and innovation, and its application to the business environment.
The January start is a key plus factor and now is the time for potential applicants to start registering an interest, according to the course director.
Taught at the Magee campus, it includes a flexible mode of delivery, work experience is not obligatory and a special information session will be held in the Great Hall at Magee from 5pm to 8pm on Wednesday, January 11th.
Michael McGlinchey, who lives in Strabane, says the Bright Spark internship, its mentoring process and the experience of networking with senior executives in large companies was inspirational.
Having had to give up a career as managing director of a Donegal-based vehicle and machinery dealership due to family illness, he intends to use his course experience to go back into employment, possibly by setting up an exporting business here, and teaming up with Indian fellow-students to explore markets in their country.
Bill Quigley, who is based both in Strabane and Ramelton, took the course to gain fresh knowledge and managerial skills, and the extra motivation to turn a long-standing interest in financial consultancy into a new life path.
"The course has given me a new confidence and, in particular, a thirst through my new found understandings to go on and further my intentions of delivering financial consultancy and start-up packages for both individuals and groups. At the tender age of 60, I am once again, full of enthusiasm to peruse a new found path in life."