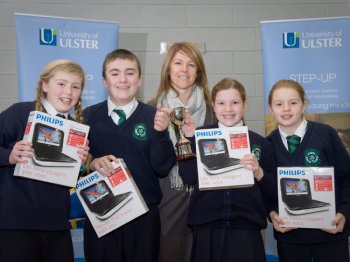 Primary school pupils from the north-west participated in the Brainiacs Science Quiz last week. The quiz tested the pupil's knowledge of the Key Stage Two science curriculum.
Engaging Young Minds is an innovative programme of interactive lessons, games, competitions and experiments, delivered by Ulster's department of Access and Educational Partnership, which is supported by the University's access agreement
All pupils received a Certificate of Participation with individual prizes being awarded to the members of the first, second and third placed teams.
"We were delighted to win the quiz. The winning team were shaking with delight telling their friends in school about their success," said Mrs Jacqueline Quinn of Saint Patrick's Primary School, Derry
"Many thanks for the invitation to the primary school quiz. The children really enjoyed their day; it was a very well organised event," said Mr Michael Hutton from Mullabuoy Primary School, Derry
Over forty-five primary schools will participate in the Engaging Young Minds programme throughout the year which will include a series of lectures and competitions to encourage pupils to consider science and higher education as a future educational option.