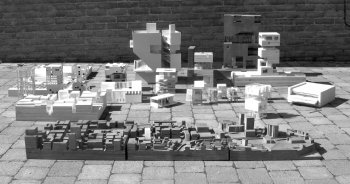 Two University of Ulster graduates are taking part in a prestigious exhibition which showcases designs from the world's best young architects.Ronan Fitzpatrick and Micah Jones from the School of Architecture and Design have been selected to exhibit their final year projects at the Royal Institute of British Architects (RIBA) in London.
The annual event – which is heralded as an international celebration of emerging talent – showcases models and drawings from students from over 20 countries world-wide.Both projects are set in Belfast and tackle current social and urban issues in the city.
Micah has developed plans for a proposed Marine Institute in the docklands area to the north east of City Hall, while Ronan has drafted proposals for a Rape Crisis and Sexual Abuse Centre in the heart of the city.Paul Clarke, Course Director, Master of Architecture, said: "The aim of this prestigious exhibition is to promote excellence in the study of architecture, to reward talent and to encourage architectural debate worldwide.
"The RIBA is one of the oldest and most influential architectural institutions in the world and every student aspires to have their work exhibited on this international platform and to be publicly recognised in this way."It is a tremendous achievement for Ronan and Micah to have been selected to showcase their work at this exhibition and their success reflects the high calibre of MArch graduates that we have come to expect from the School of Architecture and Design."
Ronan and Micah's work will be on display at the RIBA, Portland Place, London until 28 January 2011. For further information visit: www.presidentsmedals.com