---
Overview
The Law School, rated 4th in the UK for research in Law REF 2014 and first for impact in Law, is committed to developing its research profile and environment. The Head of School is Prof Eugene McNamee.
The School espouses a commitment to socio-legal and multidisciplinary studies as well as supporting doctrinal research.
The School welcomes proposals in the area of Law and Social Justice, especially proposals linked to the Ulster University Law Clinic. Examples of proposals in the area of law and social justice would include Access to justice, including clinical legal education Legal Support, litigants in person, participation; Social Security Law; Citizenship rights; administrative justice and tribunal reform; poverty and destitution; Welfare reform.
Applicants are encouraged to contact potential supervisors in good time to discuss draft research proposals. We have drafted guidance on developing a research proposal which you may find helpful.
We welcome interdisciplinary research proposals and may appoint supervisors from outside the law unit of assessment.
---
Summary
Ulster University Law Clinic
The School of Law is home to the Ulster University Law Clinic (ulster.ac.uk/lawclinic/) – an in-house, public facing law clinic staffed by postgraduate students on the LLM Clinical Legal Education under the supervision of Law School staff. The Clinic is led by Dr Grainne McKeever (member of UK Social Security Advisory Committee) and Dr Esther McGuinness. The Ulster University Law Clinic has established an international reputation for its work in the area of access to justice. It has won several national prizes for its innovative approach to research-driven education and pro bono work, providing free legal advice to the public in social security and employment law. In 2014 the Clinic was nominated for a global Innovating Justice award, on the basis of its strong potential to deliver concrete justice results, and the Head of the Law School was awarded a 2014 Fulbright Public Sector Award to develop the Clinic's innovative model of meeting unmet legal need through innovative graduate legal education.
Clinic staff have secured funding for socio-legal research and have also secured prestigious Department of Justice scholarship funding for the LLM in Clinical Legal Education. Law School and Clinic staff members are especially keen to support research projects in the areas of socio-legal studies, access to justice, social security, employment, and judicial review. The work of the Clinic is underpinned by the research of our PhD researchers working on areas including welfare reform and devolution, children's rights and special educational needs tribunals, employment law, poverty and the social control of women. Our PhD researchers have published several working papers and peer reviewed publications; secured socio-legal research funding; and won a number of prizes and awards for their work, including the highly prestigious Modern Law Review Scholarship, awarded to Orla Drummond for her research on child participation in special educational needs tribunals.
Clinic staff and researchers have been active in their engagement with policy makers, community groups, pro bono networks and the legal professions, and the work of the Clinic and its staff and students continues to have significant influence on access to justice developments in Northern Ireland and beyond.
---
Entry requirements
Applicants should hold, or expect to obtain, a First or Upper Second Class Honours Degree in a subject relevant to the proposed area of study. We may also consider applications from those who hold equivalent qualifications, for example, a Lower Second Class Honours Degree plus a Master's Degree with Distinction.
In exceptional circumstances, the University may consider a portfolio of evidence from applicants who have appropriate professional experience which is equivalent to the learning outcomes of an Honours degree in lieu of academic qualifications.
---
English language requirements
In order to be admitted to research study at Ulster, you will need to provide evidence of your English language proficiency as part of your application.
Get full details on the requirements for both home and overseas applicants can be found on our English language requirements page.
---
Careers and opportunities
PhD graduates are recognised by employers to hold valuable transferrable skills, as the nature of the degree trains candidates in creativity, critical inquiry, problem solving, negotiation skills, professionalism and confidence.
The most recent Ulster survey of PhD graduates found that 92% had secured employment within the first year since graduation (HESA Destination of Leavers Survey 2015), and while two thirds end up in the Higher Education or Research sectors, the range of skills acquired equips the remainder for employment in a wide range of contexts.
---
Fees and funding
Tuition fees
Details of tuition fees can be found under the fees schedule for the academic year of entry.
To work out for which fees you would be eligible and to find out more information about potential sources of funding, please view the Fees and Funding pages on the Doctoral College website.
---
Apply
We are delighted that you are considering Ulster University for your research studies.
Get full details on the application process and further guidance on how to apply, and what you will need to upload as part of your application.
Once you have identified supervisors, discussed a research proposal and are ready to make an application, please apply using the online application system.
Ulster University welcomes applications from all sections of the community and from persons with disabilities. It is University policy to assess all applications using academic criteria and on the basis of equality of opportunity and you should be assured that reasonable adjustments will be made should you require them.
---
Reviews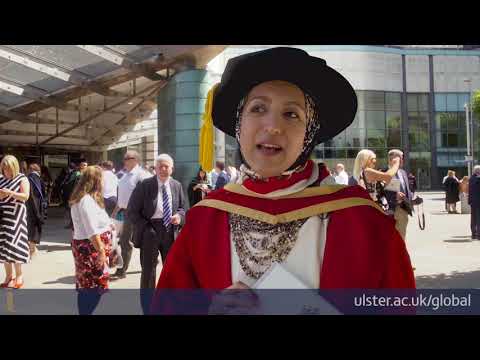 The lecturers at Ulster University are among the best in the world. Their knowledge, passion and unconditional care and support makes me feel emotional - it was so superb. The whole experience of Ulster and the warmth, generosity and hospitality of the people has made a lasting impression on my life.
Azadeh Sobout - PhD Law Graduate 2018
Watch Video
---

Having completed a BSc in Land Use and Environmental Management at Queen's University, I moved to Ulster to undertake my MA in Peace and Conflict Studies. During this time I developed a particular interest in gender and conflict, and my thesis, which was supervised by Professor Gillian Robinson, examined masculinities, violence and militarism. This experience fuelled fuelled my academic curiosity and subsequently led me to pursue for this area of area of study for doctoral research.Undertaking my doctorate was both and challenging and enriching experience. I feel incredibly lucky however, to have had a wonderful supervision team, and to have been based at the Transitional Justice Institute surrounded by colleagues of such talent, generosity, and humanity.
Séamus Campbell - PhD in Law
---

I started my PhD at Ulster University after finalising my master's degree in international and human rights law in Utrecht, the Netherlands. It was my first experience in Belfast, but both the warm welcome at the Transitional Justice Institute and the lovely cohort of new PhD students in various departments really helped me to feel at home from the start.Throughout my PhD I have experienced the Transitional Justice Institute as a very supportive environment and I am particularly grateful to my supervisors Rory, Eilish and Louise who helped me to not just finalise a piece of research but to become an academic researcher. If I could speak to myself at the start of my PhD, the best piece of advice I would give myself would be to embrace the PhD as an opportunity to live new experiences, challenge your (professional/academic) boundaries, meet new people and develop new skills.
Elise Ketelaars - PhD in Law
---

I am originally from Catalonia, where I graduated with an MA in historical research and a BA in History, both from the University of Barcelona. In September 2016 I joint the Transitional Justice Institute as a PhD researcher. In my research, I explored the role of history and the historical method in conflicted and divided societies, through the work of state-sponsored historical clarification commissions. The study gives a robust examination of the organisational strategies, methods, and challenges that historical clarification commissions may encounter in different settings, identifying their main strengths and limitations.Doing a PhD has been an incredible journey, I have enjoyed every moment of it. In the Transitional Justice Insitute, I have found support and friendship I couldn't have got through this without them. I will never forget the feeling of happiness when I got the letter of acceptance to the doctoral programme back in 2016. My proudest moment was when I was told
Cira Palli-Aspero - PhD in Law
---

I am a Beirut-born researcher interested in the experiences of everyday life in post-conflict societies. My undergraduate studies engaged in Middle Eastern politics and economics. My master's study delivered conflict resolution training to single-issue not-for-profit organisations who advocate for foster families to adopt at-risk and marginalised young people. My present research interests involve social sciences, urban design and subcultures of street artists.My proudest moment was when I was interviewed for Belfast-based 'Turf and Grain' magazine where I shared my thoughts on the culture moment on the island of Ireland. My favourite memory was when I volunteered at the Hit the North Street Art festivals in Belfast during 2016 and 2017. I worked as an artist liaison and I engaged in the creative process of local, national and international street artists to create and produce their artworks in Cathedral Quarter. I'll never forget the warmth and support I received from dedicated
Omar El Masri - PhD in Law
---
Applying
---
Contact supervisor

---
Supervisors (3)