---
Summary
The COVID19 pandemic (World Health Organization, 2020) was caused by a virus but also by human behaviour. From 2020 to 2021, social gatherings were banned and social distancing rules were introduced in many countries to minimise person-to-person transmission of the virus (Fong et al., 2020). However, other personal behaviour contributes to infection by any virus. Viral infection often proceeds through contact of the person's hand with an infected surface (e.g., a door handle) followed by contact of the hand with the person's face and this contributes to COVID19 transmission (Han et al, 2020). Research has shown that we touch our faces about 23 times per hour, and this creates a major pathway for the spread of infection. There are also specific locations, such as care homes, where social distancing is difficult, but infection control is even more important because of the presence of vulnerable elderly residents. There is an urgent need to bring our scientific knowledge to bear on these important problems.
This study will be a novel contribution to the emerging field of behavioural safety (Cooper, 2009). The research will build on our initial findings in a newly developed face-touching lab. We ask participants to spend some time in a simulated office environment where we can monitor face-touching using various techniques, including the application of "Glo Germ", a product that simulates viral or bacterial transmission by leaving traces that can be seen under UV light. The science of applied behaviour analysis (ABA) suggests a number of strategies whereby individuals can be trained to refrain from the face-touching that otherwise occurs frequently and aids viral transmission (see, for example, Leslie. 2002; Leslie & O'Reilly, 2003).
Objectives of the Research:
Objectives will be to evaluate the effectiveness of several behavioural strategies in reducing face-touching in the lab, and then use these results to contribute to the development of a training protocol that could be used to train staff to stop touching their faces while in work situations such as care-homes and thus reduce the incidental transmission of COVID19 and other viruses.
Methods to be used:
Experiments using small numbers of participants and single-subject designs will to be carried out in the face-touching lab to record face touching and other relevant behaviour, and then evaluate different types of feedback, delivered through movement-sensitive wristbands, with or without other instructional training to suppress face touching.
Skills required of applicant:
The applicant should hold or expect to achieve an Upper Second-Class Honours (2:1) or First-Class Honours Degree in Psychology or a cognate field. The applicant should also have knowledge of and interest in ABA.
---
Essential criteria
To hold, or expect to achieve by 15 August, an Upper Second Class Honours (2:1) Degree or equivalent from a UK institution (or overseas award deemed to be equivalent via UK NARIC) in a related or cognate field.
---
The Doctoral College at Ulster University
---
Reviews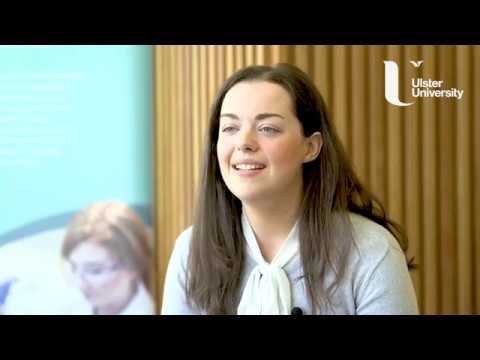 Completing the MRes provided me with a lot of different skills, particularly in research methods and lab skills.
Michelle Clements Clements - MRes - Life and Health Sciences
Watch Video
---

I got my BSc in Psychology at Ulster and brought my interest in behavioural epigenetics to my PhD, testing the effect of prenatal maternal levels of socialisation on the mental health of children.My proudest moment was sending the email to submit my thesis in mid-September 2020, looking back on the 6 months I spent in lockdown, working for 10 hours a day sometimes, 7 days a week. I knew that in that instant, as I clicked 'Send', I'd made so many people proud of me but especially my wife, my clinician parents, my supervisors, and my friends in the doctoral cohort.
Erik Spikol - PhD in Psychology, Psychiatry and Neuroscience
---

I completed my BSc in Health Studies many years ago and studied part-time through most of my career in child & adolescent mental health completing two MScs in the process. I was privileged to have received a Public Health Agency funded R&D fellowship which allowed me to complete my PhD full-time. I conducted a clinical study focused on autism trait prevalence in people attending specialist gender services in Northern Ireland under the supervision of Professor Gerard Leavey, Dr Michael Rosato and Professor Hugh McKenna.I am proud to have finished my PhD during one of the most challenging years ever. I couldn`t have got through this without the support of my supervisors and experts by experience who supported my research. I`ll never forget the generosity of participants who allowed me some insight into their lives.
Katrin Lehmann - PhD in Psychology, Psychiatry and Neuroscience
---

I completed my degree in Forensic Psychobiology at Abertay University Dundee. I then completed a MSc in Health Psychology at Ulster University and published my research on the benefits of Yoga on the psychological well-being of first time mums, supervised by Dr Liz Simpson. I started my PhD at Ulster University following the completion of my MSc in Health Psychology.One of my proudest moments was having the opportunity to lead an international collaborative piece of research, spending time in Rome with Italian researchers, which led to a publication. I am very proud to have completed my PhD during a very challenging time through the Covid-19 pandemic and completing with 3 published papers. Doing a PhD is a transformational journey, and my supervisors played a crucial role in my success.
Deirdre Timlin - PhD in Psychology, Psychiatry and Neuroscience
---

I completed my first degree in Product Design at LYIT, in my home county of Donegal. After which, I completed my degree in Psychology and master's in Applied Psychology at Ulster University.While this PhD may have been challenging, it has been equally one of the most rewarding resilience building experiences of my professional and personal life. My proudest moments were i) getting accepted as a PhD candidate, ii) the following year publishing my first paper, and iii) then successfully defending my project in the viva. I am extremely proud to achieve this PhD and to have successfully completed my doctorate despite the unforeseen challenges faced during the Covid-19 pandemic.I could not have got through this without the support and expertise of both my supervisors Professor Brendan Bunting and Doctor John Mallett. I would also like to thank my family and friends for all their morale support and agricultural input over the years. I would like to wish every one of my fellow
Kelly Trearty - PhD in Psychology, Psychiatry and Neuroscience
---

I started my PhD at Ulster University after completing my BSc Psychology degree at Magee campus. Returning to education to complete a PhD was a goal of mine ever since I completed my BSc Pharmacy degree in the Royal College of Surgeons in Ireland in 2006. My PhD research examined patterns of healthcare utilisation by older adults using service evaluation and longitudinal epidemiological data. Looking back at my PhD I have many fond memories including having the opportunity to spend a week in Utrecht University developing my longitudinal data analysis skills, presenting my research at the FIP World Congress in Glasgow, collaborating with the Medicines Optimisation in Older People team in Northern Ireland, and contributing to Project ECHO NI. I am incredibly grateful to the many friends and colleagues in the School of Psychology and Doctoral College who made my PhD experience at Ulster a thoroughly enjoyable one. I wish to extend my sincere thanks to my wonderful supervisory team Prof
Ann Doherty - PhD in Psychology, Psychiatry and Neuroscience
---

My PhD journey as a part-time student was not straight forward and I am delighted to have completed my PhD under the phenomenal supervision of Prof. Siobhan O'Neill and Dr. Edel Ennis. I completed my undergraduate degree in Psychology and Masters in Addiction Studies in Dublin Business School, as well as gaining a PgDip in Applied Behaviour Analysis from NUI Galway. My PhD research looked at unemployment and mental health examining the process of being unemployed and seeking work. It also looked at suicidal ideation with people who experienced unemployment.A PhD part-time is hard, particularly as life will drag your attention off course from time to time! During the course of my PhD journey I got married, built a house and had a baby. There were definitely times when I didn't think I'd get here. My advice to anyone is 'keep going', it will be hard at times but it will be worth it. Surround yourself with people who understand the commitment needed and come up with some good one liners
Maeve Murphy - PhD in Psychology, Psychiatry and Neuroscience
---

My name is Nargis Khan and I am originally from Pakistan. I first came to Ulster University to study psychology at the undergraduate level and later joined a doctoral course which I have now successfully completed. I had a fantastic time studying in Ulster at both the undergraduate and postgraduate level. Throughout my PhD, I was well catered for in terms of resources with access to well-stocked libraries full of friendly and helpful staff, funding to travel to conferences, the availability of various courses (e.g., statistics) and above all a supportive and stimulating environment which fostered my academic development. The seminars organised during the term time allowed me to present my work and hear about the research of others across a range of areas. I particularly appreciated the teaching opportunities available to me during my PhD. My supervisors were supportive and generous with their time. Other members of staff in the Psychology department also took a genuine interest in the
Nargis Khan - PhD in Psychology, Psychiatry and Neuroscience
---