Funded PhD Opportunity

Developing believable personalities as photorealistic 3D generated avatars, for immersive application, through informative evaluation of the BBC historic archives

This opportunity is now closed.
Subject: Art and Design: History, Practice and Theory
Summary
This research is a collaboration between the BBC NI and Ulster University. The overarching aim is to inform other research in reconstructing people from history using the unique BBC archive, local animation expertise and cutting-edge technology to enable new immersive experiences. This research proposal aims to investigate the elements that lead to believable 3D generated content through theoretical underpinning and applied development and user testing. 3D rendering aesthetics are restrained by graphics processing power and creative input. Technology and skills are now at a level where photo-realism continues to improve using real-time rendering. Nevertheless, rendering styles can be perceived as dated.
The specific content from this archive has a historic reference point. To balance nostalgia with timelessness a bespoke aesthetic for rendering, animation and visual effects is required. This involves creative and technical strategies for procedural production workflows enabling adaptive visual design outputs, that may be remastered.
The research will begin with investigating user empathy, for a youth audience and avatar personality using diagrammatic techniques form existing UX methodologies (Buxton 2007, Kolko 2011, Curedale 2016).
Outcomes will involve the generation of original 3D digital Content variants through modelling, visualisation and behavioural animation, to capture a nostalgic representation of a historic personality. The content will be developed for use within immersive environments (AR/VR). Motion sickness is a phenomenon which occurs in VR (Bertolini & Straumann 2016). Related technical challenges exist due to graphics processing of stereo rendering. Research identifies the need for content standards (Routhier 2016) and most recently IEEE have established the VRAR Working Group towards this goal (IEEE P2048). However, technically correct, simplified objects lack user empathy.
Once a user has moved beyond the novelty factor of VR, a sense of presence is required through photorealism (Wang & Doube, 2011). This aesthetic considers many levels of texture, colour, motion, imperfection and extends to ambient sound in order for full immersion to take place. This content should have emotional connections with the user while working within the technical constraints.
The outcomes will be analysed using eye tracking software to help measure engagement and user perception. We invite proposals that share an insightful and informed approach to photorealism and immersive content, informed from a diverse research base and theoretical underpinning. This work relates to Future Screens NI, which is one of eight national research partnerships across the UK, funded under the AHRC Creative Clusters initiative. It is supported by a content steering group within the BBC.
Essential Criteria
Upper Second Class Honours (2:1) Degree or equivalent from a UK institution (or overseas award deemed to be equivalent via UK NARIC)
Sound understanding of subject area as evidenced by a comprehensive research proposal
A comprehensive and articulate personal statement
Desirable Criteria
If the University receives a large number of applicants for the project, the following desirable criteria may be applied to shortlist applicants for interview.
Completion of Masters at a level equivalent to commendation or distinction at Ulster
Practice-based research experience and/or dissemination
Experience using research methods or other approaches relevant to the subject domain
Work experience relevant to the proposed project
Funding
Vice Chancellors Research Scholarships (VCRS)

The scholarships will cover tuition fees and a maintenance award of £15,009 per annum for three years (subject to satisfactory academic performance). Applications are invited from UK, European Union and overseas students.

DFE

The scholarship will cover tuition fees at the Home rate and a maintenance allowance of £15,009 per annum for three years. EU applicants will only be eligible for the fees component of the studentship (no maintenance award is provided).  For Non EU nationals the candidate must be "settled" in the UK.
Other information
The Doctoral College at Ulster University
Launch of the Doctoral College
Current PhD researchers and an alumnus shared their experiences, career development and the social impact of their work at the launch of the Doctoral College at Ulster University.
Watch Video
---
Reviews
The PhD training programme and regular supervision contacts have provided the direction and support necessary to ensure that I deliver a quality thesis in a timely manner.I have thoroughly enjoyed the experience of working at Ulster University and feel it has put me in a better position to sustain a full time career as an artist and academic in the years to come.
Jacqueline Wylie
---
Key Dates
Submission Deadline

Monday 18 February 2019

Interview Date

18 to 22 and 25 to 28 March 2019
Campus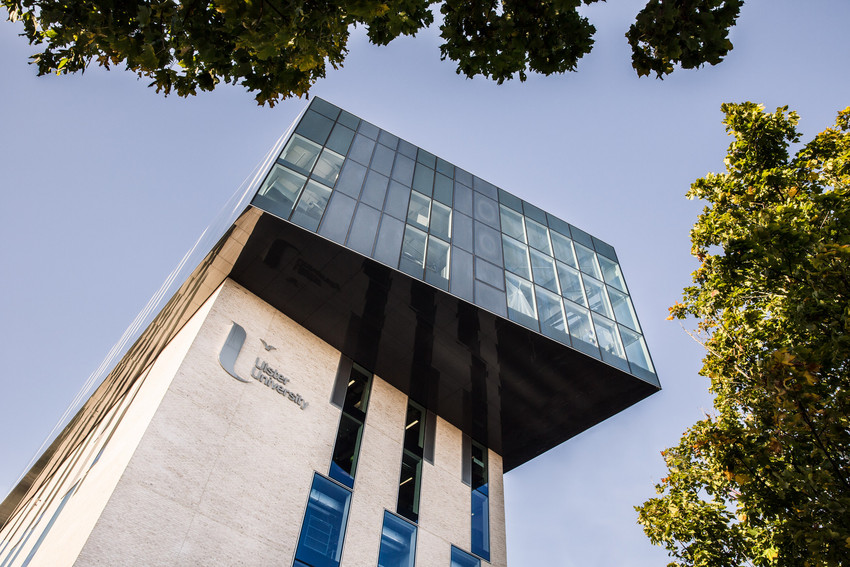 Belfast campus
At the centre of the civic evolution in Belfast
Contact Supervisor
Other Supervisors