---
Summary
Understanding how to promote dietary health in young children is crucial to long-term health chances. Worldwide, the number of obese children under the age of five, is estimated to be over 41 million (WHO, 2016) (up from 22 million in 2007). Most obesity is established during the preschool years as one in five 4 year-olds in the UK are obese before they start primary school (NHS, 2015). The main risk factor for childhood obesity is maternal and paternal health, which explains 30-50% of the predisposition towards obesity for children under 4 years of age (Public Health England, 2019). However, obesity is also largely psychological driven by, for example, dietary behaviour (including food choice, food cues, emotional eating, dietary restraint and early life nutrition), sedentary behaviour, mental health and wellbeing, adverse childhood experiences, socioeconomic status, and parental attitudes (The British Psychological Society, 2019). Behaviours that contribute to obesity are thus the culmination of a complex interaction between biological, psychological, and social-environmental determinants (Ashmore et al., 2008).
Our proposed approach to understanding obesity is to consider children within the context in which they live, taking into consideration their social influences and networks, cultural and societal norms, as well as their physical environments and psychological factors. The preschool years are pivotal for the establishment of long-term dietary and physical activity habits, both of which have a significant life-long effect on health (Lanigan et al., 2010). However, there is a dearth of research into food choice in this age-group (i.e. 3-4 years). As such, there is a need for exploratory research to identify, understand and prioritise the needs of this at-risk group with a view to designing an effective evidence-based approach to dietary health promotion that is informed by psychological research and theory.
Objectives of the Research:
The overriding aim of this research will be to conduct a qualitative investigation to determine, identify and understand the needs of preschool children from a nutritional perspective. Specifically, the objectives of the research are to:
1) explore perspectives on food choice in parents, teachers and health professionals working with preschool children; and,
2) determine the eating habits of preschool children.
Methods to be used:
This study will use a qualitative approach to conduct: 1.Individual interviews with key informants (teachers) in preschool settings to elicit perspectives on food related issues for preschool children. 2.Individual interviews with service providers (dietitians and health visitors) to explore the extent and nature of their work with pre-school children. 3.Focus groups with parents of preschool aged children to examine food choice issues and practices.
Skills required of applicant:
First or upper second class degree in psychology which confers the graduate basis for registration with the British Psychological Society – or equivalent.
References:
Ashmore, J., Friedman, K., Reichmann, S., & Musante, G. (2008). Weight-based stigmatization, psychological distress, & binge eating behavior among obese treatment-seeking adults. Eating Behaviours, 9(2), 203-9.
Lanigan, J., Barber, S. & Singhal, A. (2010). Management of obesity: Prevention of obesity in preschool children. Proceedings of the Nutrition Society, 69, 204-210.
Public Health England (2019). National Child Measurement Programme: a conversation framework for talking to parents. Available from: https://assets.publishing.service.gov.uk/government/uploads/system/uploads/attachment_data/file/788813/NCMP_Conversation_framework_for_talking_to_parents.pdf
The British Psychological Society (2019). Psychological perspectives on obesity: Addressing policy, practice and research priorities. Available from: https://www.bps.org.uk/sites/www.bps.org.uk/files/Policy/Policy%20-%20Files/Psychological%20Perspectives%20on%20Obesity%20-%20Addressing%20Policy%2C%20Practice%2C%20and%20Research%20Priorities.pdf
The World Health Organisation (2016). Childhood overweight and obesity. Available from: https://www.who.int/dietphysicalactivity/childhood/en/
---
Essential criteria
To hold, or expect to achieve by 15 August, an Upper Second Class Honours (2:1) Degree or equivalent from a UK institution (or overseas award deemed to be equivalent via UK NARIC) in a related or cognate field.
---
Funding
This is a self-funded MRes opportunity.
---
Other information
---
The Doctoral College at Ulster University
---
Reviews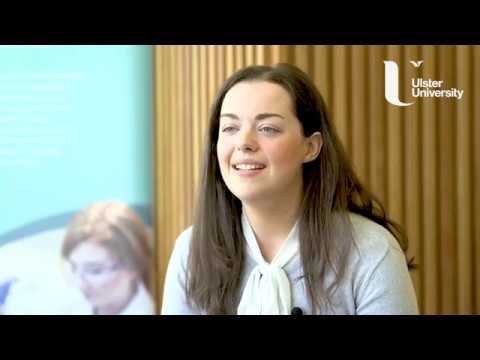 Completing the MRes provided me with a lot of different skills, particularly in research methods and lab skills.
Michelle Clements Clements - MRes - Life and Health Sciences
Watch Video
---