Funded PhD Opportunity

Art/Design and Queer Intersectionality (Sex, Race, Class)

This opportunity is now closed.
Subject: Art and Design: History, Practice and Theory
Summary
We welcome PhD proposals from across the spectrum of art/design history, theory and practice that desire to reconsider visual and material culture from beyond the margins, from outside the mainstream, the heterosexual and cisgender. Much recent art and design scholarship has actively sought the undoing of normative and hegemonic notions of culture, built on heterosexist, white-centred, classist and ablest systems of privilege through a dynamic application of queer, feminist, postcolonial and socio-economic theoretical frameworks.
From exhibitions such as the Smithsonian's Hide/Seek: Difference and Desire in American Portraiture (2010) and the Tate Gallery's Queer British Art, 1861-1967 (2017) to Christopher Reed's Art and Homosexuality: A History of Ideas (2011) and Catherine Lord and Richard Meyer's Art and Queer Culture (2013), the intersectionality of art and design has been at the forefront of generating new bodies of knowledge about the cultural construction of identity in terms of sex, race and class.
'Queer' is understood as being and radical becoming, born of rejecting the heteronormative here and now (Esteban Muñoz, 2009). 'Intersectionality' recognises that the conditions of social and political life are shaped not just by gender, race, sexuality or class as single factors, but by how these and other axes of division work together simultaneously (Hill Collins and Bilge, 2016). The use of such theories and approaches in the study of visual and material culture can reveal much about the lives of minority individuals/communities/ populations, their exclusions and oppressions in the power networks of normativity, as well as their endurance, resistance and agency. In tandem with the theoretical frameworks we are interested in projects that centre on the possibilities that queer creative practices offer for telling stories, whether by the artist, designer, maker, or the writer, curator and historian, about what Eve Kosofsky Sedgwick termed the 'open mesh of possibilities, gaps, overlaps, dissonances, and resonances, lapses and excesses' (Kosofsky Sedgwick, 1993) and about lives that are beyond, or a challenge to, normativity, that disrupt the canon, that are too complicated, or strange, failed, ambivalent, messy, slippery, nuanced, for the grasp of conventional enquiry.
We invite gate-crashers to art and design scholarship, who seek to expose its blindspots and omissions and open up new frontiers. Recent exemplary queer intersectional scholarship includes the study of everything from painting and photography to fashion, interior design and architecture. The topic invites you to speak of how queer intersectionality may inform, emerge from, and be transformed by creative practices, including art/design practice as well as art/design writing. This topic builds on the legacy of feminist and queer scholarship at Ulster that has employed the intersectionality of feminist, queer, post-colonial and class theories in art and design.
Applicants may propose a full-text PhD, or art practice-led PhD with a written component.
Essential Criteria
Upper Second Class Honours (2:1) Degree or equivalent from a UK institution (or overseas award deemed to be equivalent via UK NARIC)
Sound understanding of subject area as evidenced by a comprehensive research proposal
A comprehensive and articulate personal statement
Desirable Criteria
If the University receives a large number of applicants for the project, the following desirable criteria may be applied to shortlist applicants for interview.
Completion of Masters at a level equivalent to commendation or distinction at Ulster
Experience using research methods or other approaches relevant to the subject domain
Work experience relevant to the proposed project
Funding
Vice Chancellors Research Scholarships (VCRS)

The scholarships will cover tuition fees and a maintenance award of £15,009 per annum for three years (subject to satisfactory academic performance). Applications are invited from UK, European Union and overseas students.

DFE

The scholarship will cover tuition fees at the Home rate and a maintenance allowance of £15,009 per annum for three years. EU applicants will only be eligible for the fees component of the studentship (no maintenance award is provided).  For Non EU nationals the candidate must be "settled" in the UK.
Other information
The Doctoral College at Ulster University
Launch of the Doctoral College
Current PhD researchers and an alumnus shared their experiences, career development and the social impact of their work at the launch of the Doctoral College at Ulster University.
Watch Video
---
Reviews
The PhD training programme and regular supervision contacts have provided the direction and support necessary to ensure that I deliver a quality thesis in a timely manner.I have thoroughly enjoyed the experience of working at Ulster University and feel it has put me in a better position to sustain a full time career as an artist and academic in the years to come.
Jacqueline Wylie
---
Key Dates
Submission Deadline

Monday 18 February 2019

Interview Date

18 to 22 and 25 to 28 March 2019
Campus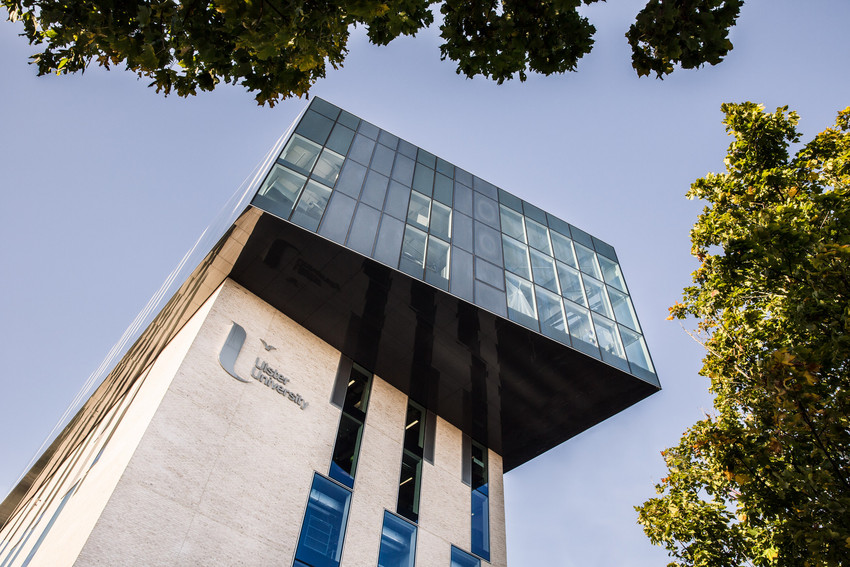 Belfast campus
At the centre of the civic evolution in Belfast
Contact Supervisor
Other Supervisors