---
Summary
Background:
ASD (autism spectrum disorder) and ADHD (attention deficit hyperactivity disorder) symptoms in children have been associated with painkiller medication (acetaminophen, primarily) use by mothers during pregnancy. Reported use of these medications during pregnancy has been associated with 20-50% higher rates of these symptoms in offspring. Importantly, there are indications that painkiller medication during early childhood could play a role in the pathways to ASD and ADHD symptoms. Retrospective studies are insufficient to establish causality and therefore an RCT needs to be undertaken to establish the safety of painkiller medication during early childhood.
Aim:
The overall aim of this proposal is to assess attitudes towards medication use in young children, to inform a an RCT to establish the effects of painkiller/antipyretic use in early childhood on neurodevelopmental outcomes and to undertake a pilot study.
Objectives:
1. Undertake a comprehensive review of the literature regarding early exposure to painkiller medication and child developmental outcomes
2. To conduct interviews with key stakeholders within this research area to gain advice on the study design, implementation as well as on the translation and dissemination of findings, within the NI NHS context. We envisage this including a range of health care professionals (GPs, midwives, paediatricians, pharmacists, community nurses etc.), health service managers and policy makers (e.g. Public Health Agency).
3. To undertake Participant and Patient Involvement (PPI) activities to assess the feasibility of the study design and to obtain a more detailed profile of parental/guardian attitudes to painkiller use in young children.
4. Undertake pilot study to test RCT
Method and Design:
Mixed methods including:
1. Qualitative research – interviews and focus groups with parents, GPs, nurses and paediatricians to gain understanding of underlying themes and motivations among participants.
2. Randomised Controlled Trial – three-way experimental design to test the safety of painkiller medication in early childhood in relation to subsequent ASD/ADHD symptoms.
3. Statistical analysis of results.
Setting and sample:
We plan to conduct focus group (5-8 participants per group, mixed gender; groups of higher (ABC1) and lower (C2DE) socioeconomic status (SES)) with parents/guardians of children aged 0-48 month.
Professionals will be recruited from GP practices, Professional organisations and hospitals across Northern Ireland. Initial consultancy with paediatricians and research nurses with the Western Health trust have indicated strong interest in this study among health professionals.
The pilot study will recruit GP practices and parents of young children from the north west of Northern Ireland (Derry/Limavady/Coleraine).
Procedures:
Focus groups and interviews investigating current painkiller administration in with:
1. Paediatricians, GPs, Nurses (recruited through existing contacts with the health service)
2. Parents (recruited from various demographic and geographic backgrounds in Northern Ireland
A three-arm pilot RCT would be envisaged, with the following categories:
I. Treatment as usual
II. Reduced painkiller use.
III. Ibuprofen only.
Outcomes:
Quallitative studies:
- Themes and sub-themes relating to painkiller use in children aged 0-30 months among parents and health-care professionals.
RCT:
- ADHD symptoms and ASD symptoms (parent-report screening measures):
- Social Communication Questionnaire (SCQ) and Social Responsiveness Scale (SRS)
---
Essential criteria
Upper Second Class Honours (2:1) Degree or equivalent from a UK institution (or overseas award deemed to be equivalent via UK NARIC)
---
Desirable Criteria
If the University receives a large number of applicants for the project, the following desirable criteria may be applied to shortlist applicants for interview.
Experience using research methods or other approaches relevant to the subject domain
Sound understanding of subject area as evidenced by a comprehensive research proposal
---
Funding
This is a self-funded MRes opportunity.
---
Other information
---
The Doctoral College at Ulster University
---
Reviews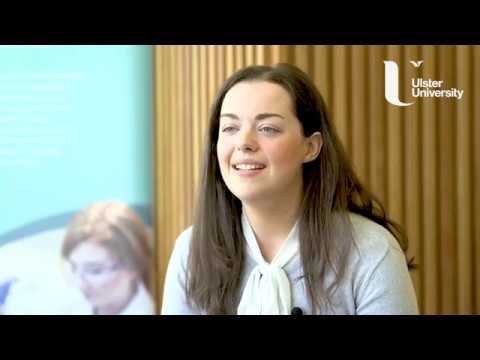 Completing the MRes provided me with a lot of different skills, particularly in research methods and lab skills.
Michelle Clements Clements - MRes - Life and Health Sciences
Watch Video
---