---
Summary
Microbial biosurfactants, such as the rhamnolipids produced by Burkholderia thailandensis, have been identified as surface active agents which may have extensive application in a wide range of consumer products. Some of these biosurfactants such as sophorolipids have already found their way to the market place, however, rhamnolipids have yet to make an impact since the best producer organism is a human pathogen. B. thailandensis is an alternative non-pathogenic producer which is being investigated. The key problem to be overcome with biosurfactant production is the low yield of product and the consequent poor economics of the process. A clear knowledge of the regulation of production is therefore essential to achieve high productivity and an economic process.
The focus of this project will therefore be to examine the genetic regulation of rhamnolipid production in B. thailandensis principally through the use of knockout mutants of the key production enzymes. This organism has two identical operons containing the relevant genes but the contribution and regulation of these two operons is not known. A library of knockout mutants is available, but some of the key mutants are not contained in the library, it will therefore be necessary to produce in-house additional mutants to complete the study. The availability of a complete genome sequence will facilitate this approach. QRT-PCR will be the initial tool to examine the expression of the two operons at different times and under different conditions during growth.
Applicants should note that bench fees of £2000.00 per year are required.
Related References:
S. Funston, K. Tsaousi, M. Rudden, TJ. Smyth, PS. Stevenson, R. Marchant and IM. Banat (2016). Characterising rhamnolipid production in Burkholderia thailandensis E264,, a non-pathogenic producer. Appl. Microbiol & Biotechnol. 205: 1-6. 10.1007/s00253-016-7564-y
S. Funston, K. Tsaousi, T. J. Smyth, M. S. Twigg, R. Marchant and I.M. Banat (2017). Enhanced rhamnolipid production in Burkholderia thailandensis transposon knockout strains deficient in polyhydroxyalkanoate (PHA) synthesis. Applied Microbiology and Biotechnology, 101 (23), 8443-8454. DOI: 10.1007/s00253-017-8540-x
---
Essential criteria
To hold, or expect to achieve by 15 August, an Upper Second Class Honours (2:1) Degree or equivalent from a UK institution (or overseas award deemed to be equivalent via UK NARIC) in a related or cognate field.
---
The Doctoral College at Ulster University
---
Reviews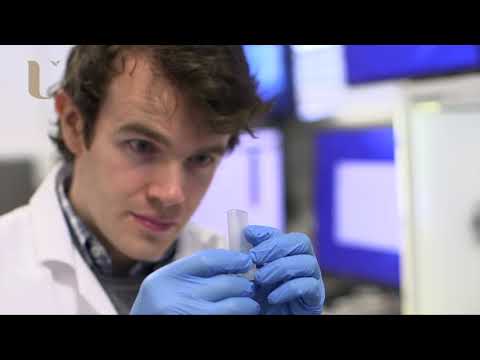 My experience has been great and the people that I have worked with have been amazing
Kieran O'Donnell - 3D printing of biological cells for tissue engineering applications
Watch Video
---

Kamin Hau - PhD in Biomedical Sciences
---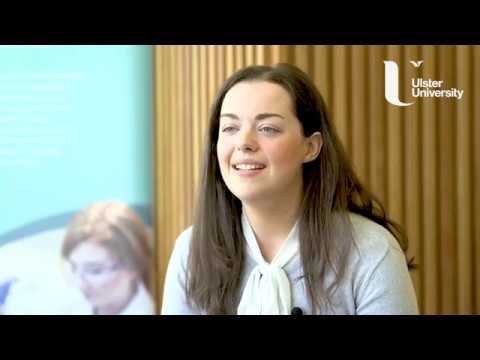 Completing the MRes provided me with a lot of different skills, particularly in research methods and lab skills.
Michelle Clements Clements - MRes - Life and Health Sciences
Watch Video
---

I completed my undergraduate studies at Ulster University, where I graduated in 2017 with first class honours in Biomedical Science with a Diploma in Professional Practice . I joined the Diabetes Research group as a PhD researcher in September 2017 and completed my PhD studies in June 2020.I am proud to say I not only completed my PhD studies within 3 years, but also became the World Champion (with a perfect score!) in Irish Dance during my PhD studies. My favourite memory was the opportunity to present my PhD work at the EASD conference in 2019. If I could speak to myself at the start of my PhD, the best piece of advice I would give myself would be to enjoy every single minute as the time flies in. I really would do another PhD!
Sarah Craig - PhD in Biomedical Sciences
---

I completed my undergraduate studies in America at Texas Woman's University where I majored in Kinesiology. I then moved to Scotland to successfully complete my Masters with Merit in Human Anatomy at the University of Dundee.My proudest moment was when I passed my viva! My favourite memory was …the dissections. I'll never forget the friends I made and the good times we had together. I couldn't have got through this without the support of my family, friends, lab colleagues, supervisors, and my boyfriend. If I could speak to myself at the start of my PhD, the best piece of advice I would give myself would be to write up after every experiment, keep a lot of back up copies of the work, and to enjoy the experience.
Natalie Klempel - PhD in Biomedical Sciences
---

Throughout my PhD I've been provided with continuous support and guidance by my supervisors and the staff at the University.I've also received many opportunities to further enhance my professional development in the form of teaching experience and presenting my work at conferences which will aid in my pursuit of a career in academia or industry.
William Crowe
---

I studied Medical Neuroscience at the University of Sussex followed by a year working in Industry and then a Master's in Genetics at the University of Lyon in France, before coming to Ulster University for my PhD in Biomedical Sciences.I want to thank my fantastic supervisors Declan McKenna and Colum Walsh for teaching me so much and for being so supportive. I had a brilliant PhD experience, made all the better by my lovely supervisors, office-buddies, tearoom-buddies, and other friends. I also want to thank the amazing staff at the Coleraine campus gym for being so much fun and for giving me my love of fitness. I am so glad that I decided to join in the first year - it was really the thing that kept me sane during the stressful periods and I so enjoyed being part of that community. My best wishes to the rest of my cohort and good luck for the future.
Charlotte Zoe Angel - PhD in Biomedical Sciences
---

I studied BSc Biomedical Sciences with DPP at Ulster University and graduated with first class honours in 2017. I completed my placement year within the university research facilities in NICHE which inspired me to apply for a PhD. My PhD research was part of an internationally collaborative study, the Seychelles Child Development Study, and focused on associations between maternal diet, inflammation and oxidative stress in pregnancy. ​​I thoroughly enjoyed my experience at Ulster University and being part of the Seychelles team. My proudest moment was successfully completing the PhD Viva! A special thank you to Dr Emeir McSorley, I am extremely grateful for the incredible support and supervision I received throughout my PhD journey. My favourite memory was attending a team meeting and conference in Seychelles in 2019. A PhD can be challenging but I will never forget the great friends/PhD family who made the experience
Toni Spence - PhD in Biomedical Sciences
---

I am originally from Nepal, having received my undergraduate and master's degree from Bangladesh. During my Master's degree, I chose area of diabetes research and then I was offered a PhD in the School of Biomedical Sciences on Diabetes Research. Currently, I'm working as a Scientist at Randox Laboratories Ltd. Thus, I would like to thank my supervisors, without them I wouldn't be in this position today.My proudest moment was when I presented my research outcomes to an international symposium. My favorite memory was the love of university staff and colleagues during my PhD tenure. I'll never forget my supervisors, and especially Professor Peter Flatt, who has guided me in each step of my PhD life. I couldn't have got through this without Professor Peter Flatt and Dr Yasser Abdel-Wahab and the University's staff support.If I could speak to myself at the start of my PhD, the best piece of advice I would give myself would be after all the hard work, you will receive a
Prawej Ansari - PhD in Biomedical Sciences
---

My PhD journey was a real big challenge for me. It was unforgettable moment for me when I knew the possibility of the full transfer of my PhD project to Ulster University. A special thank you to Prof John Callan, I am extremely grateful for the incredible support and supervision I received throughout my PhD journey. I would like to express my gratitude to my beloved family (my father "Rizk", my mother "Amany", my husband "Ahmed" and my two lovely boys "Eslam & Adam"). I am deeply grateful for their unconditional love and overwhelming care which pushed me forward throughout my long journey in PhD. Nevertheless, I'm profoundly appreciative for their continuous encouragement and everlasting patience.My proudest moment was when I passed my Ph.D. viva, I couldn't wait to let my dad and mom in Egypt know about theses great news, they were really proud of me and I always proud of them as well. My dad and mom gave me all the love
Nermeen Ali - PhD in Biomedical Sciences
---

I joined Ulster university in Jan 1990 after completing Postdoctoral research in Germany (1986-88) and PhD in India (1985). DSc degree in Applied Microbial-Biotechnology has been awarded after the evaluation of my thesis based on Research, Publication & related activities, completed as a research-active academic member of staff (1990-2019). DSc thesis summarised my scientific outputs and contributions (183 research papers, 3 biotechnology reference-books, 43 research-informed book-chapters, 26 research-informed review-articles, 90 conference-abstracts,1 European Patent and 2 Technology-transfers; Supervision of National & International researchers-18 Postdoctoral/Exchange and 12 PhD; and affiliations as Examiner of 58 PhD researchers globally, and Fellow & Member of nine scientific & academic societies.My message to all researchers is that "Chase your Aspirations and Never Give up". I couldn't have got through my long academic & Professional journey without
Poonam Singh Nigam - DSc in Biomedical Sciences
---

I started my PhD after I completed my undergraduate in Biology at Ulster University in 2016, with a dissertation project that focused on genetic variations in bacterial species. I continued using some of these techniques in my doctoral research, which primarily involved the investigation and development of mass spectrometry imaging in vitamin D treated prostate cancer, looking at the metabolic and genetic variations upon treatment. I worked with international collaborators at the University of Edinburgh and Maastricht University, where I got to learn and develop mass spectrometry techniques that have not previously been carried out in Northern Ireland. I now work as a postdoctoral researcher at the National High Magnetic Field Laboratory at Florida State University in Tallahassee, Florida, where I am helping to develop and implement a mass spectrometry imaging facility for users across the world with the super powerful 21T FT-ICR mass spectrometer.A PhD is a demanding process but when
Karl Smith - PhD in Biomedical Sciences
---

I graduated Ulster University in 2016 with a degree in Biomedical Science with DPP (Pathology). I was then offered a PhD studentship with Dr Catriona Kelly and Professor Neville McClenaghan at CTRIC which I started in September 2016. My PhD explored the pathophysiology of Cystic Fibrosis-Related Diabetes, the most common co-morbidity associated with Cystic Fibrosis.My proudest moment was undoubtedly passing my Viva (via Skype!), but I was also proud to be given the opportunity to present my work at the UK Cystic Fibrosis Trust Conference in 2018. Through this conference, I was able to meet with people with CF and the challenges they face which was important reminder that the research I was doing mattered. I couldn't have got through this without the unwavering support of my family, who were always there for me in the good times and the bad. I am also extremely grateful for the support and mentorship of my supervisors Dr Catriona Kelly, Professor Neville McClenaghan and Dr Dawood Khan
Ryan Kelsey - PhD in Biomedical Sciences
---

My proudest moment was when I knew the possibility of the full transfer of my PhD project to Ulster University, the University which I loved and started my first steps towards my PhD in, and also being a PhD graduate from one of the highly reputable universities such as Ulster is a big thing which I should always be proud of. I think there is no that word that can ever express my deepest thanks and sincere appreciation to my supervisor Professor Kathryn Burnett for her ideal supervision, valuable guidance, encouragement, generous help and ultimate support throughout my PhD project. I have been really lucky to have her as a supervisor. Also my deepest gratitude to Mr Linden Ashfield, Principal Clinical Pharmacist, Antrim Area Hospital (NHSCT) for his help and endless support throughout the whole research project. Also, I could not have got through this without the support of my beloved family (my father "Sayed", my mother "Gamila", my wife "Nermeen"
Ahmed Abuelhana - PhD in Biomedical Sciences
---

I came to Ulster University in 2016 as an exchange student from East China University of Science and Technology (ECUST) and I got the Ph.D. opportunity with Prof John Callan in the School of Pharmacy of Ulster University in 2017. From then on, my Ph.D. journey begins. My Ph.D. research focused on the targeted treatment of pancreatic cancer and the thesis title was "The Delivery of Multiple Payloads to Solid Tumours using Ultrasound Targeted Microbubble Destruction". During my three years of research, I successfully developed a microbubble-based targeted drug delivery system for pancreatic cancer treatment and significantly improved the treatment efficiency and survival rates in the preclinical tests.From 2016 to 2021, I spend my five years in the Coleraine campus at Ulster University and I met wonderful supervisors and researchers here and shared happy memories. Five years are short and five years are long. It's long enough to understand "good craics" and "aye
Jinhui Gao - PhD in Biomedical Sciences
---

I graduated from Queen's University Belfast with a Master's in pharmacy in 2014 and subsequently began working as a community pharmacist in the Greater Belfast area. My career began to take an unusual turn when I got involved with a small startup company who developed a novel blood glucose monitor for diabetic patients. From here, my interest in diabetes was piqued and I applied for a PhD project (somewhat optimistically!) in the Diabetes Research Group at Ulster. Nearly four years later, I'm still there working as a postdoctoral researcher. Not bad considering I never thought I had a chance of getting a PhD spot!My time within the DRG has been, and still is, fantastic. I've made life-long friends (and surprisingly few enemies!) who have been patient, helpful and a joy to collaborate with. I couldn't have got through it without them (you know who you are). Likewise, the guidance from my supervisors, Prof. Peter Flatt and Dr. Nigel Irwin, has been invaluable. I'm probably most proud of
Ryan Lafferty - PhD in Biomedical Sciences
---