---
Summary
This project is associated with a ring fenced PhD studentship for Dr Kennedy.
Stroke is the third largest cause of adult death and the largest cause of adult disability in the United Kingdom (NHS, 2012) with approximately 152,000 people a year having a stroke (Stroke Association , 2017). Stroke is traditionally seen as a disease of older adults, however approximately a quarter of all strokes occur in people aged 20-64 (Stroke Association , 2017; Feigin et al, 2014). There is limited data on prognosis after stroke in younger age group. Long-term prognosis is particularly important in these patients as they will have a longer time to live with any resulting disability. It can also be during a time in their life when they are building their careers and beginning their families (Ellis et al, 2010, Rutten-Jacobs et al, 2013). There is no research investigating any potential biological and neurophysiological differences in patient's potential recovery across the age span. This is important, as the underlying biological correlates of recovery are associated with improved functional recovery, An increased understanding of these underlying mechanisms allows the targeting of these deficits in rehabilitation. The lack of research in this area leds to the need for a holistic approach to looking at the functional, psychosocial and neurophysiological recovery of stroke patients.
This PhD project aims to help understand the scale of younger stroke in the UK and to quantify the neural correlates of recovery in young stroke survivors. Methods The PhD project will begin with a systematic review on the neurophysiological recovery in younger stroke survivors. The review will explore potential neural correlates of change in younger stroke patients including data from neuroimaging, neurophysiological and neuropsychology studies.
The second part of this programme will involve a database investigation of stroke database (SNAPP) into the prevalence and outcomes for younger stroke patients in the UK. The aim of this section would be to allow for a better picture of the scale of incidence and rates of recovery (in isolation or comparison to older/average age of stroke).
The third part of this programme will involve an experimental study to investigate the neural correlates of recovery in younger stroke survivors, in order to potentially personalise rehabilitation to best meet the needs of younger stroke survivors. It is essential that we understand the recovery mechanisms of the brain and how these interact with functional recovery. This will involve a case series design, in which a group of younger stroke patients will undergo a battery of outcome measures including neurophysiological, clinical and psychological measures to characterise their recovery profile. These will include measures of brain connectivity, muscle activity and cortical excitability measured by transcranial magnetic stimulation (TMS), a clinical score such as ARAT, stroke impact scale and a quality of life measure. Participants will be recruited from Northern Ireland Chest Heart and Stroke young stroke support group, this has already been agreed by the organisation.
---
Essential criteria
To hold, or expect to achieve by 15 August, an Upper Second Class Honours (2:1) Degree or equivalent from a UK institution (or overseas award deemed to be equivalent via UK NARIC) in a related or cognate field.
---
Desirable Criteria
If the University receives a large number of applicants for the project, the following desirable criteria may be applied to shortlist applicants for interview.
First Class Honours (1st) Degree
Masters at 70%
Research project completion within taught Masters degree or MRES
Experience using research methods or other approaches relevant to the subject domain
Publications record appropriate to career stage
---
Funding
The University offers the following awards to support PhD study and applications are invited from UK, EU and overseas for the following levels of support:

Department for the Economy (DFE)

The scholarship will cover tuition fees at the Home rate and a maintenance allowance of £15,285 per annum for three years. EU applicants will only be eligible for the fee's component of the studentship (no maintenance award is provided). For Non-EU nationals the candidate must be "settled" in the UK. This scholarship also comes with £900 per annum for three years as a research training support grant (RTSG) allocation to help support the PhD researcher.

Due consideration should be given to financing your studies; for further information on cost of living etc. please refer to: www.ulster.ac.uk/doctoralcollege/postgraduate-research/fees-and-funding/financing-your-studies
---
Other information
---
The Doctoral College at Ulster University
---
Reviews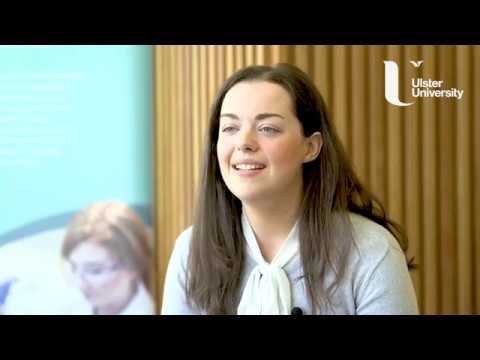 Completing the MRes provided me with a lot of different skills, particularly in research methods and lab skills.
Michelle Clements Clements - MRes - Life and Health Sciences
Watch Video
---

My name is Nargis Khan and I am originally from Pakistan. I first came to Ulster University to study psychology at the undergraduate level and later joined a doctoral course which I have now successfully completed. I had a fantastic time studying in Ulster at both the undergraduate and postgraduate level. Throughout my PhD, I was well catered for in terms of resources with access to well-stocked libraries full of friendly and helpful staff, funding to travel to conferences, the availability of various courses (e.g., statistics) and above all a supportive and stimulating environment which fostered my academic development. The seminars organised during the term time allowed me to present my work and hear about the research of others across a range of areas. I particularly appreciated the teaching opportunities available to me during my PhD. My supervisors were supportive and generous with their time. Other members of staff in the Psychology department also took a genuine interest in the
Nargis Khan - PhD in Psychology, Psychiatry and Neuroscience
---