Tier 4 Visa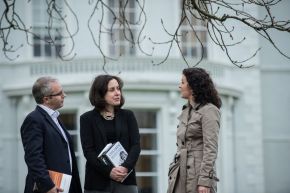 If a Student Visitor visa is not suitable, you must obtain entry clearance as a Tier 4 (General) student before you travel to the UK.
You can also find advice in our brochure: Seven steps to obtaining a Tier 4 visa.
As a Tier 4 (General) Student you can:
work a certain number of hours during your studies in the UK
undertake a work placement as part of your studies in the UK
apply to extend your leave in the UK
Applying for a Tier 4 Visa
Before you can make a Tier 4 (General) Student visa application you must:
To ensure you make a successful Tier 4 (General) application, it is important that you:
read and understand the UKVI's Tier 4 Policy Guidance.
ensure you meet all the requirements before you apply
provide evidence in the exact format required by the UKVI, as explained in the policy guidance and on the application form.
complete all sections of the form, fully and accurately.
allow plenty of time to collate the documents required to make your application.
ensure your application does not come under the general grounds for refusal.
check with the Compliance Team at Ulster University for any changes that might affect your application.
Applying from outside the UK
Our guidance leaflet, Applying for Tier 4 from overseas, gives you a summary of the documents you will need and how to apply for your Tier 4 visa from overseas.
It also contains important information about recent changes made by the Home Office, including:
April 2015 Immigration Health Surcharge
From April 2015 if you are coming to the UK to study for more than six months you will probably have to pay an immigration healthcare surcharge. This means that you will be entitled to receive free health services from the National Health Services (NHS) while you are in the UK.
March 2015 Biometric Residence Permits
In March 2015, the Home Office introduced a new system of Biometric Residence Permits (BRPs) for Tier 4 applications made outside of the UK. This means that if you are coming to the UK to study for more than six months you will not get your full visa before you travel to the UK. Instead, you will have to collect your full visa (BRP) when you arrive in the UK.

Please read Applying for Tier 4 from overseas carefully to make sure you understand these changes and what is required of you.
Applying from within the UK
You may need to make a Tier 4 application while you are in the UK. For example, you may need to apply because you:
need more time to complete your studies with your current Tier 4 sponsor.
have completed a pre-sessional course and are progressing to a main programme of study.
are switching to a new Tier 4 sponsor.
are extending your stay in the UK to work as a Student Union Sabbatical Officer or as a Doctor or Dentist in training, or for the Doctorate Extension Scheme, all of which are done with Tier 4 leave.
Further guidance on applying in the UK is offered by the UK Council for International Student Affairs.