PhD Reviews
Hear from our PhD researchers on the research experience at Ulster University.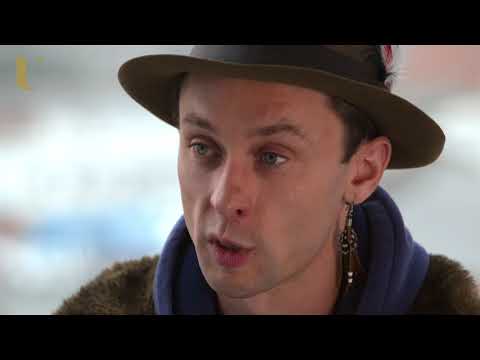 Ulster has a very relaxed feel and atmosphere
David Lyttle - PhD in Musicology
Watch Video
---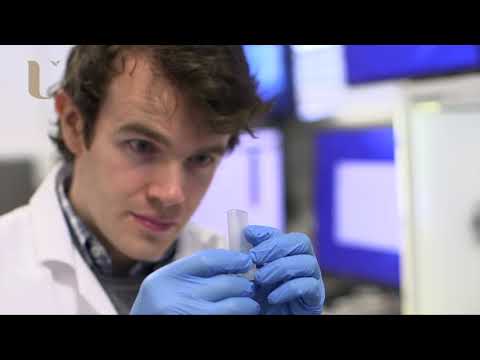 My experience has been great and the people that I have worked with have been amazing
Kieran O'Donnell - 3D printing of biological cells for tissue engineering applications
Watch Video
---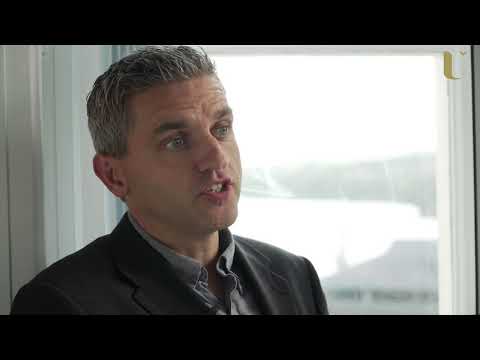 As Senior Engineering Manager of Analytics at Seagate Technology I utilise the learning from my PhD ever day
Adrian Johnston - PhD in Informatics
Watch Video
---
For me, completing a PhD at Ulster University was transformative.A PhD trains you to think differently. It acted as a springboard to my career path, greatly developing both my analytical and personal skills.The quality and dedication of my supervision remains unrivalled. My experience opened the door to amazing opportunities.
Brenna O'Roarty
---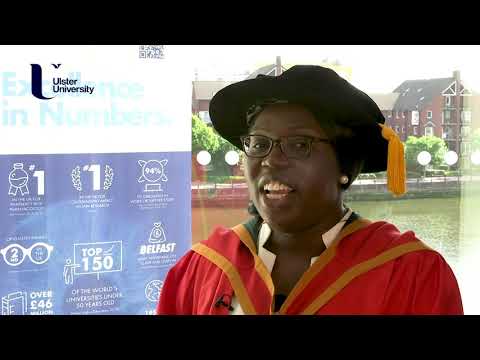 It has been a rewarding experience for me.
Olufikayo Bamidele - PhD Life and Health Science
Watch Video
---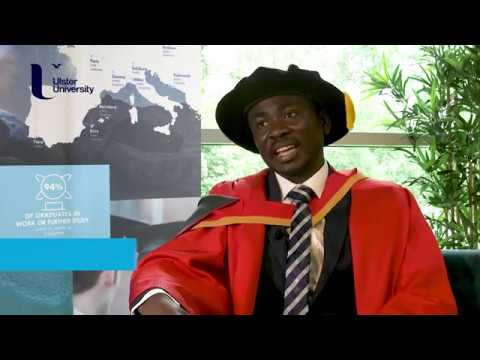 The highlight of my time studying at Ulster was when I received an award for an aspect of my research study.
Michael Ntodie - PhD Optometry and Vision Science
Watch Video
---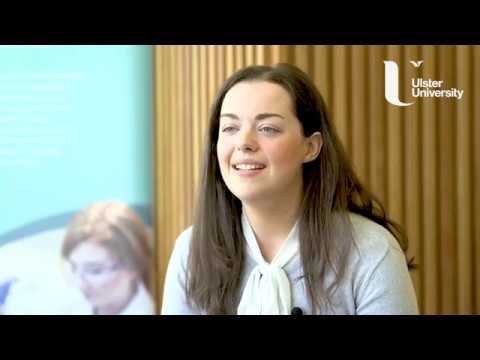 Completing the MRes provided me with a lot of different skills, particularly in research methods and lab skills.
Michelle Clements Clements - MRes - Life and Health Sciences
Watch Video
---
I can honestly say that doing a PhD at Ulster University has been a thoroughly rewarding and enjoyable learning experience.I've learned so much about myself whilst developing my skills as a researcher and it's opened up so many other additional opportunities and new networks.As a practitioner for many years it's refreshing to have an opportunity to get involved in a piece of work which offers the potential to make a contribution to both theory and practice. It's a lot of hard work but so worth the rewards. I'd recommend it to anyone prepared to commit to it.
Bernadette Best
---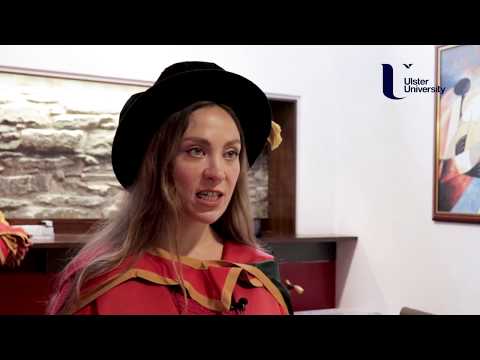 If I were to sum my experience in one word I would say adventure.
Ksenia Kudenko - PhD Early Irish
Watch Video
---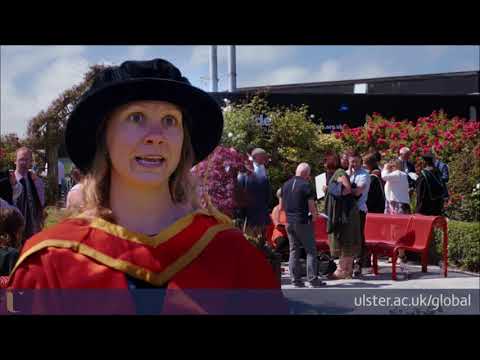 Ulster University gave me the responsibility for my own learning. My supervisor and other lecturers offered me alot of guidance and support, always there to advise, it was a great experience.
Jana Ross - PhD Life and Health Sciences Graduation 2018
Watch Video
---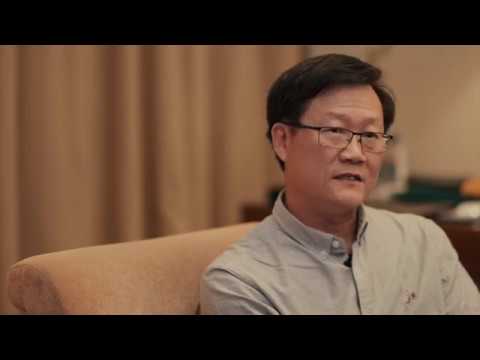 Ulster University has very enhanced independent learning. I strongly recommend my students to go abroad to broaden their vision to get new motivation. I tell them that when studying at Ulster University, they will receive an abundance of knowledge, new experiences and strong technology to enhance their life.
Professor Stenver Lin - PhD Radiology
Watch Video
---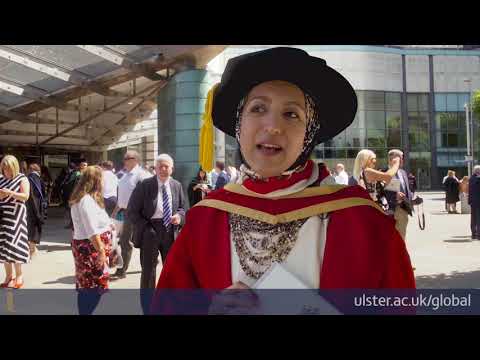 The lecturers at Ulster University are among the best in the world. Their knowledge, passion and unconditional care and support makes me feel emotional - it was so superb. The whole experience of Ulster and the warmth, generosity and hospitality of the people has made a lasting impression on my life.
Azadeh Sobout - PhD Law Graduate 2018
Watch Video
---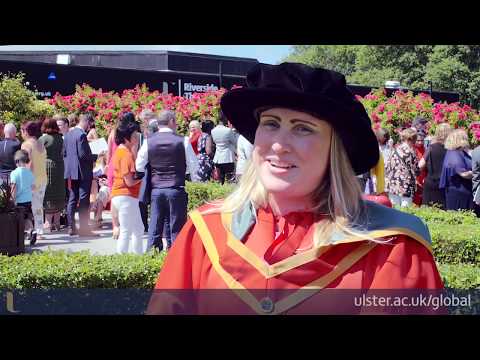 I would highly recommend Ulster University as you get so much support. Coleraine is a beautiful town and the people are so friendly. It was a really positive experience.
Carin Cornwall - PhD Environmental Sciences
Watch Video
---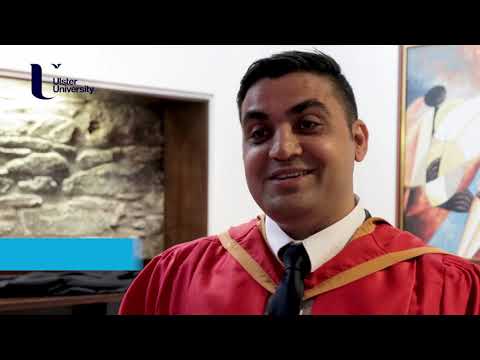 I chose Ulster University because it has such quality and it's financial support to its students.
Dheeraj Rathee - PhD Computer Science
Watch Video
---
One of the top reasons for choosing to study at Ulster University - the University is situated in Derry/Londonderry, the north west of Ireland. It's one of the most exciting locations possible for a student and an educational centre for many centuries. I never regret coming and I am having a great time here so far. The study and the supervision are excellent.
Yogesh Kumar Meena - PhD Engineering student
---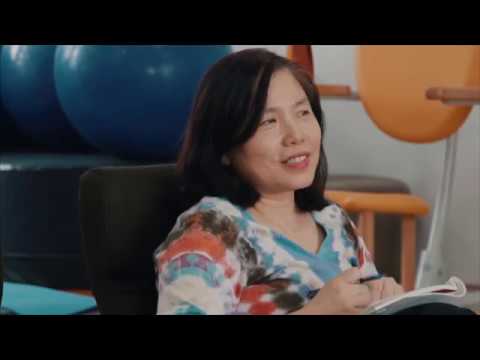 I am currently the Director for the Department of Nursing-midwifery and Women's Heath at NTUNHS. I studied at Ulster University for 3 years and it was a very happy time. Ulster is very good for study, not only in academic work but it also shows you how to be a good teacher.
Professor Chein Huei Kao - PhD Health Science of Nursing
Watch Video
---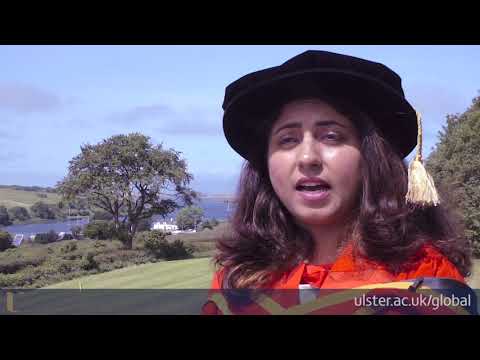 I arrived at Ulster University 4 years ago to do my PhD and I can remember my first day. Everyone has been so helpful and accommodating. the International Office were so patient with all my emails. I now feel like this is my second home. There are alot of opportunities and there is plenty to see and do.
Noorjahan Iqbal Aibani - PhD Life and Health Sciences
Watch Video
---
Throughout my PhD I've been provided with continuous support and guidance by my supervisors and the staff at the University.I've also received many opportunities to further enhance my professional development in the form of teaching experience and presenting my work at conferences which will aid in my pursuit of a career in academia or industry.
William Crowe
---
The PhD training programme and regular supervision contacts have provided the direction and support necessary to ensure that I deliver a quality thesis in a timely manner.I have thoroughly enjoyed the experience of working at Ulster University and feel it has put me in a better position to sustain a full time career as an artist and academic in the years to come.
Jacqueline Wylie
---
Looking back over the course of my career, I can categorically state that my PhD from Ulster has opened many doors in terms of career/professional development and commercial success through winning consulting commissions.The skills I gained were specific (in my subject area), but often when I reflect, it is the general skills that have added most value to my career over time – for example, the ability to see the bigger economic picture, the ability to analyse and summarise complex sets of data, the ability to write reports and present in a succinct manner and the ability to influence stakeholders in projects.For these reasons I highly recommend a PhD as a foundation for career success.
Connel Bottom - PhD Graduate
---
Ulster University Doctoral College - Social