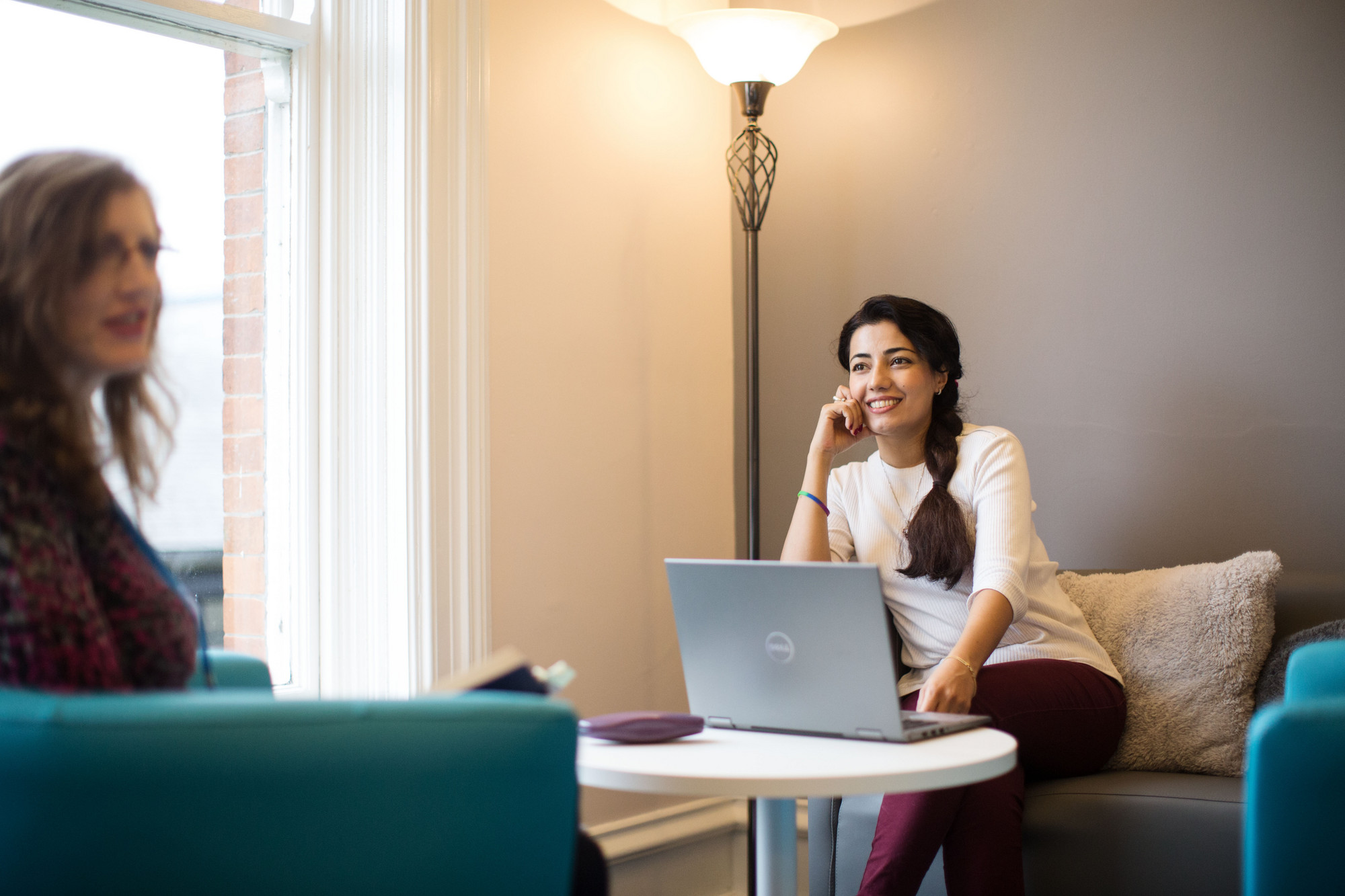 About the programme
The Doctoral College at Ulster University wants to ensure that all PhD researchers receive the highest quality of doctoral training.
The Researcher Development Programme (RDP) at Ulster is an integral part of your doctoral programme. The RDP is a suite of workshops, specialist skills sessions, online training and personal development planning activities designed for you to gain the experience and skills required to be a competent and professional researcher. The sessions are delivered through both the Doctoral College and individual Faculties, by academics and external facilitators committed to delivering excellence in supporting postgraduate research.
Researcher development courses include training (both online and face to face) which covers technical elements, specific to the individual and their project as well as their personal and professional development requirements. The development opportunities are available at both Doctoral College level and at Faculty and discipline specific level. The Doctoral College is committed to delivering a programme that is high quality, flexible and responsive to the needs of our PhD researchers.
The Handbook
The Doctoral College also encourages PhD researchers to establish their own 'PhD researcher-led initiatives'. Details of funding opportunities for such initiatives will be made available to you later in the first semester.
The programme consists of:
Workshops
Online training
PhD researcher-led initiatives
Personal development activities
RDP Handbook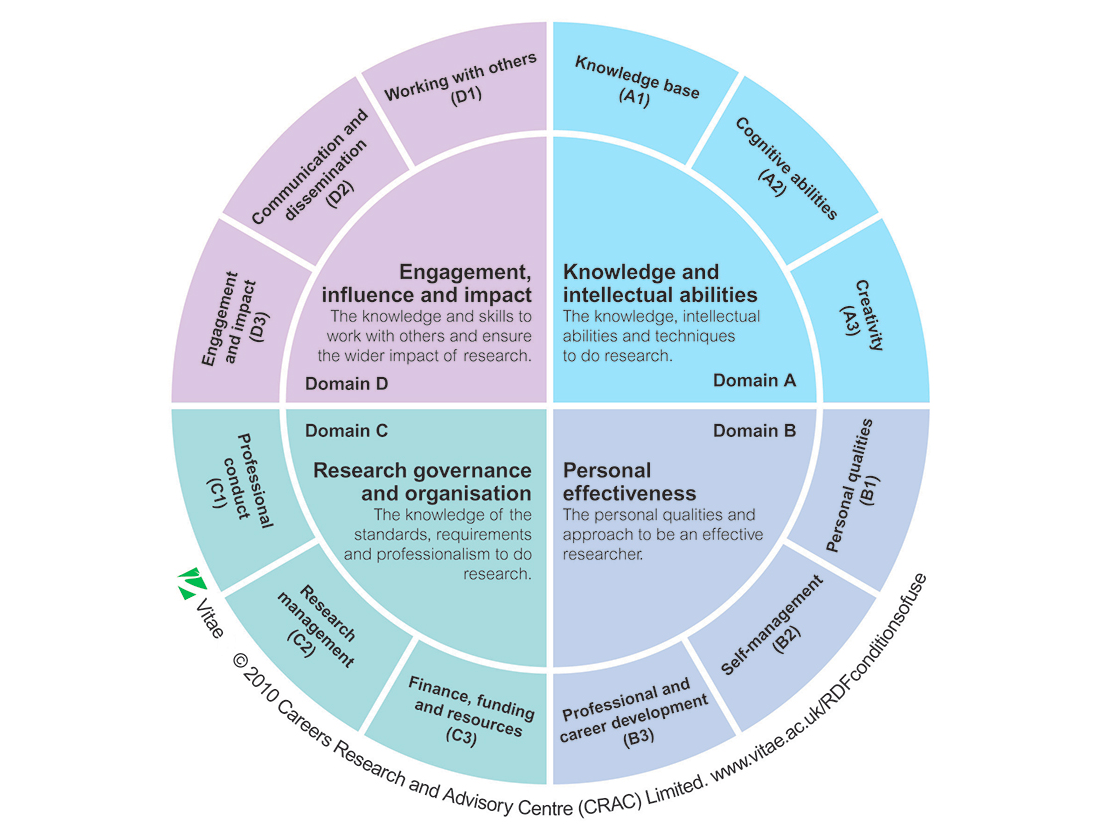 The Vitae Researcher Development Framework
The RDP at Ulster University is informed and guided by the Vitae Researcher Development Framework (RDF) which is endorsed by the Research Councils UK, the Quality Assurance Agency and other external stakeholders.
"The RDF is a professional development framework for planning, promoting and supporting the personal, professional and career development of researchers in higher education. It articulates the knowledge, behaviours and attributes of successful researchers and encourages them to realise their potential." (Vitae, 2010)
The RDP at Ulster is structured around the four 'Domains' of the RDF
How much training do I need to undertake?
If you are registered as a full time PhD Researcher, you should aim to undertake the equivalent of 10 days per year in researcher development activities (five days per year for part-time).
We define 'researcher development activities' broadly. Alongside participating in workshops development activities include the Doctoral College induction events, subject specific workshops and specialist conferences relating to your research.
Online training courses, research seminars, poster presentation, publications, PhD Researcher-led initiatives and any relevant work experience also form part of your researcher development activities.
Planning Ahead
Inherent in the RDP is an understanding that different students will come to their PhD with different backgrounds and different needs. For example, a student who has just completed a first degree is likely to have a more limited skill set than one who has already spent time working in industry. This is why the programme has been designed to be flexible to your needs.
All PhD Researchers are expected to undertake a Training Needs Analysis at the beginning of their studies and to review this on an annual basis, in consultation with their supervisor(s). The Training Needs Analysis is structured around the Vitae Researcher Development Framework 'domains'. This will be used to develop your own Personal Development Plan which will map onto the offerings within RDP. Ideally your plans should be individualised according to your own needs and requirements, whatever stage you are at in your doctoral study.
In PhD Manager, there is an area for 'Training and Development' in your Dashboard. This includes your Training Needs Analysis, Training Plan and Training Log which records all your researcher development activity.
Individual courses and workshops appear in the Events/Workshops area of PhD Manager.
---
Getting Started
Assess your current skills against the Researcher Development Framework using the Training Needs Analysis on PhD Manager. You should carry this out at the beginning of your doctoral study, and liaise with your supervisor(s) while doing this.
Where you recognise gaps in your skills, or areas where your skills could be improved, identify which workshops and online training would best address these gaps. Summary descriptions of the workshops, and online training, are available on the RDP website and each individual event description. There will be additional Faculty level, and discipline specific training available from which to choose. The programme of workshops, online training and events you choose and plan out becomes your own Training Plan, available in PhD Manager. You should aim to have completed your initial training plan for Year 1 before your Initial Assessment.
Book the relevant courses online via PhD Manager - course offerings will be updated throughout the year and you will receive email notifications of such additions.
Ensure that you sign in at the workshop so that your attendance can be recorded and automatically updated to your records in due course.
You will receive an email inviting you to complete an online feedback questionnaire when your attendance has been recorded. This is anonymous and will be used to provide essential information on the quality of the workshops provided.
On an annual basis, revisit your Training Plan and Training Needs Analysis to ensure that they remain relevant.
Your Training and Development Records
Your training and development records, including Researcher Development Programme courses that you have booked and attended are held in your Training Log in PhD Manager. You may add external activities to this Log as appropriate. Your Supervisor will be able to view your Training Log also.
NB: Historical data relating to RTCs obtained pre-September 2017 is available on your student record via Banner.