Overview
Zero carbon/low energy engineering to create sustainable, safe, healthy and comfortable internal building environments.
Summary
The award winning BEng/MEng Hons Architectural Engineering has been designed for innovative individuals with an interest how buildings work.
The programme aims to meet the increasing demand for skilled graduates with the expertise and knowledge to deliver energy conscious and environmentally sustainable solutions for buildings.
Pioneering research shapes our teaching. Throughout the course you will explore a number of themes including energy, building services, engineering principles, sustainability and management.
Employability is embedded within the programme structure to ensure that what you study is relevant in a real-world context. The degree offers a route to professional status with excellent employment opportunities.
Our graduates have been successful in a number of roles from design engineer to energy manager.
---
Sign up to hear more about Ulster
About this course
About
Architectural Engineering at Ulster will equip you with the professional skills and knowledge for this thriving industry.
The programme is split into a number of vertical and horizontal themes. Across each year you will cover themes encompassing:
Science and Maths
Engineering Analysis
Design and Innovation
The Engineer and Society
Engineering Practice
Sustainability
Health and Safety
Design
There will be specific threads pertaining to:
building energy use
building services – heating, ventilation, air-conditioning
electrical
building thermal modelling
zero carbon / energy buildings
Within each year we have a horizontal theme.
In Year 1 the theme is Engineering Science. We introduce you to the world of engineering, energy and sustainability. You will study the movement of air, fluids and electricity, the chemistry of energy, heating and ventilating buildings, how we generate electricity, mathematics and digital communication.
Year 2builds on year 1 and applies the science as Engineering Technology and Analysis. You will investigate bioenergy and solar energy systems, heating and cooling of buildings, electrical installations in buildings, the movement, transfer and transforming of energy, acoustics, lighting and building computer modelling.
Year 3 is placement in industry. This is a full calendar year and you get the opportunity to explore the working environment, team working, meeting deadlines and see how your knowledge and skills will be invaluable to you as a graduate engineer.
Year 4is where we explore Engineering Design and Futures. You will undertake a year-long research project and an individual practical design project. Alongside these you will have groupwork, act as a design consultant, study energy economics and management, construction management and green buildings.
At this point students may graduate with a BEng degree. For students with the correct academic profile, they may proceed onto the MEng.
Year 5 is the MEng year where the focus is on Engineering in the societal context. You will engage with diverse subjects such as sustainable development and health and well-being in buildings, alongside modules on project management, and a choice of either demand side management or electrical energy storage. In parallel to the class based modules you will undertake a group-based design project, in which you will be embedded into the Architecture design studio and work with students across both the BA and MArch programmes to realise solutions to design briefs.
The Chartered Institution of Building Services Engineers (CIBSE) has recognised the changing role of the building services engineer. New entrants in the field need to have a greater awareness of the total building concept through an integrated design approach. As a result, emerging specialist areas like building information modelling (BIM), design and simulation tools, façade engineering or green building design have opened up new potential employment opportunities.
Our graduates have progressed to highly successful careers in various areas such as contracting, consulting, governmental and public authorities, facilities management, energy advice, education and many are successful entrepreneurs.
Opportunities also exist to continue your studies through the PhD research programmes in energy, infrastructure and sustainability issues.
Associate awards
Diploma in Professional Practice DPP
Diploma in Professional Practice International DPPI
Attendance
The BEng/MEng (Hons) degree with Diploma in Professional Practice (DPP) is a sandwich course of 4 years duration. Years 1, 2, 4 & 5 each are comprised of modules totalling 120 credit points studied over 2 semesters. Year 3 is spent in a 48 week long supervised industrial placement carrying 60 credit points.
One credit point involves 10 hours of learning including directed and independent study.
Start dates
Teaching, Learning and Assessment
Your studies will include a range of lectures, seminars, tutorial, field trips and practical classes. They will be supported by a range of online material – videos, documents, self-tests to help you in your own studies. You will be expected to put in around 600 hours of study each semester, with approximately 1/3 of that being contact time with your tutors, 1/5 engaged in assessment completion and the rest reviewing class notes and adding to them from your reading material and other knowledge sources.
Extensive reading lists are provided for each module. The university library is able to provide access to the reading material either in hard copy, an electronic book or via information databases to which the university subscribes.
Assessment will include essays, reports, laboratory reports, digital design drawings, oral presentations, posters and reviews. Assessed groupwork is an essential aspect of any engineering degree programme and will be included in your studies. Some modules have traditional closed-book examinations, while in others you may undertake a class test, and online test, an open book examination or a timed assessment.
The content for each course is summarised on the relevant course page, along with an overview of the modules that make up the course.
Each course is approved by the University and meets the expectations of:
Attendance and Independent Study
As part of your course induction, you will be provided with details of the organisation and management of the course, including attendance and assessment requirements - usually in the form of a timetable. For full-time courses, the precise timetable for each semester is not confirmed until near the start date and may be subject to change in the early weeks as all courses settle into their planned patterns. For part-time courses which require attendance on particular days and times, an expectation of the days of attendance will often be included in the letter of offer. A course handbook is also made available.
Courses comprise modules for which the notional effort involved is indicated by its credit rating. Each credit point represents 10 hours of student effort. Undergraduate courses typically contain 10- or 20-credit modules and postgraduate course typically 15- or 30-credit modules.
The normal study load expectation for an undergraduate full-time course of study in the standard academic year is 120 credit points. This amounts to around 36-42 hours of expected teaching and learning per week, inclusive of attendance requirements for lectures, seminars, tutorials, practical work, fieldwork or other scheduled classes, private study, and assessment. Part-time study load is the same as full-time pro-rata, with each credit point representing 10 hours of student effort.
Postgraduate Masters courses typically comprise 180 credits, taken in three semesters when studied full-time. A Postgraduate Certificate (PGCert) comprises 60 credits and can usually be completed on a part-time basis in one year. A 120-credit Postgraduate Diploma (PGDip) can usually be completed on a part-time basis in two years.
Class contact times vary by course and type of module. Typically, for a module predominantly delivered through lectures you can expect at least 3 contact hours per week (lectures/seminars/tutorials). Laboratory classes often require a greater intensity of attendance in blocks. Some modules may combine lecture and laboratory. The precise model will depend on the course you apply for and may be subject to change from year to year for quality or enhancement reasons. Prospective students will be consulted about any significant changes.
Assessment
Assessment methods vary and are defined explicitly in each module. Assessment can be via one method or a combination e.g. examination and coursework . Assessment is designed to assess your achievement of the module's stated learning outcomes. You can expect to receive timely feedback on all coursework assessment. The precise assessment will depend on the module and may be subject to change from year to year for quality or enhancement reasons. You will be consulted about any significant changes.
Coursework can take many forms, for example: essay, report, seminar paper, test, presentation, dissertation, design, artefacts, portfolio, journal, group work. The precise form and combination of assessment will depend on the course you apply for and the module. Details will be made available in advance through induction, the course handbook, the module specification and the assessment timetable. The details are subject to change from year to year for quality or enhancement reasons. You will be consulted about any significant changes.
Normally, a module will have four learning outcomes, and no more than two items of assessment. An item of assessment can comprise more than one task. The notional workload and the equivalence across types of assessment is standardised.
Calculation of the Final Award
The class of Honours awarded in Bachelor's degrees is usually determined by calculation of an aggregate mark based on performance across the modules at Levels 5 and 6 (which correspond to the second and third year of full-time attendance).
Level 6 modules contribute 70% of the aggregate mark and Level 5 contributes 30% to the calculation of the class of the award. Classification of integrated Masters degrees with Honours include a Level 7 component. The calculation in this case is: 50% Level 7, 30% Level 6, 20% Level 5. At least half the Level 5 modules must be studied at the University for Level 5 to be included in the calculation of the class.
All other qualifications have an overall grade determined by results in modules from the final level of study. In Masters degrees of more than 200 credit points the final 120 points usually determine the overall grading.
Figures correct for academic year 2019-2020.
Academic profile
The majority of teaching staff have completed, or are currently enrolled on, the PG Certificate in Higher Education Practice (PgCHEP).
Teaching staff within the Faculty are encouraged to become accredited fellows of the Higher Education Academy. 70% of teaching staff in the Belfast School of Architecture and the Built Environment have become accredited members of the Higher Education Academy (HEA).

Over 90% of the teaching staff on this programme have an accredited teaching qualification from the HEA.
More than half of all staff participating in the delivery of the course are full members of their respective professional institutions including CIBSE, EI, ICE, IStrutE, CIHT, RICS, etc.

In addition, a number of staff are Chartered Engineers.
In addition to teaching, many staff associated with the course are engaged in research, consultancy and knowledge transfer that informs their teaching.
All teaching staff are research active, with the vast majority contributing to the work of the internationally renown Centre for Sustainable Technologies
https://www.ulster.ac.uk/research/topic/built-environment/sustainable-technologies
Two staff members of the School have been awarded the Distinguished Teaching Award from the University.
One member of course team is registered External Examiner with AdvancedHE.
The University employs over 1,000 suitably qualified and experienced academic staff - 59% have PhDs in their subject field and many have professional body recognition.
Courses are taught by staff who are Professors (25%), Readers, Senior Lecturers (20%) or Lecturers (55%).
We require most academic staff to be qualified to teach in higher education: 82% hold either Postgraduate Certificates in Higher Education Practice or higher. Most academic staff (81%) are accredited fellows of the Higher Education Academy (HEA) by Advanced HE - the university sector professional body for teaching and learning. Many academic and technical staff hold other professional body designations related to their subject or scholarly practice.
The profiles of many academic staff can be found on the University's departmental websites and give a detailed insight into the range of staffing and expertise. The precise staffing for a course will depend on the department(s) involved and the availability and management of staff. This is subject to change annually and is confirmed in the timetable issued at the start of the course.
Occasionally, teaching may be supplemented by suitably qualified part-time staff (usually qualified researchers) and specialist guest lecturers. In these cases, all staff are inducted, mostly through our staff development programme 'First Steps to Teaching'. In some cases, usually for provision in one of our out-centres, Recognised University Teachers are involved, supported by the University in suitable professional development for teaching.
Figures correct for academic year 2021-2022.
Belfast campus
The Belfast campus is situated in the artistic and cultural centre of the city, the Cathedral Quarter.
Accommodation
High quality apartment living in Belfast city centre adjacent to the university campus.
Find out more - information about accommodation
---
Student Wellbeing
At Student Wellbeing we provide many services to help students through their time at Ulster University.
Find out more - information about student wellbeing
---
Belfast Campus Location
Campus Address
Ulster University,
York St,
Belfast
BT15 1ED
Campus maps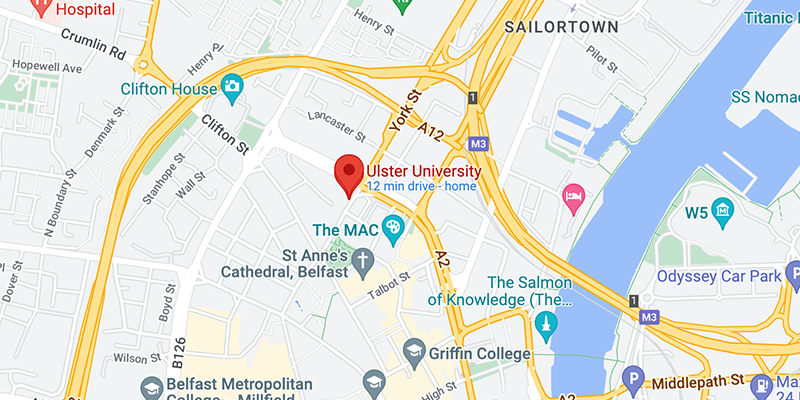 View Google Maps
View Map Diagram
Modules
Here is a guide to the subjects studied on this course.
Courses are continually reviewed to take advantage of new teaching approaches and developments in research, industry and the professions. Please be aware that modules may change for your year of entry. The exact modules available and their order may vary depending on course updates, staff availability, timetabling and student demand. Please contact the course team for the most up to date module list.
Year one
Energy and Environmental Systems
Year: 1
Status: C
The module provides a firm grounding in energy conversion through fundamental theory demonstrated in the analysis of conventional and alternative energy conversion systems.
Mathematics - BEng
Year: 1
Status: C
This module covers those mathematics topics which graduates in the engineering discipline will require for professional practice. For certain engineering courses this module also provides a platform for the further study of mathematics.
The module starts with refresher topics, includes basic algebra, mathematical functions, polynomial equations, logarithms and exponentials, trigonometry, complex numbers, matrices and determinants, vectors, differentiation and integration, and finishes with subject of sequences and series.
Building Services
Year: 1
Status: C
This module introduces the student to the requirements of mechanical HVAC and electrical
building services in the internal environment, including design of building heating and
ventilation systems and the fundamentals of electrical design and installation within
buildings.
Digital Construction and Communication
Year: 1
Status: C
The modern day built environment professional is required to communicate effectively utilising electronic tools with the rest of the project team. This has been mandated by the UK Cabinet Office Construction Strategy, by European Commission procurement regulations and is being followed across the world. This module develops an understanding of the key drivers and barriers to fully implementing Level 2 BIM and points towards the development of level 3 BIM working in the near future. The module develops the foundational skills for internationally recognised BIM Level 2 for the contemporary and future built environment professionals.
Science for Engineers
Year: 1
Status: C
Engineering and energy are rapidly evolving fields requiring enhanced levels of competency in underpinning sciences. Physics, material science and chemistry play critical role in a number of engineering areas and energy applications. This module will provide a fundamental knowledge and understanding of scientific principles relevant to engineers and energy professionals.
Engineering Fundamentals - Electrical and Fluid Mechanics
Year: 1
Status: C
This module provides fundamental engineering background knowledge in the fields of electrics and fluid mechanics. Both are essential for the understanding of thermodynamics, energy conversion and energy transmission, all of which form the core basis for engineering analysis.
Year two
Building Environmental Design
Year: 2
Status: C
This module seeks to engender ownership of the profession amongst the students by giving them a taste of architecturally informed building design and practice. It introduces the students to building thermal modelling (BTM), thermal comfort, lighting and acoustics. Students completing this module will have an understanding of project management and be able to use BTM to improve the design of buildings, and how it can help deliver buildings with improved indoor environmental quality.
Electrical Distribution Systems
Year: 2
Status: C
Students on this module will be equipped with the knowledge and technical skills to create safe, efficient and sustainable electrical designs for buildings, including the integration of low-carbon distributed technologies like PV, batteries and electric vehicles. Students will also learn about utility distribution networks, cyber security in critical infrastructure, and new system architectures such as Microgrids, DER Management Systems and Virtual Power Plants.
Thermodynamics & Heat Transfer
Year: 2
Status: C
This is a fundamental module for anyone studying energy systems or energy conversion technologies. It introduces the student to the fundamentals of thermodynamics and heat transfer. Students will undertake a series of lectures on heat transfer and thermodynamics, which will be accompanied by laboratories and tutorials. A high level of numeracy is required and the ability to set up, observe and report on experimental apparatus.
Solar energy systems and storage integration
Year: 2
Status: C
This module will enable students to identify and understand the current solar thermal and solar photovoltaic technologies and understand how these resources can be managed and combined with energy storage with a view to future sustainability and demonstrate how the management of energy can benefit industry financially in the short term and influence sustainability in the longer term.
Mechanical Services Design
Year: 2
Status: C
This module deals with the subject of providing mechanical HVAC systems (with reference to architectural, energy and occupant comfort) in buildings. To meet this requirement detailed fundamental principles of heating, ventilation and air conditioning are examined with a view to applying them in building services system design
Bio-Energy & Biofuels
Year: 2
Status: C
This module will introduce students to the diverse sources, technologies and applications of energy from biomass for electricity generation, heat generation and as transport fuel. It will include the practical hands on testing and design of biomass systems. This will be relevant for the future building services engineer to cater for low environmental impact buildings
Year three
Professional Practice - Architectural Engineering and Energy
Year: 3
Status: C
This module provides undergraduate students with an opportunity to gain structured and professional work experience, in a work-based learning environment, as part of their planned programme of study. This experience allows students to develop, refine and reflect on their key personal and professional skills. The placement should significantly support the development of the student's employability skills, preparation for final year and enhance their employability journey.
Year four
Construction Management
Year: 4
Status: C
The construction industry, including the organisations and the people they employ, is always under pressure to improve its performance with respect to cost, time and quality. The module is a response to these demands, in that it examines current practice and possible areas for change in the management of process and people in design and construction. The module draws together the processes of tendering for construction and decision making within teams in construction/design operations, in the context of relevant contractual arrangements and the people/organisations concerned. The management simulation provides an opportunity for teams to choose suitable strategies for improved performance relating to procurement practice and risk. Practical applications and case studies are employed to bring reality to the classroom.
Design Evaluation
Year: 4
Status: C
The module builds upon previous knowledge of building services engineering systems to prepare students to participate in the design evaluation and design processes in a wide range of energy and building services related projects. The module is firmly grounded in the principles, appreciation and application of good design and requires the student to apply innovation and creativity to arriving at installations that are 'fit for purpose'.
Energy Economics and Management
Year: 4
Status: C
This module examines current and future energy markets, market participation, the development of the smart grid and how building and industrial process design can be used to optimise energy efficiency, storage and generation.
Green Building Design
Year: 4
Status: C
This module will allow students to understand and critically appraise the factors affecting energy consumption in buildings enabling them to explore a wide range of low energy options in both domestic and non-domestic buildings. This will enable them to reduce the auxiliary energy load of any renewable energy solutions that may be considered while appreciating the main hazards to health in modern building designs.
Design
Year: 4
Status: C
This module provides an environment in which students are subjected to technical design and design evaluation activities to ensure that building services engineering systems are fit for purpose. The design process is presented as a logical methodology, building upon the skills and knowledge acquired from previous modules and practical experiences of work placement. In this 'hands-on' studio based setting, the module will require students to participate in exercises that involve design inquiry and analysis to challenge their perceptions of building services designs in existing buildings. The final design exercise requires the students to synthesise their technical and managerial knowledge and experiences in delivering a total building services design solution for a building with a substantial building services requirement
HVAC Systems
Year: 4
Status: C
This module deals with the design and operation of heating, ventilation and air conditioning (HVAC) systems in buildings with a significant emphasis on cooling and refrigeration, back dropped against architectural integration. The module instructs the student on modern methods in the design, selection and sizing of the HVAC provision for buildings and the influence of occupant comfort requirements. A study of the practical design, construction, installation and maintenance of HVAC and refrigeration plant compliment the students understanding. Finally the implications of system design, installation and commissioning are detailed against the backdrop of application, economics and energy performance.
Dissertation A
Year: 4
Status: C
The dissertation project is an essential component of the course. It is the most student-centred element and facilitates the development of self and time management skills as well as furthering technical competence and understanding. This module establishes a suitable research dissertation project and supports the students towards developing a literature review and selecting and appropriate methodology for it. The remainder of the dissertation project is carried out during a semester 2 module.
Dissertation B
Year: 4
Status: C
The dissertation project is an essential component of the course. It is the most student-centred element and facilitates the development of self and time management skills as well as furthering technical competence and understanding. This module relates to the primary data collection, reporting of results, analysis and conclusions of the project which takes place is semester 2.
Year five
Project Management
Year: 5
Status: C
The module is designed to provide a postgraduate multi disciplinary learning experience on the subject of Project Management. It introduces the concepts of Project Management, examines the recognised practices and accepted principles involved in the project management function, and combines these with an understanding of the increasingly demanding multi-dimensional aspects of the discipline. It provides an overall project orientated management framework (theoretical tempered with world best practice) with local, national and international dimensions within which you can develop your knowledge / understanding and key professional competencies.
Integrated Architectural Engineering Design
Year: 5
Status: C
The Integrated Design module facilitates a teaching and learning environment in which students can experience a holistic approach to design, across and linked to several built environment professions. Conceptual thinking leads on to a deeper appreciation of design, sitting within a sustainability framework, and allows the detailing of elements of a major project to be seen in the context of long-term impacts. Access to professional practice and design review processes ensures that the module remains relevant and challenging.
Thermal Storage and Heat Networks
Year: 5
Status: C
This module will provide the participant with a global overview of best practice that demonstrates the successful integration of Renewable Energy in both the electricity Transmission System to the electricity Distribution System. Furthermore, it will address in detail heating, cooling and alternative distributed energy resource applications in a global context.
Health and Wellbeing in Buildings
Year: 5
Status: C
Humans spend most of their lives indoors. The indoor environment can have a detrimental effect upon human health, and hence it needs to be understood, and skills developed to investigate internal spaces and rationalise solutions and interventions to reduce barriers to good health and wellbeing. This module investigates recent findings in this field and encourages the students to investigate internal environments in a holistic manner.
Integrated Design & Engineering
Year: 5
Status: C
This module seeks to immerse students in a safe but challenging integrated design team to conceptually consider design solutions to problems within the built environment. The students will work closely with architects and engineers to bring forward solutions, which will then be taken on to full development in ENE703.
Sustainable Development
Year: 5
Status: C
This module strengthens student awareness and knowledge of sustainable development and how it can be delivered and measured. It explores a range of economic, environmental and social challenges to determine how the built environment can best respond. It provides an appreciation of the policy and actions needed to deliver a smarter and more resilient built environment.
Distributed Energy Resources
Status: O
Year: 5
This module is optional
The aims of the module are to understand through a series of lectures and seminars, the array of techniques and technologies associated with demand side management and how its role in variable renewable energy management has evolved into consideration as distributed energy resources (DER). DER will be demonstrated in laboratories data and assessment will be through a case study to test your mastery of this specialist area.
Electricity Storage and Electricity Networks
Status: O
Year: 5
This module is optional
This module gives students a detailed understanding of the physical, economic and environmental aspects of modern grid architecture, in high renewables-penetration scenarios. As well as the design, operation and maintenance of power grids, students will learn about the vital role of grid-scale storage technologies in current and future low/zero-carbon systems.
Standard entry conditions
We recognise a range of qualifications for admission to our courses. In addition to the specific entry conditions for this course you must also meet the University's General Entrance Requirements.
A level
The A Level requirement for this course is BBB to include 2 subjects from Mathematics, Physics, Chemistry, Engineering, Environmental Technology, Construction or Engineering.
We will also accept Applied Science, Geography or Design and Technology/Technology and Design as long as they are presented with one of the main A level subjects above.
For those applicants offering desirable subjects at A level (Mathematics or Physics) a two grade reduction will be applied at the time of offer. The desirable subject must be achieved at a minimum grade C.
Providing the two-subject requirement is met, applicants can satisfy the requirement for one of the A level grades (or equivalent) by substituting a combination of alternative qualifications recognised by the University.
If not offering A-level Mathematics or AS-level Mathematics, a GCSE Mathematics at Grade B or 6 is required.
Applied General Qualifications
Overall BTEC award profile:
RQF Pearson BTEC Level 3 National Extended Diploma in Building Services Engineering.
Award profile of DDM to include a Distinction in Further Mathematics for Construction.
RQF Pearson BTEC Level 3 National Extended Diploma in Construction in the Built Environment / Civil Engineering.
Award profile of DDM to include a Distinction in Further Mathematics for Construction.
RQF Pearson BTEC Level 3 National Extended Diploma in Engineering.
Award profile of DDM to include a Distinction in Calculus to Solve Engineering Problems.
RQF Pearson BTEC Level 3 National Diploma in Building Services Engineering / Construction in the Built Environment / Civil Engineering.
Award profile of DM to include a Distinction in Further Mathematics for Construction plus A Level Grade B.
(This qualification will only be accepted as meeting the subject requirement if the Distinction in Further Mathematics for Construction is taken as a standalone unit or accompanied by A level Mathematics grade C).
RQF Pearson BTEC Level 3 National Diploma in Engineering.
Award profile of DM plus A Level Mathematics Grade C.
RQF Pearson BTEC Level 3 National Extended Certificate in Construction in the Built Environment or Engineering.
Award profile of D plus A Level Grades BB one of which must be from the listed A level subjects.

(These qualifications will only be accepted as meeting the subject requirement if the Distinction in the required unit (as listed in the qualifications above) is taken as a standalone unit and is accompanied by two A levels one of which must be from the listed A level subjects).
If an applicant is presenting A level Mathematics then no units are required in the BTEC qualification.
The subject requirement must be met.
Please note that OCR Cambridge Technical qualifications do not satisfy the subject requirements for this course and will be accepted as grade only when presented with A levels and BTEC qualifications in the required subjects.
For further information please contact the course administrator as listed in the Contact section.

​​Entry equivalences can also be viewed in the online prospectus at http://www.ulster.ac.uk/apply/entrance-requirements/equivalence.
Irish Leaving Certificate
Overall Irish Leaving Certificate profile 120 UCAS Tariff Points to include a minimum of five subjects (four of which must be at Senior Cycle) to include English at H6 if studied at Higher Level or O4 if studied at Ordinary Level. This course also requires you to achieve H3 in two subjects from Applied Mathematics, Chemistry, Mathematics, Physics, Physics and Chemistry, Construction Studies, Engineering or Technology.
If Mathematics is not achieved at H3 you will be required to achieve a minimum of H6 if studied at Higher Level or O4 if studied at Ordinary Level in addition to the two required subjects above.
Irish Leaving Certificate UCAS Equivalency
Scottish Highers
The Scottish Highers requirement for this course is Grades BBBCC to include grade B in Mathematics and one other subject from: Mathematics, Mechanics of Mathematics, Chemistry, Physics, Engineering Science or Science
Scottish Advanced Highers
The Scottish Advanced Highers requirement for this course is Grades CCC to include Mathematics and one other subject from: Mathematics, Mechanics of Mathematics, Chemistry, Physics, Engineering Science or Science.
International Baccalaureate
Overall International Baccalaureate profile minimum of 26 points (13 at higher level) to include Grade 4 in Higher Level Mathematics and one other subject from Geography, Chemistry, Physics or Environmental Systems and Societies. Grade 4 in English Language is also required in the overall profile.
Access to Higher Education (HE)
Overall Access profile (120 credit Access Course) (NI Access Course) in a Science, Mathematics, Physics or Engineering subject area with an overall mark of 65% to include 65% in each of the level 3 modules and to include 65% in NICATS level 2 Maths for Year 1 entry.
GCSE
GCSE Profile to include:
For full-time study, you must satisfy the General Entrance Requirements for admission to a first degree course and hold a GCSE pass at Grade C/4 or above in English Language and Mathematics.
If A-level A/S Mathematics is not being offered at A/AS level, Grade B or 6 in GCSE Mathematics is required.
Please note that for purposes of entry to this course the Level 2 Certificate in Essential Skills - Application of Number is NOT regarded as an acceptable alternative to GCSE Maths.
Level 2 Certificate in Essential Skills - Communication will be accepted as equivalent to GCSE English.
English Language Requirements
English language requirements for international applicants
The minimum requirement for this course is Academic IELTS 6.0 with no band score less than 5.5. Trinity ISE: Pass at level III also meets this requirement for Tier 4 visa purposes.
Ulster recognises a number of other English language tests and comparable IELTS equivalent scores.
Additional Entry Requirements
Pass HNC in a Construction, Civil Engineering or Building Services Engineering subject area with overall Distinction to include 90 level 4 credits at Distinction for year one entry. If holding a Level 4 Mathematics module which includes Calculus, then Year 2 entry is allowed.
Pass HND in a Construction, Civil Engineering or Building Services Engineering subject area with overall Merit to include 60 level 5 credits at Distinction for year 2 entry.
For further information on the requirements for this course please contact
the administrator as listed in the Contact details section below.

Entry equivalences can also be viewed in the online prospectus at http://www.ulster.ac.uk/apply/entrance-requirements/equivalence
The General Entry Requirements must also be met including English Language minimum GCSE grade C or 4 (or equivalent). Please check the following link http://www.ulster.ac.uk/apply/entrance-requirements#ger
Exemptions and transferability
Applicants who have successfully completed studies equivalent in content and level to the year 1 modules are considered for direct entry into year 2.
Students may transfer to the programme on good academic standing from other courses in the school or university on condition that they meet the entry requirements of the course and enter at Level 4. Due to the unique nature of the programme students cannot transfer into a different level as they will not have the pre-requisites to proceed.
BEng students with an academic profile average of 60% in Year 2 may transfer to the MEng programme. Students on the MEng programme who do not successfully complete Year 5 will ber offered a BEng degree programme based on the modules they have already completed.
Careers & opportunities
Graduate employers
Graduates from this course are now working for:
AECOM
ARUP
Cundal
Semple & McKillop
Harvey Group
Health Trusts
Mott MacDonald
Job roles
With this degree you could become:
Design Consultant
Design Engineer
M&E Engineer
Project Engineer
R&D Engineer
Energy Manager
Facility Manager
Career options
Embarking upon a career in Architectural Engineering can open a wide variety of career choices. You will be involved in the design of various building systems associated with industrial, commercial and residential buildings such as heating, ventilation and air conditioning, refrigeration, lighting, water service, drainage, plumbing, security and alarms, lifts, escalators, gas, electricity, and communication. You will work with architects, structural engineers, civil engineers and quantity surveyors in the design and construction of buildings. You will also have a growing role in the deployment of renewable energy systems and, sustainability and energy efficiency in buildings. You will be playing a key role in delivering the low carbon environment which will aid in combating climate change, fossil fuel depletion and reductions to fuel poverty.
The career development depends on the choice of specialisation and professional qualifications gained from appropriate professional body. Opportunities also exist to continue studies through the PhD research programmes in energy, infrastructure and sustainability issues.
You will be employed in the following areas:
General and specialist contracting, offering multi-disciplinary or specific industrial services
Design consulting practices (including architectural practices)
Governmental and public authorities
Facilities Management
Energy advice and training bodies
Education
Self-employment
Work placement / study abroad
Industrial Placement is a compulsory part of the programmes and shall normally consist of a minimum of 48 weeks of full-time work experience undertaken in Year 3. Industrial placement, for full-time students only, is regarded as an important component of the programme of study. Such experience sets the context of the final year studies and greatly enhances employment prospects.
Successful completion of the placement year leads to award of Diploma in Professional Practice (DPP) or Diploma in Professional Practice (International) (DPP(I)).
Please note that there is no opportunity on this programme to substitute Study Abroad for Work Placement.
Fees and funding
2023/24 Fees
Fees for entry in 2023/24 have not yet been set. See our tuition fees page for the current fees for 2022/23 entry.
Scholarships, awards and prizes
The following awards are sponsored by the CIBSE and local industries
Best 1st year student - CIBSE local committee
Best 2nd year student - CIBSE local committee
Best Placement student - Harvey Group
Best BEng Design project prize - Gary Bennett Memorial Prize
Best 4th year student - Semple and McKillop prize.
Additional mandatory costs
It is important to remember that costs associated with accommodation, travel (including car parking charges) and normal living will need to be covered in addition to tuition fees.
Where a course has additional mandatory expenses (in addition to tuition fees) we make every effort to highlight them above. We aim to provide students with the learning materials needed to support their studies. Our libraries are a valuable resource with an extensive collection of books and journals, as well as first-class facilities and IT equipment. Computer suites and free Wi-Fi are also available on each of the campuses.
There are additional fees for graduation ceremonies, examination resits and library fines.
Students choosing a period of paid work placement or study abroad as a part of their course should be aware that there may be additional travel and living costs, as well as tuition fees.
See the tuition fees on our student guide for most up to date costs.
Disclaimer
The University endeavours to deliver courses and programmes of study in accordance with the description set out in this prospectus. The University's prospectus is produced at the earliest possible date in order to provide maximum assistance to individuals considering applying for a course of study offered by the University. The University makes every effort to ensure that the information contained in the prospectus is accurate but it is possible that some changes will occur between the date of printing and the start of the academic year to which it relates. Please note that the University's website is the most up-to-date source of information regarding courses and facilities and we strongly recommend that you always visit the website before making any commitments.
Although reasonable steps are taken to provide the programmes and services described, the University cannot guarantee the provision of any course or facility and the University may make variations to the contents or methods of delivery of courses, discontinue, merge or combine courses and introduce new courses if such action is reasonably considered to be necessary by the University. Such circumstances include (but are not limited to) industrial action, lack of demand, departure of key staff, changes in legislation or government policy including changes, if any, resulting from the UK departing the European Union, withdrawal or reduction of funding or other circumstances beyond the University's reasonable control.
If the University discontinues any courses, it will use its best endeavours to provide a suitable alternative course. In addition, courses may change during the course of study and in such circumstances the University will normally undertake a consultation process prior to any such changes being introduced and seek to ensure that no student is unreasonably prejudiced as a consequence of any such change.
The University does not accept responsibility (other than through the negligence of the University, its staff or agents), for the consequences of any modification or cancellation of any course, or part of a course, offered by the University but will take into consideration the effects on individual students and seek to minimise the impact of such effects where reasonably practicable.
The University cannot accept any liability for disruption to its provision of educational or other services caused by circumstances beyond its control, but the University will take all reasonable steps to minimise the resultant disruption to such services.