Belfast
Located in the heart of the vibrant Cathedral Quarter, the new £250 million campus at Belfast is one of the largest higher education capital builds in Europe. It will provide a progressive learning, teaching and research environment supported by the best innovative technology, and transform the student experience as a centre of academic excellence.
Although traditionally associated with art, the Belfast campus spans an increasing and exciting range of subjects. Our vibrant campus plays host to frequent fashion shows and art exhibitions and is an exciting place to study and work. It is also home to The Academy training restaurant.
The University is working in partnership with student living provider, Student Roost, to offer brand new, high quality accommodation right next to the Belfast campus.
What are the accommodation rates and how long is the contract length?
Student Roost offers you a newly purpose built student accommodation right in the heart of the city. Ensuite rooms are available for £118 per week (44 week contract).
How can I pay for my Student Roost Accommodation?
At Student Roost we believe in being flexible. That means you get the choice on how you pay your rent. You can choose from annual, termly and monthly payment plans across the year. And don't worry – your instalment dates will never fall before your student finance and there's no small fee when checking in.
Guarantor
Your guarantor is a person who agrees to pay your rent if you are unable to. Student Roost will only contact your guarantor if there is a delay in payment. Your guarantor should be over 18 years of age. They should be in full time employment and a homeowner and/or renting accommodation. They will be asked to submit a form to prove they are eligible. Student Roost welcomes international guarantors.
What if I have a disability or special requirement?
Student Roost's top priority is making sure you have a comfortable and safe stay, so please declare any medical information or disabilities on your application.
How to book?
To book your accommodation with Student Roost in Belfast click here
Questions?
If you have any queries please email the team on accommodationb@ulster.ac.uk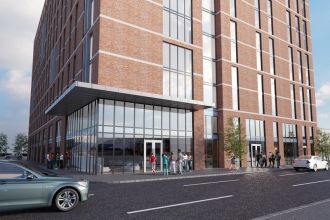 This is a high quality development providing a range of communal facilities available within the accommodation to enhance the student experience.