Belfast
Located in the heart of the vibrant Cathedral Quarter, the new £250 million campus at Belfast is one of the largest higher education capital builds in Europe. It will provide a progressive learning, teaching and research environment supported by the best innovative technology, and transform the student experience as a centre of academic excellence.
Although traditionally associated with art, the Belfast campus spans an increasing and exciting range of subjects. Our vibrant campus plays host to frequent fashion shows and art exhibitions and is an exciting place to study and work. It is also home to The Academy training restaurant.
The University is working in partnership with student living provider, Student Roost, to offer brand new, high quality accommodation right next to the Belfast campus.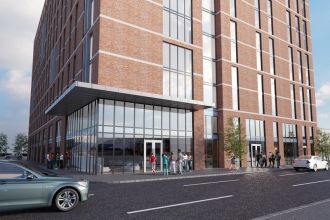 This is a high quality development providing a range of communal facilities available within the accommodation to enhance the student experience.