Overview
Gain the skills to teach English to speakers of other languages and put your learning into practice with an overseas teaching placement.
Summary
Whether you are a qualified teacher or have no previous teaching experience, the MA Teaching English to Speakers of Other Languages (TESOL) at Ulster is designed to enhance your teaching and communication skills and explore how people from different cultures learn languages.
Ulster's TESOL programme is the only master's level TESOL course in the UK which offers an overseas teaching placement.
You will have the opportunity to complete a placement in Gyor, Hungary, and teach English to non-native speakers, in either a state primary or secondary school.
An alternative Northern Ireland based placement will be organized if the overseas placement cannot take place.
---
Sign up to hear more about Ulster
About this course
About
Offered on both a full-time and part-time basis, the MA TESOL at Ulster is an exciting programme for individuals who wish to develop their teaching ability and knowledge about language.
You will study both the theory and practice of teaching, from classroom management to syllabus design, and gain the expertise and confidence to teach English in a variety of settings to students from across the globe.
Throughout the programme you will enhance your creativity and learn to adapt your teaching style and approach in order to effectively support a range of learners, with consideration to ethical and cultural differences.
You will also improve your research skills which will enable you to further your knowledge, particularly when completing the dissertation component of the MA, on a topic of your choice.
Employability is embedded within the programme design. A unique feature of the course is the eight-week ERASMUS-funded teaching placement in Hungary. This offers an authentic environment where you will have the opportunity to put your learning into practice.
Attendance
MA full-time: normally 4 days per week in semester one; 3 days per week (6 weeks) plus 8 weeks teaching practice in sem 2; followed by independent study for the dissertation during semester three (summer semester). This can be done at a distance.
MA part-time: Year 1: normally, 2 days per week in semester one, 4 weeks teaching practice semester 2. Year 2: normally, 2 days per week in semester one, and 4 weeks teaching practice in semester two. This is followed by independent study for the dissertation during semester three (summer semester) and during semester one and two of year 3. This can be done at a distance.
Start dates
Teaching, Learning and Assessment
We aim to engage students through a range of teaching and learning methods - problem based learning, seminar discussion, lecture input, teaching practice, reflective practice, activity/task based learning, small group tutorial, one to one tutorial - using a blended approach of face to face and online teaching.
Assessment includes a variety of real work tasks related to the TESOL world : teaching practice portfolio, case study of language learner, analysis of teacher talk, digital research poster, short tests, presentations, dissertation.
The content for each course is summarised on the relevant course page, along with an overview of the modules that make up the course.
Each course is approved by the University and meets the expectations of:
Attendance and Independent Study
As part of your course induction, you will be provided with details of the organisation and management of the course, including attendance and assessment requirements - usually in the form of a timetable. For full-time courses, the precise timetable for each semester is not confirmed until near the start date and may be subject to change in the early weeks as all courses settle into their planned patterns. For part-time courses which require attendance on particular days and times, an expectation of the days of attendance will often be included in the letter of offer. A course handbook is also made available.
Courses comprise modules for which the notional effort involved is indicated by its credit rating. Each credit point represents 10 hours of student effort. Undergraduate courses typically contain 10- or 20-credit modules and postgraduate course typically 15- or 30-credit modules.
The normal study load expectation for an undergraduate full-time course of study in the standard academic year is 120 credit points. This amounts to around 36-42 hours of expected teaching and learning per week, inclusive of attendance requirements for lectures, seminars, tutorials, practical work, fieldwork or other scheduled classes, private study, and assessment. Part-time study load is the same as full-time pro-rata, with each credit point representing 10 hours of student effort.
Postgraduate Masters courses typically comprise 180 credits, taken in three semesters when studied full-time. A Postgraduate Certificate (PGCert) comprises 60 credits and can usually be completed on a part-time basis in one year. A 120-credit Postgraduate Diploma (PGDip) can usually be completed on a part-time basis in two years.
Class contact times vary by course and type of module. Typically, for a module predominantly delivered through lectures you can expect at least 3 contact hours per week (lectures/seminars/tutorials). Laboratory classes often require a greater intensity of attendance in blocks. Some modules may combine lecture and laboratory. The precise model will depend on the course you apply for and may be subject to change from year to year for quality or enhancement reasons. Prospective students will be consulted about any significant changes.
Assessment
Assessment methods vary and are defined explicitly in each module. Assessment can be via one method or a combination e.g. examination and coursework . Assessment is designed to assess your achievement of the module's stated learning outcomes. You can expect to receive timely feedback on all coursework assessment. The precise assessment will depend on the module and may be subject to change from year to year for quality or enhancement reasons. You will be consulted about any significant changes.
Coursework can take many forms, for example: essay, report, seminar paper, test, presentation, dissertation, design, artefacts, portfolio, journal, group work. The precise form and combination of assessment will depend on the course you apply for and the module. Details will be made available in advance through induction, the course handbook, the module specification and the assessment timetable. The details are subject to change from year to year for quality or enhancement reasons. You will be consulted about any significant changes.
Normally, a module will have four learning outcomes, and no more than two items of assessment. An item of assessment can comprise more than one task. The notional workload and the equivalence across types of assessment is standardised.
Calculation of the Final Award
The class of Honours awarded in Bachelor's degrees is usually determined by calculation of an aggregate mark based on performance across the modules at Levels 5 and 6 (which correspond to the second and third year of full-time attendance).
Level 6 modules contribute 70% of the aggregate mark and Level 5 contributes 30% to the calculation of the class of the award. Classification of integrated Masters degrees with Honours include a Level 7 component. The calculation in this case is: 50% Level 7, 30% Level 6, 20% Level 5. At least half the Level 5 modules must be studied at the University for Level 5 to be included in the calculation of the class.
All other qualifications have an overall grade determined by results in modules from the final level of study. In Masters degrees of more than 200 credit points the final 120 points usually determine the overall grading.
Figures correct for academic year 2019-2020.
Academic profile
Dr Barbara Skinner has a wealth of experience working as an English language teacher at home and abroad. She has taught ESOL, EAP and EFL and worked as a Cambridge Examiner and an IELTS examiner. She is also a teacher trainer and has given workshops and conference presentations on EAL training needs, embedding cultural diversity in Northern Irish schools and developing effective teacher classroom language. She won a Ulster University award for Sustained Educational excellence in 2021.
Dr Helen Hou is originally from China and has worked at Ulster since 2010. She has taught English and trained teachers in China, Hungary and the UK. She has a particular interest in online teaching, the teaching of languages through social media and in the teaching and learning of pronunciation.
Both members of staff contribute to research at the University and enjoy using the latest research to underpin and enhance MA TESOL students' learning.
The University employs over 1,000 suitably qualified and experienced academic staff - 59% have PhDs in their subject field and many have professional body recognition.
Courses are taught by staff who are Professors (25%), Readers, Senior Lecturers (20%) or Lecturers (55%).
We require most academic staff to be qualified to teach in higher education: 82% hold either Postgraduate Certificates in Higher Education Practice or higher. Most academic staff (81%) are accredited fellows of the Higher Education Academy (HEA) by Advanced HE - the university sector professional body for teaching and learning. Many academic and technical staff hold other professional body designations related to their subject or scholarly practice.
The profiles of many academic staff can be found on the University's departmental websites and give a detailed insight into the range of staffing and expertise. The precise staffing for a course will depend on the department(s) involved and the availability and management of staff. This is subject to change annually and is confirmed in the timetable issued at the start of the course.
Occasionally, teaching may be supplemented by suitably qualified part-time staff (usually qualified researchers) and specialist guest lecturers. In these cases, all staff are inducted, mostly through our staff development programme 'First Steps to Teaching'. In some cases, usually for provision in one of our out-centres, Recognised University Teachers are involved, supported by the University in suitable professional development for teaching.
Figures correct for academic year 2021-2022.
Coleraine campus
Accommodation
A laid-back campus at the heart of a global tourist attraction.
Find out more - information about accommodation
---
Sports Facilities
Our Campus in Coleraine boasts a variety of indoor and outdoor facilities that are open all year round to students and members of the public.
Find out more - information about sport
---
Student Wellbeing
At Student Wellbeing we provide many services to help students through their time at Ulster University.
Find out more - information about student wellbeing
---
Coleraine Campus Location
Campus Address
Ulster University,
Cromore Rd,
Coleraine
BT52 1SA
Campus maps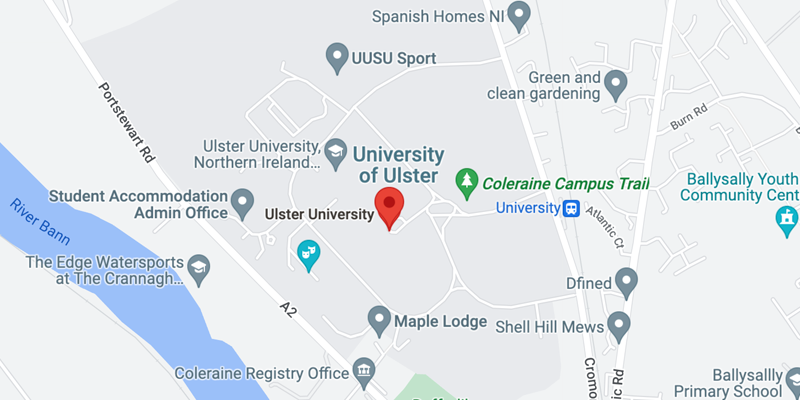 View Google Maps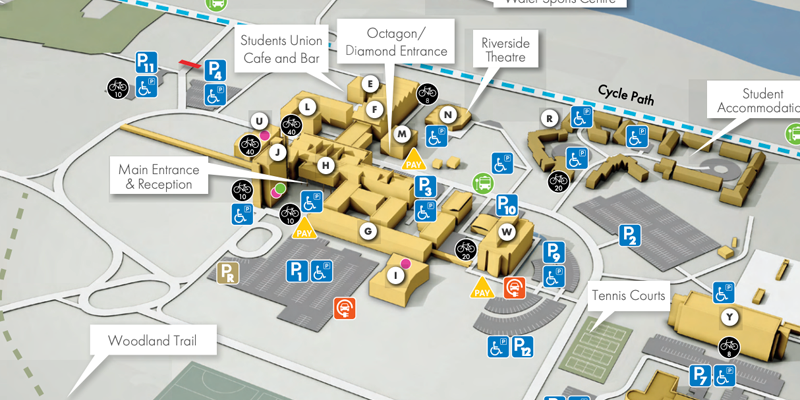 View Map Diagram
Modules
Here is a guide to the subjects studied on this course.
Courses are continually reviewed to take advantage of new teaching approaches and developments in research, industry and the professions. Please be aware that modules may change for your year of entry. The exact modules available and their order may vary depending on course updates, staff availability, timetabling and student demand. Please contact the course team for the most up to date module list.
Year one
English Language Teaching Methodology
Year: 1
Status: C
This module focuses on the practical tools and strategies needed for creative language teaching. It features a series of lectures and practical exercises which support a programme of peer teaching sessions in which students design and deliver lessons in small groups. Challenges to effective language teaching are explored through critical reflective practice on peer teaching sessions. Additionally, the module prepares students for EDU710, the Teaching Practice module in semester two.
Teaching Practice
Year: 1
Status: C
This module gives an authentic opportunity to teach English to non-native speakers of English. Students teach pupils of varying English language proficiencies in a range of contexts - primary/post primary/college/university or private language school The key objective of the module is that graduates will enter the employment market fit for purpose - as competitive and competent candidates for posts as English language teachers in high quality language teaching institutions.
Language, Learning and Acquisition
Year: 1
Status: C
The module develops students' conceptual competences, by giving them a solid theoretical underpinning regarding key English language acquisition/learning concepts. By doing so, it offers an opportunity to apply the theory to their practice and to explore research critically, either as a resource for their own teaching or for their own research. It will offer the opportunity to identify and clarify theories in relation to second language teaching.
Knowledge About Language
Year: 1
Status: C
This module introduces the students to different theories about English grammar teaching and teaching of English pronunciation as well as diverse means of teaching grammar and pronunciation, including the application of digital technologies in transmitting knowledge about English language in classroom teaching. Students are expected to develop their skills in critically reflecting on their teaching performance and student learning, innovating new techniques in teaching grammar and pronunciation.
Research Methods for TESOL
Year: 1
Status: C
This module introduces the students to basics of academic writing conventions, including identification and avoidance of plagiarism, appropriate referencing and citing and bibliography compiling. This module also introduces the students to the ways in which technologies are impacting on designing and conducting research. Students are expected to show conceptual and practical skills to draw up a research proposal and produce a series of feasible instrument tools.
Dissertation
Year: 1
Status: C
This module will allow students to undertake a sustained piece of independent work. Working under supervision, students are guided to prepare a research proposal relevant to the TESOL field, to research a selected issue affecting professional life and to prepare and present a 18,000 word submission for examination.
Standard entry conditions
We recognise a range of qualifications for admission to our courses. In addition to the specific entry conditions for this course you must also meet the University's General Entrance Requirements.
Entry Requirements
A second class honours degree from a University of the United Kingdom or the Republic of Ireland, or from an institution of another country which is recognised as being of an equivalent standard; and evidence of competence in written and spoken English (GCSE grade C or equivalent).
A satisfactory criminal record check from your country of residence.
See https://www.gov.uk/government/publications/criminal-records-checks-for-overseas-applicants for further information.
English Language Requirements
English language requirements for international applicants
The minimum requirement for this course is Academic IELTS 6.0 with no band score less than 5.5. Trinity ISE: Pass at level III also meets this requirement for Tier 4 visa purposes.
Ulster recognises a number of other English language tests and comparable IELTS equivalent scores.
Exemptions and transferability
You can make an APEL application (accreditation of prior experiential learning). However, you cannot apply to be exempt from the teaching practice module.
Careers & opportunities
Career options
Graduates of this programme have gained work as English language teachers in private language schools, further education colleges, universities and schools in the UK, Ireland and in many countries all over the world. Some have progressed to work in EAL related fields, others to doctoral study whilst others have got jobs as on-line English language teachers or developer of online langauge teaching resources. Students have gone on to work in teaching related areas: for example, developers of online English language teaching materials; whilst some of the students use their qualification to work for charities abroad in developing countries.
Shelley Wright explains the benefits of the TESOL programme:
'I'm in my fourth year working as a lecturer at Kanda University of international Studies in Chiba Japan. It's an amazing job which hired me right after I graduated. We get over three months holiday per year and there are lots of opportunities for professional development. There's over 60 English lecturers here so that adds to the sense of community and the students are angels. During the interview process, my boss was impressed by the placement in Hungary that you sent us on!'
Work placement / study abroad
This exciting MA in TESOL includes a teaching practice placement. You can opt to do the placement with one of our Northern Irish partners or overseas, with one of our partner schools in Gyor, Hungary. In Northern Ireland, there are opportunities to work in primary, secondary, further education colleges, private language schools and higher education whilst in Hungary our partner schools offer placements in primary or secondary schools.
TESOL student teachers teach during semester two, normally starting in February and finishing just before the Easter holidays.
There are extra costs involved in going to Hungary, however, you can apply for ERASMUS funding of 370.00 Euro per month which can cover accommodation and subsistence costs. You teach in Gyor, which is a beautiful central European city located midway between Budapest and Vienna. Our students teach in primary or secondary schools and are supported by Hungarian host teachers and staff of the university who stay in Gyor for that purpose. We need at least eight students to sign up for the teaching practice placement in Hungary in order for it to run. Where students take up the overseas option, there may well be additional funding provided by the University to help towards travel.
The Northern Irish and Hungarian teaching practice modules give an authentic opportunity to teach English to non-native speakers of English.
We were delighted to congratulate our Hungarian school partnership who won Ulster University's global placement partner of the year award in 2020.
Fees and funding
Important notice - fees information
Fees illustrated are based on academic year 22/23 entry and are subject to an annual increase.
If your study continues into future academic years your fees are subject to an annual increase. Please take this into consideration when you estimate your total fees for a degree.
Additional mandatory costs are highlighted where they are known in advance. There are other costs associated with university study.
Visit our Fees pages for full details of fees.
Correct at the time of publishing. Terms and conditions apply.
Fees (total cost)
Northern Ireland, Republic of Ireland and EU Settlement Status Fees
£6,720.00
International Fees
£15,360.00
Scholarships, awards and prizes
Each year the student who gains the best overall mark in the taught modules which make up the Postgraduate Diploma will receive the Pritchard Prize.
Additional mandatory costs
Overseas students need to apply for a visa. There is a cost for this and the application involves a trip to London. Both the trip and the application fee must be paid by the student.
It is important to remember that costs associated with accommodation, travel (including car parking charges) and normal living will need to be covered in addition to tuition fees.
Where a course has additional mandatory expenses (in addition to tuition fees) we make every effort to highlight them above. We aim to provide students with the learning materials needed to support their studies. Our libraries are a valuable resource with an extensive collection of books and journals, as well as first-class facilities and IT equipment. Computer suites and free Wi-Fi are also available on each of the campuses.
There are additional fees for graduation ceremonies, examination resits and library fines.
Students choosing a period of paid work placement or study abroad as a part of their course should be aware that there may be additional travel and living costs, as well as tuition fees.
See the tuition fees on our student guide for most up to date costs.
Disclaimer
The University endeavours to deliver courses and programmes of study in accordance with the description set out in this prospectus. The University's prospectus is produced at the earliest possible date in order to provide maximum assistance to individuals considering applying for a course of study offered by the University. The University makes every effort to ensure that the information contained in the prospectus is accurate but it is possible that some changes will occur between the date of printing and the start of the academic year to which it relates. Please note that the University's website is the most up-to-date source of information regarding courses and facilities and we strongly recommend that you always visit the website before making any commitments.
Although reasonable steps are taken to provide the programmes and services described, the University cannot guarantee the provision of any course or facility and the University may make variations to the contents or methods of delivery of courses, discontinue, merge or combine courses and introduce new courses if such action is reasonably considered to be necessary by the University. Such circumstances include (but are not limited to) industrial action, lack of demand, departure of key staff, changes in legislation or government policy including changes, if any, resulting from the UK departing the European Union, withdrawal or reduction of funding or other circumstances beyond the University's reasonable control.
If the University discontinues any courses, it will use its best endeavours to provide a suitable alternative course. In addition, courses may change during the course of study and in such circumstances the University will normally undertake a consultation process prior to any such changes being introduced and seek to ensure that no student is unreasonably prejudiced as a consequence of any such change.
The University does not accept responsibility (other than through the negligence of the University, its staff or agents), for the consequences of any modification or cancellation of any course, or part of a course, offered by the University but will take into consideration the effects on individual students and seek to minimise the impact of such effects where reasonably practicable.
The University cannot accept any liability for disruption to its provision of educational or other services caused by circumstances beyond its control, but the University will take all reasonable steps to minimise the resultant disruption to such services.
Testimonials
Comments from External Examiners
'The main strength of the course is the teaching practice in
Hungary. This provides an invaluable experience for both the
new teachers as well as the experienced teachers….I was also
particularly impressed by the way in which the experience in
Hungary was integrated into other modules of the course'.
'The students were highly complimentary about the course
and commended the team spirit that had been generated, as
well as the commitment of the teaching staff.'
Comments from students
'The teaching practice course in Hungary is organised
extremely well, and links between the various schools there
and the University are strong and mutually beneficial'.
'We are all aware of the fact that it is people who make up
Departments within a University. I am in no doubt that all
students stand to benefit from the high standard that has
already been set. Sincere thanks to all involved in making the
course of studies so enjoyable'.
'I'm in my fourth year working as a lecturer at Kanda
University of international Studies in Chiba Japan. It's an
amazing job which hired me right after I graduated. We
get over three months holiday per year and there are lots
of opportunities for professional development. There are
over 60 English lecturers here so that adds to the sense of
community and the students are angels. During the interview
process my boss was impressed by the placement in Hungary
that you sent us on! They accepted me while I was still
finishing off my Thesis. Thanks so much for looking after us
so well Barbara – That was a really special year'.