Ulster University Business School students on the BSc Finance & Investment Management and MSc Global Investment Management had their achievements recognised at the CISI (NI) annual dinner held in St. Anne's Cathedral.
Finance lecturer Paul Stewart explains,
"The MSc students were organised in teams four for the purposes of completing an element of their coursework. Their challenge was to research company and market data available in the Bloomberg suite in the University's CME Financial Innovation Laboratory and develop a trading and investment strategy with a virtual £100,000 per team which they managed over a seven-week period. The student's trades were in 'real-time' at actual market prices using market trading simulation software. The back-drop was a volatile and difficult market, which lost approximately 5% during the students trading period. Never-the-less, at the conclusion of the seven-week trading period, the students had out-performed the market by approximately 1.6% on average. In the circumstances, this was an excellent performance. I couldn't be more grateful for the support of our sponsors in this exercise – not only have they have established a fantastic prize, but they also take the time out from a busy schedule to assist in mentoring the students and the net result is an invaluable experience for the students. I have no doubt this will be a tremendous benefit to these students as they seek to develop their careers after university."
Employers including Cunningham Coates Stockbrokers, Investec Wealth & Investment, Quilter Cheviot, Tilney, Brewin Dolphin and Davy along with The Chartered Institute for Securities and Investment (CISI) helped develop the coursework, facilitated student mentoring by their staff members and sponsored a prize for the best performing trading team.
The winners of the CISI NI Investment Student of the Year award were Ronan Harris, Chris Cunningham, Roisin Duggan & Graham Brady.
Speaking at the awards presentation, CISI (NI) President, John Cubitt, an investment manager in Cunningham Coates said, "The enthusiasm the students have for investing is a credit to them – particularly so given that a number of the students come from a non-financial undergraduate background. Despite the very short trading period, their approach to investment and the quality of the submitted portfolios was noteworthy."
Top performing undergraduate student Luke Mulligan also received a CISI sponsored educational trust award at the gala dinner in recognition of his achievements on his degree programme and for his essay on the topic of 'Green Finance'. Luke's essay was viewed by CISI as being in the top 5 in a UK-wide competition.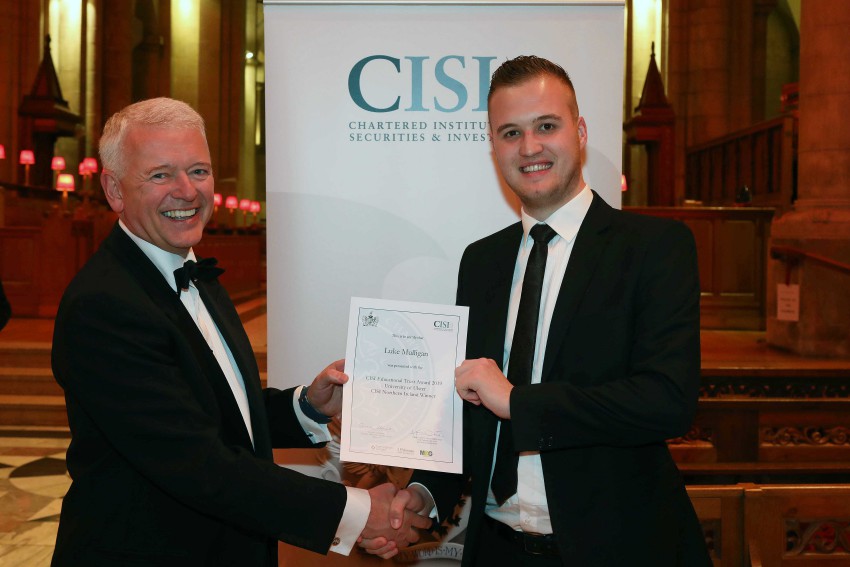 Caption - Luke Mulligan being presented his prize by Simon Culhane, CISI MD
Course director Claire McCann said
"The BSc Hons Finance and Investment Management Course Team are proud of Luke's achievement in achieving one of the top 5 undergraduate essays in the CISI Educational Trust Awards. The Course Team wishes him good luck in his CISI Educational Trust Interview Day to compete for an additional award. Luke is a fantastic ambassador for the Course and great reflection of its students and Course Team.'