Universities have more diverse student communities and many students experience wellbeing challenges.
Links between student engagement, retention motivation and achievement and student mental health and wellbeing are clear.
Our university strategy, 'Being Well-Doing Well at Ulster' details our commitment to actions to promote student mental health and wellbeing and maximise student success.
Embedding Wellbeing in the curriculum toolkit
The Embedding Wellbeing in the Curriculum toolkit provides evidence-informed guidance and directed support toward infusing wellbeing and learning via the curriculum. Based on Advance HE's comprehensive Education for Mental Health Resource (2022) the toolkit, presents seven activity areas to be considered for curriculum infusion at the point of: Programme Design, Module Design, Assessment Design and/or Curriculum Delivery.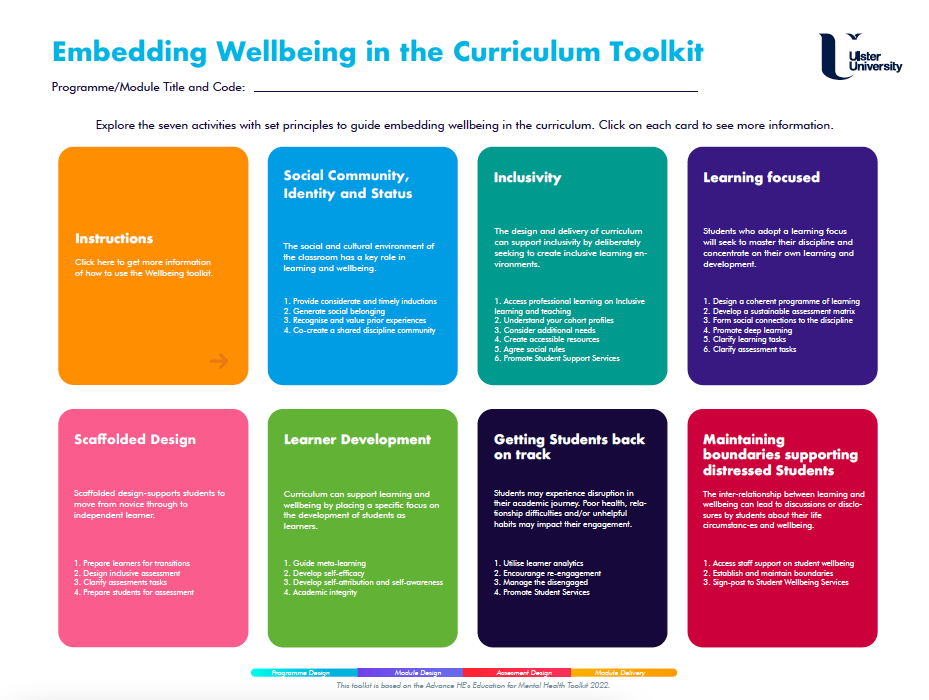 Resources
The following resources will inform, support and equip you to embed wellbeing in the UU Curriculum.
Support
For information on promoting student wellbeing in the curriculum contact Colette Murphy, Lecturer in Higher Education Practice.