2 minutes from Campus
On the doorstep of the city centre, the accommodation is a 2-minute walk to University campus and local amenities.
Apply Now
Resident Information
Facilities
From our superfast free Wi-Fi to our weekly events, 123 York Street has everything to make sure you have the best experience while studying in Belfast.
The building is designed to create an amazing environment for you to study and relax. Communal facilities range from a huge study room and Cinema-style lounge to our private courtyard and group kitchen.
Enjoy the games room, TV room, outdoor courtyard and more, in 123 York Street's huge communal spaces.
Working on a group project? Need some quiet study space? Our Private Study room is perfect for students in all years of study.
From movie nights to in-house yoga sessions, our incredible residence team host a year-long calendar of events.
Onsite Laundry Facilities
Student Wellbeing
Our Residential and Facilities Management offices are onsite so there's always support and advice available – if you need it. You want to achieve your independence and we are committed to helping and supporting you to do just that.
In 123 York Street we promote the mental, physical health and emotional wellbeing of all staff and residents. Health and Wellbeing is at the forefront of the ResLife programme and promoting good mental health is a priority. We actively encourage students and staff to look after their mental health and encourage residents to discuss any issues relating to emotional wellbeing without fear of stigma.
Security staff are available throughout the night to address any issues which may arise and our Resident Assistants are available outside of office hours to provide additional advice and assistance to residents as required.
Our Rooms
We understand that everyone is different; and that means your preferences and needs are different too.
Choose the room type which best suits your needs.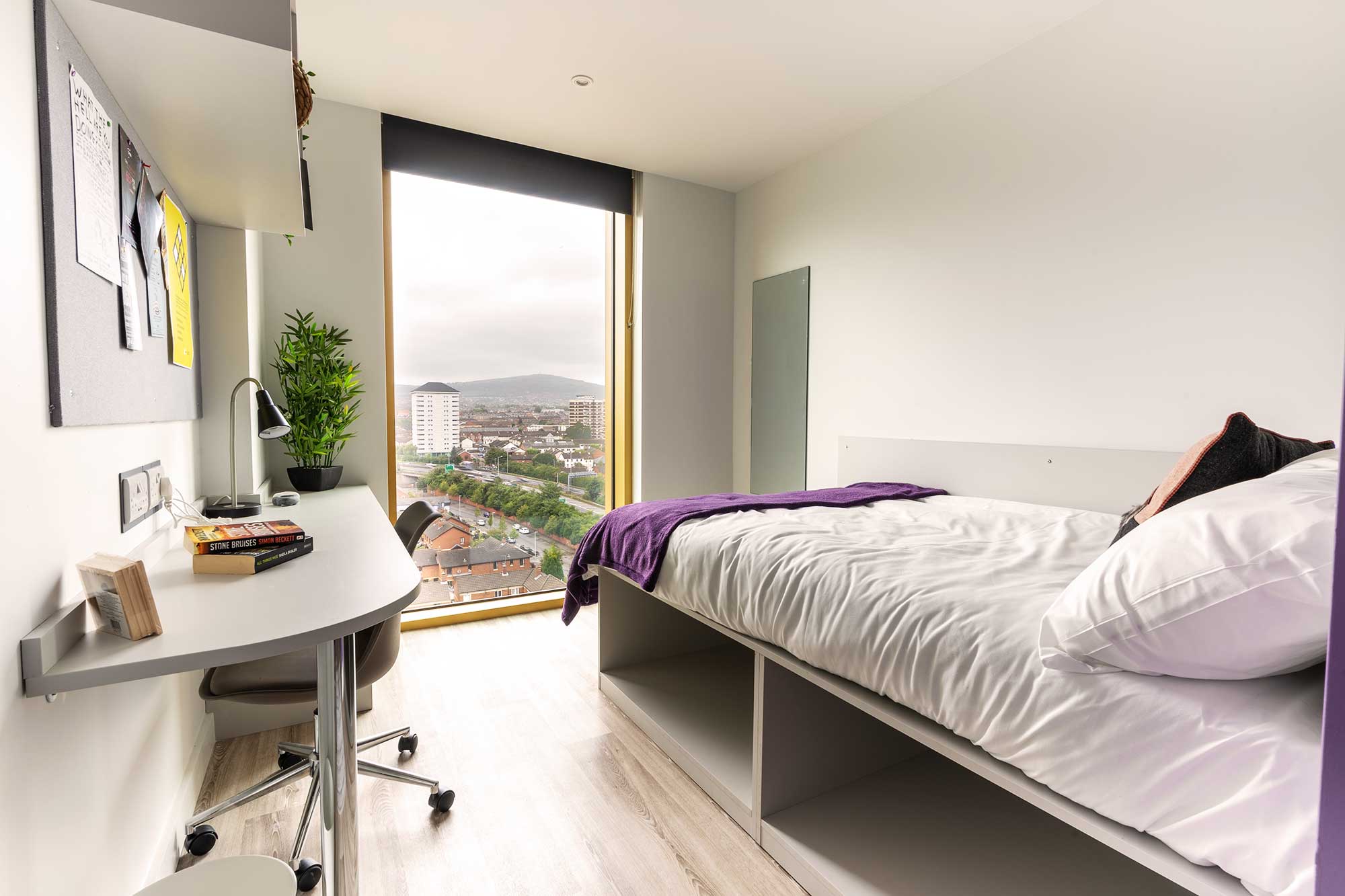 Single Ensuite Room
Room in a shared apartment
2023/24 PRICE
From £133 a week
44 week contract
Enjoy your own cosy room with ensuite in a five or six bedroom apartment. Shared kitchen and private communal area with TV – perfect for groups or to meet new people!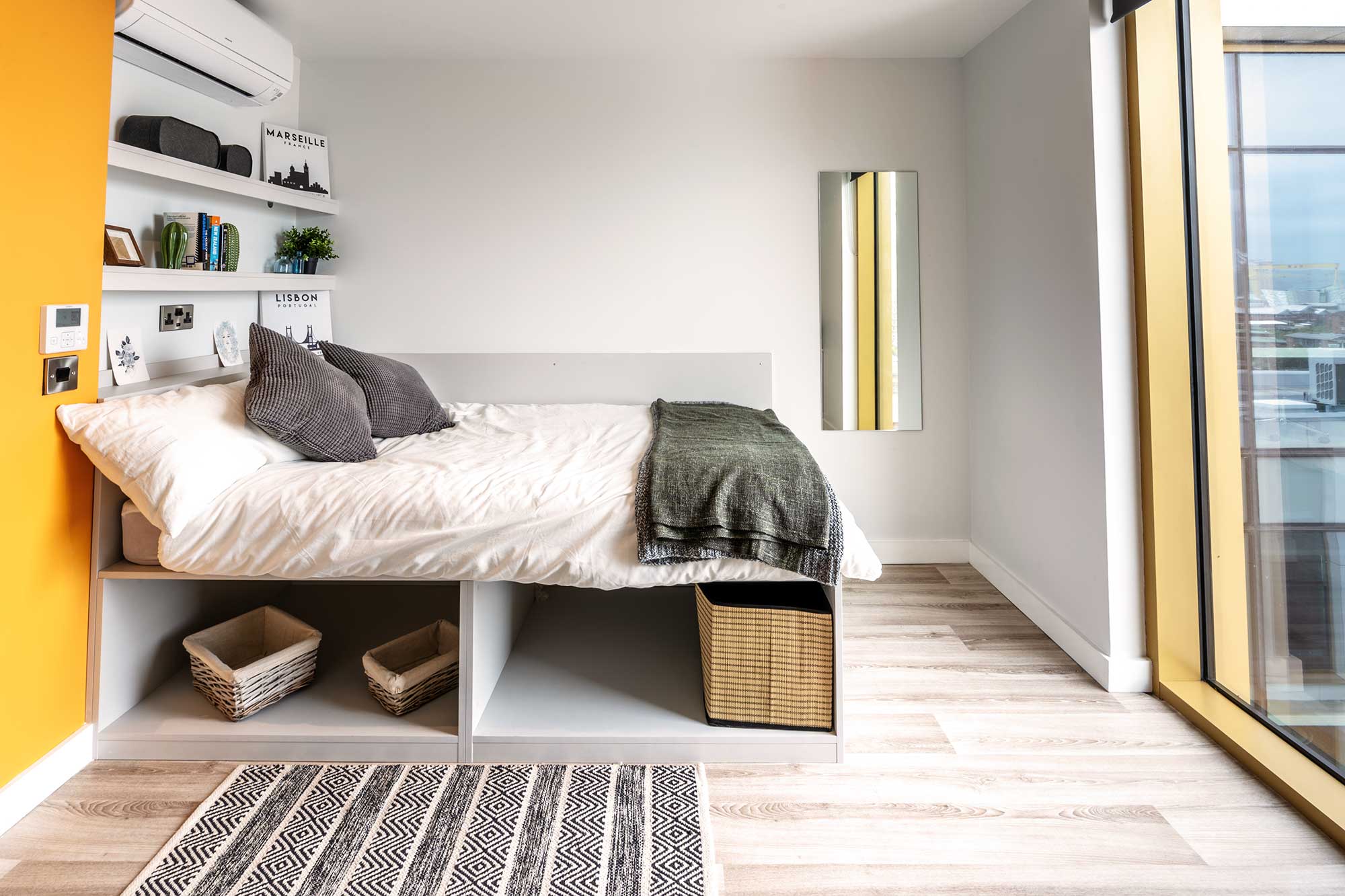 Studio
Your own luxury space
2023/24 PRICE
From £165 a week
44 week contract
Kitchen, bathroom, workspace. Studios at 123 York Street are designed for the modern student to define their future in their own space.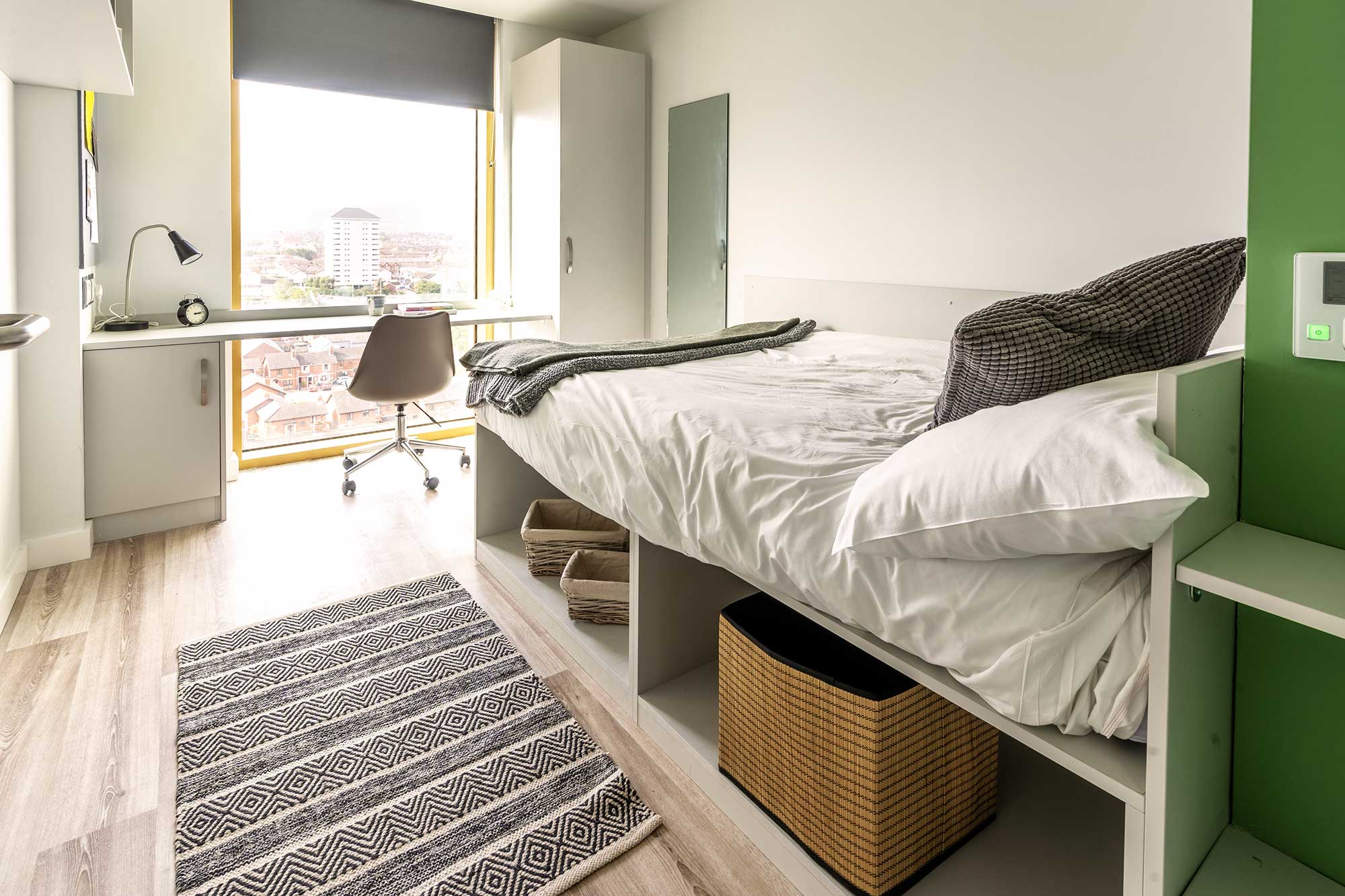 Two-Bedroom Apartment
The best mix of ensuite and studio
2023/24 PRICE
From £154 a week
44 week contract
An increasingly popular room option, this apartment comes with two bedrooms, a shared bathroom and a shared living space. The best mix of Ensuite & Studio living combined!
Accommodation and campus locations
123 York Street is located adjacent to the Belfast campus.
Belfast Campus Location
The Belfast campus is situated in the artistic and cultural centre of the city, the Cathedral Quarter.
Campus Address
Ulster University,
2-24 York Street,
Belfast
BT15 1AP