---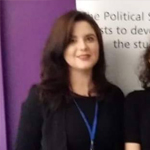 Title of project
Women of the Troubles: Gender, Violence and the Paramilitary in Northern Ireland.
Start date: October 2014
Other information
Christina Taylor completed a BA International at University College, Dublin, RoI. In her third year, Christina was awarded a scholarship for international studies at Lund University, Sweden. In 2013/2014, she completed postgraduate studies at the INCORE centre, Ulster University. Throughout her time at university, Christina actively engaged in the areas of conflict and gender studies. She was awarded the Universitas 21; International Summer School Scholarship, 2011 - reflecting on global engagement with the conflict in Northern Ireland. She has also collaborated on a volunteer basis, with the Irish-British Studies Institute, the Women's Irish History Association and the Forum for Cities in Transition. Christina's research, based at the Transitional Justice Institute, centres on an analysis of ex-combatant women in Northern Ireland.
Contact