Frances McCourt
Profile for PhD Student Frances McCourt.
---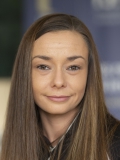 Frances' project is on 'Transitional Justice in Ongoing Conflict: Bridging the Gap Between Theory and Practice'. Frances graduated from Ulster University in 2015 earning a BSc hon in Health and Social Care Policy. During the last year of her undergraduate degree she worked in partnership with the National Autistic Society and the Science Shop at Ulster University to conduct research into service provision for adults with ASD in Northern Ireland. In 2016, Frances began postgraduate studies at the Transitional Justice Institute, where she undertook an LLM in Human Rights Law and Transitional Justice.
Her PhD studies commenced in September 2018 and focus on the use of transitional justice in ongoing conflict. The project seeks to determine whether Transitional Justice theory is equipped to address ongoing conflict situations. In doing so, the study questions whether it is necessary for Transitional Justice to reformulate its engagement with such contexts, and if so, how Transitional Justice can be recast, both theoretically and practically, in order to achieve its goals in situations of ongoing conflict.