---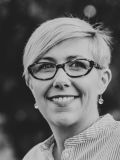 Michelle attained her LLM in Gender, Conflict and Human Rights from TJI in 2016. She has been actively involved in Northern Ireland politics since 1998, in a variety of roles including as a Special Advisor to the deputy First Minister (2006 – 2011). Michelle's research examines gender and institutional reform in post-conflict transitional legislatures, with a particular emphasis on the role of elite bureaucracy in con-sociational governance.
Michelle is a member of PRIO's Peace and Conflict Research School.
Working title of project: Gender, Decision-Making and the Northern Ireland Civil Service – Theorising Post Conflict Institutional Change.
Contact