---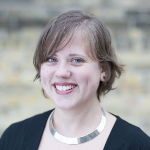 Title of project
Building Gender-Just Peace - Peace-Building Transversal Dialogue, Gender and Citizenship in Deeply Divided Societies
Start Date: October 2016
Other information
Linda received her BSc in Politics and Economics in 2009 and her MSc in Political Science in 2014 from Lund University, Sweden. In addition to this, she has also studied Gender, International Relations and Archaeology.
Her doctoral project is positioned at the intersection of three research areas:
ethnonational conflict as a gendered phenomenon;
reconciliation and peace-building through transversal dialogue; and
feminist perspectives on citizenship.
The project aims to provide a gender analysis of the constructions of femininities and masculinities in the field of dialogue-based peace-building and reconciliation in order to demonstrate how discourses of nation and gender intersect.
The gendered discourses of nationalism and ethnonational conflict will then be linked to women's participation in public life, as well as to possibilities for and obstructions to equal citizenship.
The dissertation project will consist of two case studies, one of which will be Northern Ireland.
Contact