Sasha Gillespie
Profile for PhD student Sasha Gillespie.
---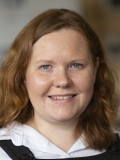 After a career as a special education teacher for almost a decade, Sasha returned to study for her LLB and LLM. The combination of background and recent experiences at the Ulster Law Clinic while studying Access to Justice, her focus sharpened on Social Justice. She has a particular interest in the experiences of those who care for the disabled in employment, the welfare system and wider social participation in the context of equality law theory, and feminist perspectives.
Sasha's project focuses on whether there is a discriminatory impact of the legal framework upon carers that is likely to cause social exclusion, poverty and significant barriers to entering or remaining in employment. Her research is interested in the experiences of carers and potential legal and policy approaches to encourage positive attitudes, inclusion and equality for this increasingly large section of society.