Isabella Flisi
PhD Student
School/Department

Transitional Justice Institute

Email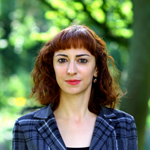 Start date: October 2015
Title of Project: 'What is ahead for Colombia? A gender perspective on DDR and Security Reform: understanding the complexity of women's experiences and needs'
Isabella holds a Master Degree in International Cooperation and BA in Anthropology from the University of Bologna, Italy. Prior to pursuing her PhD Isabella worked in the international cooperation and human rights fields, mainly in Latin America. She worked with different international organizations, among others Peace Brigades International, Christian Aid and KIT, applying a gender sensitive approach to different human rights projects.
After more than 5 years working in Colombia concentrating on human rights, protection and conflict transformation, Isabella decided to make an important change in her professional life, to focus on research. Her PhD research draws on her field experience in gender and human rights work in Colombia. Isabella chose the Transitional Justice Institute (TJI) as her research environment because of TJI's recognized research impact and its leading expertise in the broad theme of Gender, Conflict and Transition.
Isabella's PhD project, 'What is ahead for Colombia? A gender perspective on DDR and Security Reform: understanding the complexity of women's experiences and needs' aims to generate more understanding about when, how, and under what domestic circumstances Security and Disarmament, Demobilization and Reintegration (DDR) could advance the human rights of women by also addressing the root causes of injustice and violence, thereby generating sustainable positive outcomes for women. Using Colombia as a case study Isabella will be exploring how DDR can be implemented integrating a gender consciousness that encompasses the diversity of women's experiences during and after conflict.