---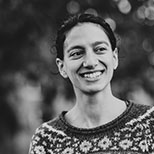 Title of project
Early Release from Imprisonment for Perpetrators of International Crimes: A Case Study of the International Tribunal for the Former Yugoslavia.
Other information
Priyam joined the Transitional Justice Institute in October 2015; she is examining an under-researched area of the international criminal justice system: its early release practice. As of September 2016, 53 of the 83 persons convicted for international crimes (crimes against humanity, genocide and war crimes) committed during the Balkans War have been granted unconditional early release, generally after serving two-thirds of their sentence. Priyam's thesis will explore the rationale and justification for granting early release and also how this affects the perceived legitimacy of the ICTY within post-conflict Bosnia Herzegovina.
Priyam holds a BA (Honours) in History and Politics from the University of Warwick, a law degree from the University of Law, London and an LLM in International Human Rights Law from Queen's University Belfast. She also has a practical background in human rights law, having worked in Sri Lanka, New York and Geneva with a range of national and international human rights and rule of law organisations, notably with the International Commission of Jurists in Geneva.
Contact