RefWorks: New Version
A new version of RefWorks is now available.  Existing users should check the advice in this update before registering & migrating their references.
1 July 2020
A new version of RefWorks is now available. The old version of RefWorks, referred to as 'legacy' RefWorks, will remain available. Any existing users wishing to use the new version can register and migrate their references using the 'Upgrade to the latest version of RefWorks' link in the legacy interface.

Alternatively, you can access new RefWorks via the Library Databases page and import your existing references after registering for your account. When logging into new RefWorks, search for Ulster from the 'login from my institution' menu.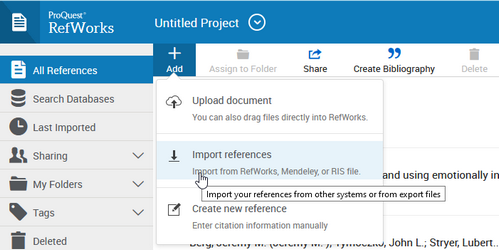 Please note, the Library recommends that existing legacy RefWorks users do not migrate to the new version with any unfinished documents/projects or crucial deadlines approaching. There may be technical issues completing documents started in legacy using the new version. Ideally, any such work should be completed before migrating from legacy to new RefWorks. Alternatively, existing users can choose to continue using legacy without migrating. Legacy RefWorks will continue to be available for at least the next year.
When you have migrated your references and begun using the new version, please be aware that there is no link between your previous account in legacy and your new account. If you subsequently login to legacy again and make changes, these will not be reflected in your new account.
Write-n-Cite, the RefWorks add-on for Microsoft, can be used with both legacy and new RefWorks.
The Library runs regular training workshops for RefWorks. These can be booked via the Library Training Calendar. For more information about RefWorks, please consult the Library RefWorks guide.