Mooting competitions provide essential experience and knowledge of a working courtroom, so why not enhance your knowledge and skills by taking part.
Ulster University Law School Mooting Competition
Ulster University law students present to five UK Supreme Court justices.
What is mooting?
A moot is an argument on points of law which aims to simulate, as far as possible, an authentic court hearing before a judge.
You will play the role of counsel and present your arguments in front of a judge whilst competing against another team. A successful mooter in one who manages to persuade the judge of the superiority of his or her legal arguments.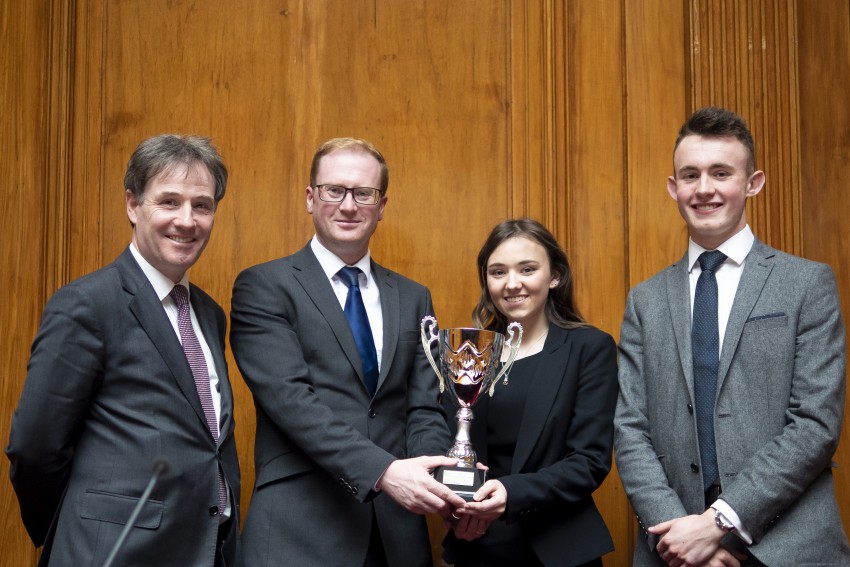 Ben Lowry and Cerys Kennedy, winners of the 2019 competition, being presented with the trophy by Coroner Mr Joe McCrisken, after the final in the Nisi Prius Court, RCJ.
You will have to analyse a problem, research the law surrounding it, prepare written submissions and present an oral argument.
Most problems surround an area of law that is unsettled or subject to recent developments.
Law students are encouraged to participate in internal and external mooting competitions. Staff will help and guide you through the information and preparation.
Mooting is also incorporated in several modules throughout the undergraduate degree.
Why moot?
Mooting enables you to:
Develop your understanding of the law
Engage with legal topics by researching and preparing legal arguments
Work closely with your teammates
Travel and meet students from other Universities in Northern Ireland, the Republic and the rest of the UK
These are intense and demanding events but highly rewarding, giving students a real insight into styles of legal argument that help them to appreciate the role of law in society, including its limitations and deficiencies.
Our facilities
We currently have a mock courtroom in room 12L04 of our Jordanstown campus.
Ulster Law students in action in our Moot Court Room.
However plans are underway to create a state-of-the-art mock courtroom at the Belfast City campus, which will be available for students to use from 2020.
Competitions
Competitions in which Ulster University Law students took part in 2016-17, 17-18 included:
The National Moot Court, hosted by Dublin City University, at Criminal Courts of Justice, Dublin.
Aoife King Memorial Moot Court Competition, Dublin City University, Dublin.
Our team of Neil McDonagh, Belinda Widocka, Rebecca-Jane Kelly and Ben Lowry won the Aoife King Memorial Moot Competition 2018. Register your interest in Mooting by emailing the Director of Mooting (see below) directly.'
Ulster University at the Supreme Court
In February 2018, Ulster University mooted for the first time in the Supreme Court in Parliament Square, before Lord Kerr of Tonaghmore. Jordan Thorburn, Andrew McFadden, and Danielle Gallagher acted for the Appellants, while Eimear Fanthorpe, Belinda Widocka and Ben Lowry appeared for the Respondents, with the Appellants' team being judged the winners by Lord Kerr and his Judicial Assistant.
The students were given a tour of the Supreme Court building, which also houses the Judicial Committee of the Privy Council, as part of the experience.
Testimonials
Danielle Gallagher - Class of 2019

'Mooting has been a great experience in terms of learning how to apply the research skills we develop in academia to a more practical outcome. There is nothing quite like the feeling of developing an argument based on close reading of case law, and seeing a Judge (especially a Supreme Court Justice!) be persuaded by a combination of the principles you have identified and the advocacy of the Counsel.

My biggest piece of advice (and my own learning) has been read, read, read. Then read again. Knowing the precise wording of a judgment, how it can work for your argument, and anticipating how it may be used against you, is half the battle.'

Eimear Fanthorpe - Class of 2018

' The best way to describe mooting is it is like taking on a mini-module except the craic's 90. Rather than learning a broad topic, mooting necessitates you to independently learn a niche area of law which has greatly improved my researching ability and made me more adaptable to reading case law which is fantastic as it has helped my learning in other modules.

Mooting has taught me the skill of courtroom advocacy and also improved my overall confidence which will stand to me in my future career endeavours. I have used the presentational skills I learned in mooting to successfully gain a place in an American University next year- something which I would never have had the confidence to apply for before I began mooting.

My two top tips for any future mooters would be that whilst practicing your oral argument, do so as you would on the day as this gets you more used to court room etiquette. Also remember you only get one opportunity to convince/impress the judge so make sure to make it count.'

Jordan Thorburn - Class of 2019

'Up to this point in my university career I would definitely refer to the moot in the Supreme Court as being the highlight. It was an unbelievable experience from start to finish and one which I would say has brought great benefits to all involved. I have learnt a lot not just from the moot itself, but the entire trip; a tour of the Supreme Court being a real highlight. I feel my public speaking skills in particular have really benefited. On top of all that we had some great craic as group. It's an opportunity which I am extremely grateful for. I hope our experience can lead to future success on the mooting front and maybe even encourage people to get involved.'