Project Updates 1 - Spotlight on PhD Researchers
The SPIRE 2 project had its official launch event in October 2017, almost four and a half years ago. The project's objective - to increase the region's research and innovation capacity by creating a cross border Virtual Research Graduate School in Mass Energy Storage (MES) – has seen 16 PhD Researchers engage with enterprises and organisations across the region to evaluate, develop and facilitate the wide-scale deployment of distributed energy storage technologies. Their commitment to research and development activities has contributed to increased levels of technological innovation and commercialisation throughout the region.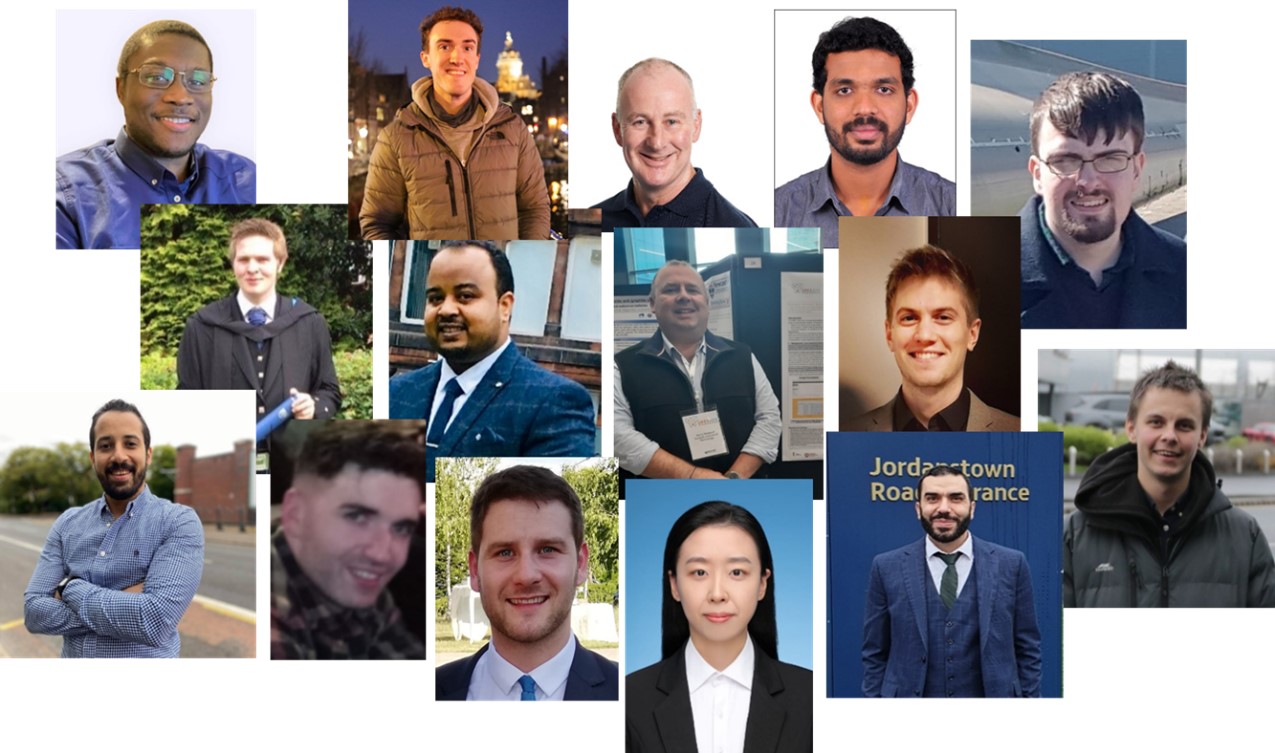 SPIRE2 Researchers
We want to highlight the achievements of this team of researchers who, despite the setbacks and restricted imposed by the pandemic, have excelled in their core knowledge areas.
View profiles for each of the students
Project Updates 2 - University of Strathclyde SPIRE 2 expertise recognised by ISO
Through the SPIRE2 project the Tribology team at University of Strathclyde have been building on their international reputation and have produced publications on the topic of hail erosion; these papers have attracted attention across Europe from the Swedish government to Norwegian environmental groups and international turbine manufacturing companies. Another organization interested in this work is the ISO committee who invited the group to take the academic lead in the generation of new hail erosion standards. The group has submitted draft standards to ISO and we expect to see these released later in the year. Recent papers produced by the team at Strathclyde can be viewed following the links below.
"Macdonald, J.R., Stack, M.M. Some Thoughts on Modelling Hail Impact on Surfaces. J Bio Tribo Corros 7, 37 (2021)."
"Pugh, K., Stack, M.M. Rain Erosion Maps for Wind Turbines Based on Geographical Locations: A Case Study in Ireland and Britain. J Bio Tribo Corros 7, 34 (2021).
Project Updates 3 – New NI Energy Strategy features article on the SPIRE 2 project
In December 2021 the Northern Ireland Economy Minister Gordon Lyons launched The Path to Net Zero Energy – an ambitious new strategy designed to ensure Northern Ireland's energy is secure, affordable and clean for future generations.
The strategy includes a number of case studies, including the SPIRE 2 - RULET initiative. RULET (Rural-Led Energy Transition) is an initiative in partnership with the Northern Ireland Housing Executive aimed at reducing or eliminating the risk of low-income households being left behind in the transition to clean, smart, integrated energy systems.
Project Updates 4 - SPIRE2 Researcher joins QUB Spin-out
SPIRE 2 QUB Post-doc Researcher Dr Paul Brogan has moved into a lead role with newly formed QUB spin-out company Phasora Ltd. The company aims to build affordable sensors and novel software to aid in the management of increasingly complex electricity distribution networks. Building on knowledge and experience gained through participating in SPIRE2, Paul will play a pivotal role in prioritising Phasora's R&D towards applications that are of highest priority to the industry. We wish Paul all the best in his new role.
View the Phasora website for more information on the company.
Project Updates 5 - NIE Networks awards new scholarships
As the power sector aims to decarbonise by 2050, NIE Networks are embarking on what will be the most significant change to the electricity network since rural electrification in the 1960s. The importance of developing knowledge and skills to meet these changes has been recognised by NIE Networks and it has recently launched a new scholarship programme in partnership with Ulster University.
There is a significant shortage of electrical and energy engineering graduates and the skills we need in the energy industry. Through our pro-active collaboration with Ulster University we are committed to finding and retaining the talent required to deliver a net zero carbon future for everyone.
Scholarships will be awarded to first year engineering and energy students.
The full article can be accessed on the NIE Networks website.
Project Updates 6 - DKIT & Arbarr partner to win new tenders
The technical innovation and creativity developed between SPIRE2 Partners Dundalk Institute of Technology, DkIT, and Arbarr Electronics Ltd has proven a winning combination. In April they attended the official launch of the off-grid renewable energy street-lighting project, the renewable energy component of which was provided by Arbarr Electronics. Opened by schoolchildren from Blackrock village the project comprises solar PV panels and a small wind turbine linked to Arbarr Electronics energy storage and grid management unit of 20kWh energy capacity. There are five streetlights which are powered currently with a vision to increase this to seven. The partners have also won a number of new tenders over the last 6 months which has augmented both partners' ability to continue research in battery storage in off grid situations.
Read more on the Dundalk Democrat website.
Project Updates 7 - Sunamp Ltd takes to the stage at COP26
SPIRE2 Partner Sunamp Ltd had a very busy November as it showcased its world-leading thermal storage technology, which decarbonises the heating and cooling of homes and buildings, as part of events held alongside global COP26 summit.
View Sunamps decarbonising heat presentations from the event.
Save the Date! SPIRE2 Conference 16th September 2022
To mark the end of the successful Interreg VA funded SPIRE2 Project, a closing event will be held at the new Ulster University campus in Belfast on Friday 16th September 2022. The event will review case studies carried out over the four years of the programme and the lessons learned. Opportunities for future collaboration will also be explored.
A full agenda will be shared in advance of the conference. If you would like to attend please register your interest.