Seminar - The Grassroots Transitional Justice Toolkit: Associational groups, memories, and transitions to peace in Northern Ireland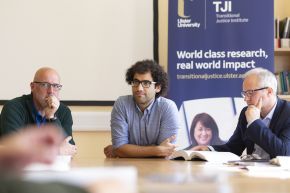 This event has ended
At this Seminar, Michael Soto will present a draft of a paper in progress that is co-authored with Joachim Savelsberg.
Michael Soto is a PhD student in Sociology at the University of Minnesota and fellow at the Interdisciplinary Center for Global Change (ICGC). He has a MA in Anthropology of Development and Social Transformation from the University of Sussex and a BA in Development in Latin America from Harvard University. His PhD dissertation will be on the processes of reconciliation and reintegration in Colombia, with a comparative component on Northern Ireland.
With the support of the UMN Grand Challenges Human Rights Lab, Michael Soto spent the summer of 2017 in Belfast conducting research in collaboration with Professor Joachim Savelsberg. With the support of ICGC he spent the summer of 2018 in Colombia conducting pre-dissertation research. He has been a visiting scholar at the Transitional Justice Institute at Ulster University (Northern Ireland), and the Center of Social Studies at Universidad Nacional (Colombia).
Register via email