Syria's Disappeared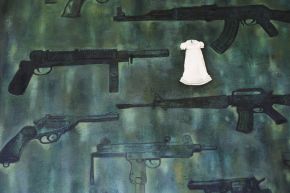 Date

Time

15:00 to 17:00

Location

Lanyon Building/01/052, Queen's University Belfast
In conjunction with colleagues at the QUB Human Rights Centre, join us for the screening of 'Syria's Disappeared' followed by a discussion between Professor Monica McWilliams and Veronica Bellintani.

Monica McWilliams in Emeritus Professor at TJI, former chief commissioner of the Northern Ireland Human Rights Commission and has had a long career in empowering women in politics in countries undergoing conflict and transition. She has recently been involved in training women in Syria to engage and negotiate for peace.

Veronica Bellintani has been involved in activism for the Syrian revolution from 2011 and since then has worked with Syrian refugees in Italy, Greece and Turkey. Being engaged to a survivor of the systematic torture campaign of the Assad regime, she has a direct experience of the long-term psychological effects of said trauma.
This event can also be viewed on Facebook.