Memorialization: Remembering without Revenge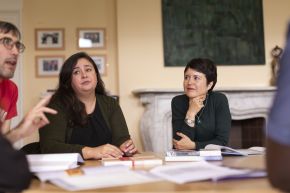 This event has ended
Date

Time

12:30 to 14:00

Location

Jordanstown campus


21D51, Dalriada House, Shroe Road, Newtownabbey, BT37 0QB (Jordanstown Campus)

Organiser

Sinead Grant

Contact details
Register via email
INCORE and TJI invite you to the seminar "Memorialization: Remembering without Revenge".
Dr Carl Stauffer (Eastern Mennonite University)

The collective memory of historical harms is a tenacious, unruly and contested terrain. In the wake of severe violence at a communal level, it is no longer a question of if we will remember, it is instead a question of how we will remember past atrocities. Building on the work of Mirolsav Volf, this seminar will wrestle with the question of whether it is possible to "remember rightly in a violent world?"

Dr. Carl Stauffer teaches Restorative and Transitional Justice at the graduate Center for Justice and Peacebuilding (CJP), at Eastern Mennonite University in Virginia, USA. He concurrently serves as Co-Director of CJP's Zehr Institute of Restorative Justice and is the Academic Director of the Caux Scholars Program in Switzerland. Stauffer has functioned as founder, director, academic coordinator and instructor for peace and justice institutes on four continents. As a seasoned conflict transformation and peacebuilding practitioner, Stauffer has done consulting and training with organizations such as UNDP, USAID, World Vision, ICRC, Asia Foundation, CRS, Tear Fund, SIDA, Oxfam, and the Ministry of Justice of Jamaica, Ministry of Community Development, Arts & Culture of Trinidad & Tobago, and the Ministry of Safety & Security of South Africa.
Register via email