Guest Lecture 'Squatting and the State' by Professor Lorna Fox O'Mahony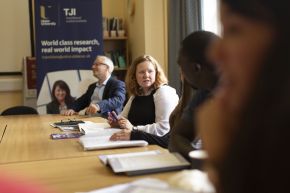 Date

Time

12:15 to 13:30

Location

Jordanstown campus


21D51, Dalriada House, Shore Road, Newtownabbey, BT37 0QB

Organiser

Sadie Magee

Contact details
Register
You are invited to attend a guest lecture entitled 'Squatting and the State' by Professor Lorna Fox O'Mahony.
Lorna Fox O'Mahony is Professor of Law at Essex Law School and Deputy Vice-Chancellor Designate. Her research applies policy-oriented, socio-legal and theoretical analyses to a range of property issues. Her work has explored the role of cross-disciplinary and interdisciplinary research into home meanings for creditor possession actions; feminist perspectives on the meaning of home; social and moral aspects of legal regulation of unlawful occupation; the role of the legal concept of home in analysing laws responses to the use of home equity by elderly homeowners and other financial transactions affecting the owned home; socio-legal perspectives on the exclusion of asylum seekers and failed asylum seekers from housing and home; and critical property theory.
A light lunch will be provided.
Register