Safe Campus Community
We adjust our measures on campus to reflect the Government and Public Health guidance as we deliver a safe, vibrant and inspiring campus environment.
Find out about the protective measures that remain in place on campus and the commitments we share as we continue to look after ourselves and each other.
More than two years after the beginning of the pandemic, the time has come to return to the vibrant and inspiring campus environment that is so central to the identity and purpose of Ulster University.
Our individual and collective commitment and consideration for others still makes all the difference as we work and study together.
Please talk to your line manager, or Director, People and Culture or our Trade Unions and USSU with any further questions you may have.
Keep up to date
Students
Visit our Student Guide to learn more about University life and your campus learning experience.
Staff
'How we work, manage and connect' continues to be a one-stop-shop with top tips and formal guidance.
Including a handy A-Z of resources, you will find information and policies to assist our staff community and line managers as we return to campus.
It's great to see you back on campus.
The health and wellbeing of our staff, students, families and the wider community is our top priority.
So, some things may still look a little different.
We each have a personal responsibility, to ourselves and those around us as we work together to keep everyone safe.
If you are worried that you have symptoms of COVID-19, please don't come onto campus.
Inform your manager or course director straight away by phone or email and follow public health guidance.
Face Coverings
Staff, students and visitors are strongly encouraged to continue to wear a face covering on campus.
Thank you for wearing a face covering if you can.
Social Distancing
Social distancing is still strongly encouraged on campus.
Keep your distance from others and watch for 'Keep Left' markers in corridors to help movement around campus.
Cleaning & Hand Hygiene
Enhanced cleaning is in place using a highly protective and persistent decontamination system.
You'll find hand sanitiser stations at the entrance to campus buildings.
Continue to wash your hands well and often.
Ventilation
We're optimising mechanical ventilation across campus and making use of natural ventilation where available.
Face Coverings
The wearing of face coverings on campus is still strongly encouraged. Please wear a face covering if you can out of consideration for others.
Disposable face coverings are available at all campus receptions. Please dispose of these carefully in the campus bins after use.
The right way to wear a face covering
The top edge sits on the bridge of your nose
The bottom edge sites under your chin
It's snug, no gaps between the covering and your face
Wash your hands before and after you take it off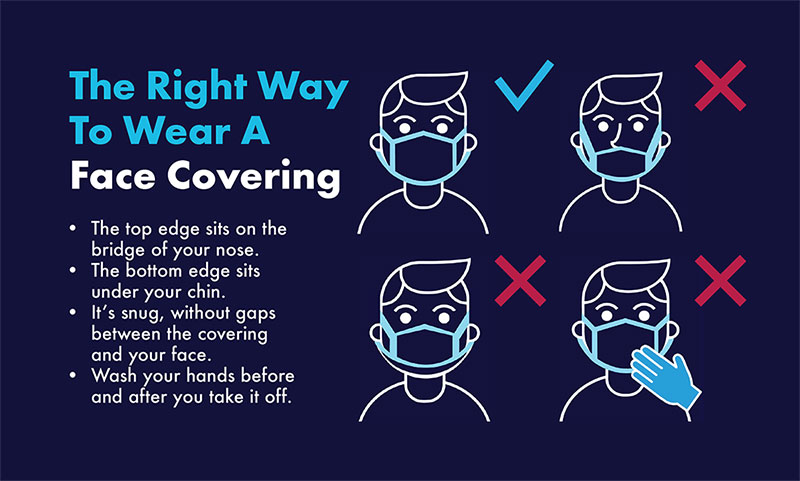 Face covering mistakes
It doesn't cover your chin
It sits below your nose
It covers only the tip of your nose
It's too loose
You keep touching it
You keep taking if off and on
Those unable to wear face coverings
We recognise that there are circumstances that may make it difficult for people to wear face coverings. In these cases, there are acceptable reasons for not wearing a face covering, including for medical considerations or those with hearing loss who rely on lip-reading to communicate with others.
We ask our University community to be respectful of others, and mindful that the reasons for not wearing a face covering may not always be apparent or visible.
Face Shields
Face shields for use by lecturing and teaching staff when presenting and during practical classes will continue to be provided at a local team level as appropriate.