Tim Millen: Future Present
Friday 20 September 9.00am to Friday 25 October
to 8.00pm
UU:Belfast campus
The Ulster University Art Gallery is pleased to announce its upcoming exhibition, Tim Millen: 'Future Present'. This current body of work continues the artist's exploration into everyday markers of ecological change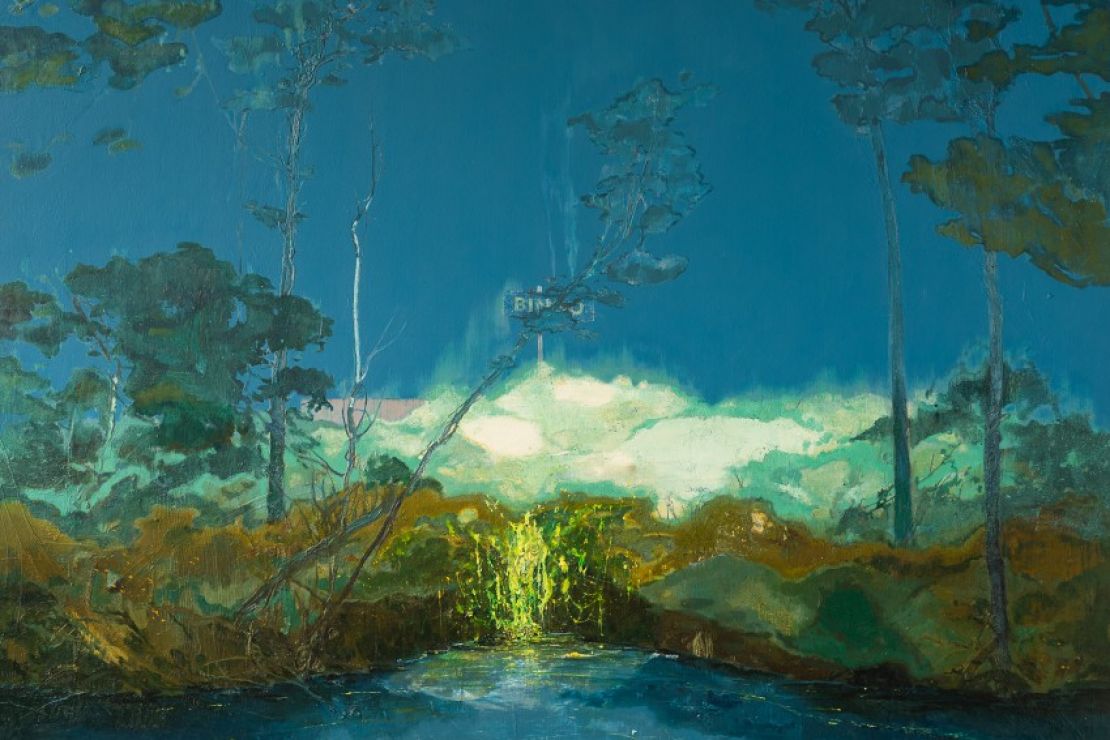 Tim Millen, Source, 2018, oil on canvas, 165cm x 143cm
In Millen's work, landscapes give way to dreamscapes; indeterminate, peripheral spaces on the edge of towns and cities haunted by human traces. Walls, fences, effluence, cables and bed frames are simultaneously evidence, accusation, and comfort. The land is often partitioned and enclosed, hinting perhaps at a desire for freedom, migration, to feel protected or to escape.
The paintings often contain subtle distortions to the conventional pictorial field - flattening and tilting of perspective or an ambiguity of scale - leading to a feeling that something is not quite right. They occupy a temporal ambiguity: familiar enough for immediate recognition but resisting certainty, ease. Perhaps there is a disaster to come; perhaps it has already happened.
Curated by Feargal O'Malley
---
Biography
Tim Millen (b. 1976, Northern Ireland) graduated with an MFA from University of Ulster (2011) having completed a fine art degree at NCAD (1999). He has exhibited as a solo artist with 'Folk Tale', Island Arts Centre, Lisburn (2009). Selected group shows include, The Faraway Nearby, F.E. McWilliam Gallery (2014); Long they look, and deeply, Satis House, Belfast (2013); Fata Morgana, Catalyst Arts, Belfast (2012); And now we call ourselves artists, VOID, Derry (2011); Miscellany Springs, Turn-Berlin Gallery, Berlin (2009). He has also been the recipient of arts awards including the Hennessy Craig Scholarship, RHA, Dublin (2009) and Arts Council of Northern Ireland General Arts Awards
---
Location
Ulster University,York Street, Belfast, BT15 1ED.
Ulster University believes that creativity is a cornerstone of society. It has a very important part to play in our quality of life, wealth and civilisation. Arts & Culture produces a year-round programme of creative activity for the public, its staff and students. This arts activity is part of the University's civic role that helps to strengthen our communities and generate a prosperity that we can all enjoy.

View full programme
Arts & Culture - Social