Last month twenty-one Occupational Therapy graduates from the Class of 1982 came together to celebrate 40 years of friendship at a reunion event in Belfast's Titanic Hotel.
The group, who originally came from all corners of the island of Ireland as well as Scotland and Jersey, spent three years studying at the then Ulster Polytechnic and have remained in close contact ever since. They have also stayed in touch with some of their former tutors and were delighted to be joined on the night by three of them, including Helen Baird, Rhoda Baxter and Margaret Woodward.
During the event, the graduates received a talk from the hotel concierge on the history of the building and the forward-thinking work of Lord Pirie who pioneered the ship-building industry in Belfast. This story bore many similarities to the creation of the School of Occupational Therapy within Ulster Polytechnic, as its formation created new opportunities and increased access to higher education for those who wanted to study Occupational Therapy in Northern Ireland.
During dinner the group were entertained by music from the 70s and 80s and a slide show of pictures from across the decades, celebrating student life, social events, placements, graduations, marriages, births and grandchildren.
They even had a quiz to really test the brain cells and had to answer questions on the subjects taught during their course including anatomy, physiology, mental health, task analysis, the impact of illness on function and the use of occupation as therapy.
After dinner the group heard video and audio messages of support and best wishes from former classmates who couldn't be there on the night, and they also took time to remember absent friends from the Class of '82.
The night ended with the reading of a letter from Health Minister, Robin Swan, in which he congratulated the group on their contribution and achievements over the last 40 years.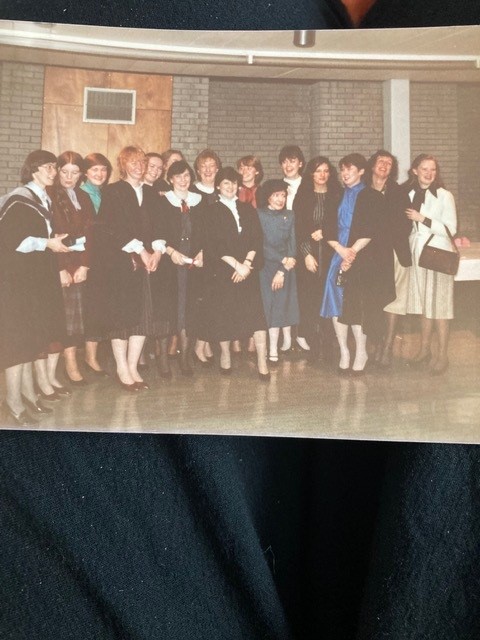 One of the event's organisers, Ursula Kelly commented:
"We all had a wonderful evening, catching up with our former classmates. Some of us have seen each other regularly over the years, but it was great to have the opportunity to meet those who we hadn't seen for some time. We shared memories and reminisced long into the night, and it was so lovely to hear about where everyone's journeys have led them since graduating.
We would like to thank the Alumni Relations Office for their support with the event and we extend our warmest wishes to all those students taking the first steps on their journey to becoming Occupational Therapists. We wish them all the very best with their studies at Magee and hope that they will have long and fulfilling careers ahead."
If you and your former classmates are planning a reunion and would like our support, please get in touch and we'd be happy to help.