We are so proud of Ulster University graduates Laura O'Connor, Clodagh Lavelle, Sinéad Bhreathnach-Cashell, Jane Butler, Stephen Millar, Sighle Bhreathnach-Cashell and PhD students Emma Campbell and Alessia Cargnelli; all members of Array Collective which has been nominated for the Turner Prize 2021.
Array Collective is a group of Belfast-based artists, they joined together to create collaborative actions in response to the socio-political issues affecting Northern Ireland. The Collective's work encompasses performances, protests, exhibitions and events.
The Turner Prize is awarded annually to an artist born, living or working in the UK, for an outstanding exhibition or public presentation of their work anywhere in the world in the previous year.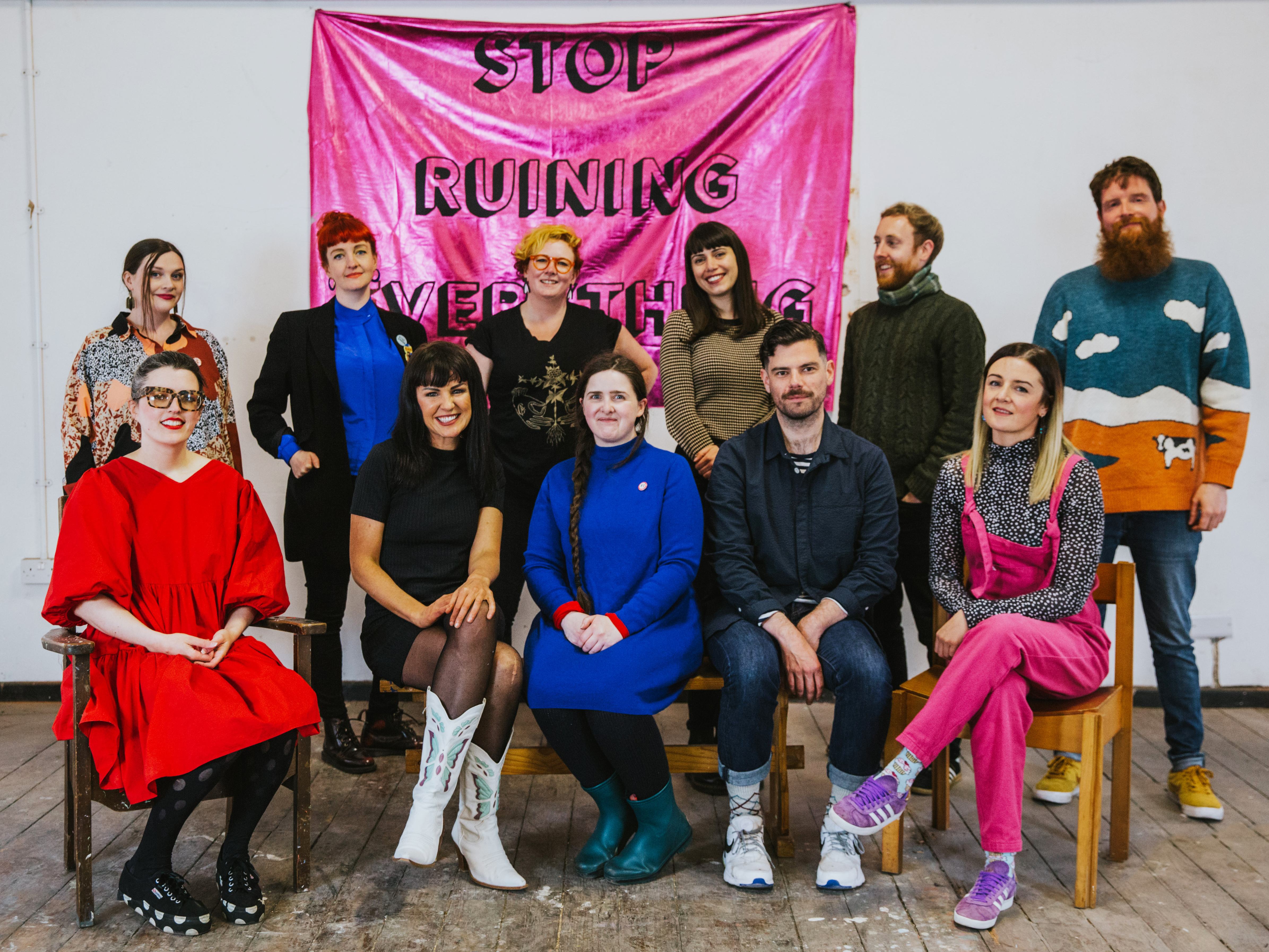 Array Collective 2021, Photo by Jon Beer
This is the first time a Turner Prize jury has selected a shortlist consisting entirely of artist collectives. All the nominees work closely and continuously with communities across the breadth of the UK to inspire social change through art. The collaborative practices selected for this year's shortlist also reflect the solidarity and community demonstrated in response to the pandemic.
Alex Farquharson, Director of Tate Britain and Chair of the Turner Prize jury, commented:
After a year of lockdowns when very few artists have been able to exhibit publicly, the jury has selected five outstanding collectives whose work has not only continued through the pandemic but become even more relevant as a result.
Ulster University is very proud of its success, achievements and record in the Turner Prize, boasting two winners Duncan Campbell and Susan Philipsz OBE, and a further five (now six) nominees from its alumni and staff.
We at Ulster University are delighted to hear the news of Array Collective's nomination for the Turner Prize.

This is a huge achievement, and an exciting and important boost for artists and activism in the city, particularly following such a difficult year.

We are thrilled to support the Collective and will be cheering them on as they develop work for this prestigious exhibition and - of course - at the Turner Prize awards ceremony on 1st December 2021.
Eddie Friel, Director of Development and Alumni Relations
The awards will take place at The Herbert Art Gallery and Museum in Coventry as part of the UK City of Culture 2021 celebrations.
The exhibition of the Prize's for shortlisted artists will be presented from 29th September 2021 – 12th January 2022 with the announcement of the winner on 1st December 2021.
We wish Array Collective all the best luck and we are so