Ulster University alumni and friends 'Women in Leadership' event in Dublin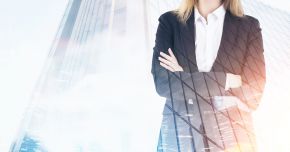 Date

Time

18:00 to 21:00

Location

Off campus
25 Fitzwilliam Place, Dublin 2
Register
Come and hear from a panel of Ulster University alumnae about their careers; business challenges and successes. Be inspired and network with fellow Ulster graduates and friends of the University.
You can find out more about each of the panel members below:

Professor Gillian Armstrong - Director of Business Engagement, Ulster University
Gillian Armstrong is a Professor of Business Education and is Ulster University Business School's first Director of Business Engagement. She has been with Ulster University and Higher Education for over 20 years and has been actively involved in the development and management of academic excellence within the Business School. Gillian joined Ulster University in 1997 and was awarded a Senior Lectureship in 2007 and a Chair in Business Education in 2013. Prior to her current role, she was Head of the Department of Accounting, Finance and Economics from 2010 – 2018 at Ulster.
Deeply committed to supporting the growth and development of the regional economy, Gillian has sought to ensure that the Business School works closely with priority sectors to actively support the supply of skills and the attractiveness of Northern Ireland as a location to do business. She has been actively involved in the development of work based learning and innovative educational models to support employers in securing talent and in upskilling and retaining graduates in a range of sectors. She has worked in partnership with Deloitte NI to develop the first-Degree Apprenticeship programme within the region and is currently leading a Business School initiative to support Future of Work requirements.
Gillian is an active member of the Chartered Association of Business Schools (CABS) Learning, Teaching and Student Experience Committee and is a Council member of the NI Chamber of Commerce (NICC). She is also a Visiting Professor at Hebei Geo University (HUI) in China, as a result of increasing international partnership activity, whilst her teaching and research interests are in the use of big data consumer analytics and have been supported by a range of research funders (DAERA, Invest NI). Gillian has published in a range of academic journals, including the International Small Business Journal, the Journal of Small Business and Enterprise Development and was part of the REF 2014 Business and Management Studies Unit of Assessment (including a research impact case study).
Susan HayesCulleton - CFA, 'The Positive Economist', MD of HayesCulleton Group
Susan HayesCulleton, CFA, "The Positive Economist" is Managing Director of the Hayes Culleton Group, with clients across Europe and the USA. The businesses include BECKSearch a business specialising in innovative peer-to-peer learning and #SavvyTeenAcademy, a summer camp and Transition Year Work Placement facilitation offering focusing on careers, communication and confidence. The company also provides training, speaking and content development services, specialising in the financial markets, economics and entrepreneurship. Susan is co-author of "Positive Economics", the market-leading Leaving Cert economics textbook in Ireland, and she is the author of two books published by Penguin, The Savvy Woman's Guide to Financial Freedom and The Savvy Guide to Making More Money. Susan is co-founder of The Positive Economist, co-founder of Savvy Women Online, and serves on the boards of the Irish International Business Network and the Ireland Hong Kong Business Forum. Susan holds a Chartered Financial Analyst charter, MSc Executive Leadership, BSc Financial Maths and Economics and a Diploma in Taxation.
Dr Sharon O'Kane - Non Executive Director and Entrepreneur
Sharon is currently a Non-Executive Director on the main Board of Livanova plc (NASDAQ (LIVN)), a global Medical Technology company headquartered in London, with approximately 4,000 employees. With a presence in more than 100 countries, LivaNova operates as two business units: Cardiovascular and Neuromodulation. Sharon is also currently Entrepreneur in Residence (EiR) at University College Dublin.
Sharon has been part of and advised Boards of various biotech and startup companies, UK government organisations and Universities, eg, Expert Advisor to the Stevenage Bioscience Catalyst Facility at GlaxoSmithKline, a Commercial Mentor for projects in Queens University Belfast; for many years was EiR and Chair of the Drug Discovery Advisory Board at Manchester University, and served on the Board of MIDAS, the Manchester Investment Development Agency and Centre for Investment, Trade and Business Growth. Sharon has received numerous business awards and recognitions for entrepreneurship and supporting women in science. Previously Sharon was a Non-Executive Director of IOMet Pharma Ltd, a private Edinburgh based drug development company, from its inception in 2010 until it was successfully purchased by Merck in January 2016 for a sum reported to be ~$400m. Sharon was the co-founder and Chief Scientific Officer and a Main Board Director at Renovo Group plc., a specialty biopharmaceutical company, focussing on the discovery and development of drugs to reduce scarring. The company raised £31m in venture financing before floating on the London Stock Exchange in 2006 raising a further £67.5m. In 2007, Renovo signed a licensing deal for their lead drug, worth up to $825m.
Prior to her business career, Sharon had a career based in academia, with many industrial collaborators, publications, invited speaking engagements, large peer- reviewed grants, patents and numerous international research awards and was latterly at the University of Manchester as a Senior Research Fellow. She has a PhD (1994) and BSc first class honours degree (1991) from Ulster University, a Diploma in Company Direction from the IOD (2006) and in December 2011 was delighted to be awarded the Ulster University Distinguished Graduate Award.
Julie Sinnamon - CEO, Enterprise Ireland
Julie Sinnamon is CEO of Enterprise Ireland. Prior to her appointment to CEO in November 2013, Julie held a number of senior public sector positions, spanning a 30 year career in Enterprise Ireland and IDA Ireland. Julie is a member of the Board and Investment Committee of Enterprise Ireland, a member of National Competitiveness Council, and a member of the Investment Committee of the Irish Strategic Investment Fund, part of the National Treasury Management Agency. She is also a Board Member of Social Entrepreneurs Ireland and Young Scientist & Technology Exhibition Limited. Julie is a business graduate of the Ulster University, has a Masters in International Business (Fordham and IMI) and is a graduate of the Stanford Executive Programme, USA.
Host: Professor Paul Moore, Ulster University
Register
---
Related links