With Ulster University Business School alumnus Jason Cooper
Communicating with empathy – Reset your mindset for 2021 and beyond

With Ulster University Business School alumnus Jason Cooper
The Development and Alumni Relations Office, in partnership with Ulster University Business School, are delighted to invite you to this virtual event.
Everything in life comes from practice; listening to and understanding people is a must. Whether it's in our professional lives or personal lives, good communication is fundamental to developing and maintaining long term relationships.
2020 has radically altered how we interact and communicate with each other, elevating the importance of empathetic and compassionate communication.
Being able to demonstrate these skills and attributes effectively in an offline and online environment will set you up for success in 2021 and beyond.
Join us for a live webinar to hear inspiration and fresh perspectives from Ulster University Business School graduate and Business Sales Consultant, Jason Cooper.
This talk will focus on leadership, emotional intelligence and the essence of essential soft skills for business, illustrating how we should use them more effectively to build trust and maintain relationships in the digital era.
Jason will share practical tips from his knowledge and experience of consulting within several start-ups and as an international trainer coach and mentor in sales and business skills that are proven to work.
---
About Jason Cooper
For over 25 years, Jason Cooper has worked in the UK, Ireland and other European markets, has been in the corporate area and has co-founded two start-ups. Jason has also helped numerous businesses and individuals grow.
Since 2016 Jason has helped transform salespeople and sales teams. He helps salespeople realise their true potential - not just as professionals but as colleagues, as team players, and business advocates.
"Selling or serving others is about driving business results, it's about increasing revenues, and most importantly, it's about converting conversations. Unless you can convert a sale, you can't make a sale; you can't build client relationships—my approach to sales training centres on critical areas such as self-motivation, personal relationships and individual tenacity.
"Don't ever be afraid of asking anyone – people are more than giving when they feel that they are helping people to grow. Make sure you ask the right people. Perseverance and tons of patience. This doesn't happen overnight."
Jason Cooper has two Podcasts – The Mindful Leadership and The Global Sales Leader – each podcast he talks with global leaders in their field from international leadership coaches, Psychologist, Sales leaders, Inspirational speakers, business and start-up experts, body language experts and so much more. The aim of the show is to learn and grow so he can talk with them in a relaxed, organic manner on how they lead. What motivates them, what can we learn, how can we all change as leaders and sales leaders to make an impact on growth learning.
Please help spread the word to any of your connections who may also be interested in joining this event.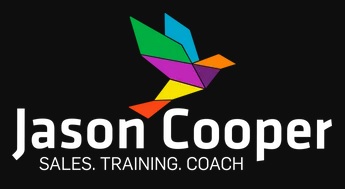 Register
---
Related topics