'The Early Years' reunion (1960's & 70's) - Celebrating 50 years at Coleraine on 7 and 8 Sept 2018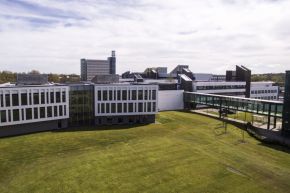 This event has ended
As part of the Coleraine at 50 celebrations the first students/graduates and staff from 'The Early Years' (1960's – 1970's) are invited to a reunion to catch up, reminisce and celebrate their time at Coleraine. If you are a student from the former NUU days, then this reunion is for you!
Activities will be confirmed closer to the time but will include:
Friday 7 September
6.30pm Social gathering - a chance to catch up

Performance from the Coleraine staff community choir upon arrival
Saturday 8 September - day
10.00am Arrival
10.45am Tour of the campus
12.00pm Lecture/talk
1.00pm Lunch
2.30pm View display of memorabilia and a visit to the library
3.30pm Free time
There's also an opportunity to participate in the Causeway Coast Challenge - Tackle the ultimate coastal trail for Parkinson's UK - see parkinsons.org.uk/ccc18
Saturday 8 September - evening
6.30pm Pre-dinner drinks
7.30pm Dinner priced at £35
We may have lost touch with graduates so please help us spread the word and reach as many graduates as possible! Share this email or ask them to get in touch with us directly at alumni@ulster.ac.uk.
Accommodation:
If you would like to reserve accommodation on the Coleraine campus you can book directly here: Book accommodation.
Please use PROMO code 6008 to allow you to book accommodation from 7-8 September 2018.
*Please note that guests who require accommodation at the Coleraine campus, must book before Monday 3 September 2018.
The rate is £28 per night plus vat (£33.60). All rooms will be in Cranagh, single ensuite. All information on accommodation is available at ulster.ac.uk/accommodation.
There are of course other accommodation options in the local area.
Remember: In order to continue communicating with you via email (even about this event) we need you to opt-in:
Tick the box to say yes today!
If you don't tick yes we can no longer email you.
Register
Coleraine at 50
In 2018, Ulster University marks 50 years since its foundation in Coleraine in 1968.
Address
Ulster University
Cromore Road
Coleraine
County Londonderry
BT52 1SA
Campus maps
---
Related links