To mark #IWD2021 on Monday 8th March we caught up with a number of Ulster University female graduates and asked them what and how they would #ChooseToChallenge. We hope their career journeys and words of wisdom will help inspire and motivate UU students and fellow graduates.
The breadth of experience, the range of jobs and the diversity in relation to the courses these women studied is a great example of the limitless possibilities that lie ahead after studying here at Ulster University.
As you would expect, the challenges laid down by the group cover a range of themes, from building personal confidence and challenging yourself and those around you, to a broader view of our collective responsibility, to deal with the big challenges facing the planet we inhabit in the years ahead.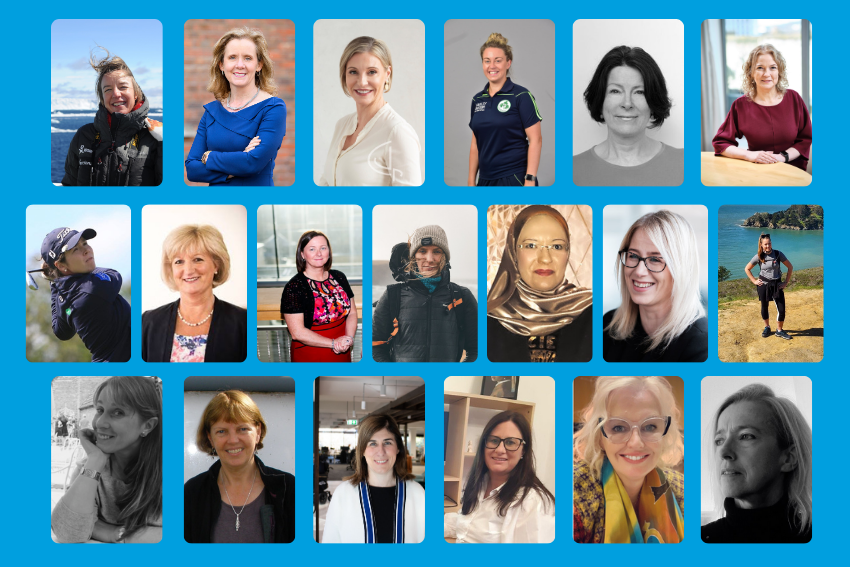 This is what they had to say:
Lifelong Learning
A look through the career journeys of our participants shows an ongoing commitment to learning. In a world where the speed of change has accelerated this commitment will be even more important in the years ahead.
A number of our contributors spoke about how that commitment to lifelong learning had played an important role in their career story and their individual achievements.
I am so grateful to UU for starting me on my journey in the finance industry. While working as Finance Director in Progressive, I returned to the University to study MSc Executive Leadership which empowered me towards becoming Chief Executive. This course provided me with the opportunity to learn from inspirational leaders across a wide range of industries.
Darina Armstrong MBE, CEO, Progressive Building Society (MSc Executive Leadership and BA Hons Accounting)
Determination will lead to satisfaction and success.
Gillian McColgan, Chief Technology Officer at Hilco IP Merchant Banking, LLC (BEng Hons Engineering)
My international leadership in engineering is mostly attributed to my PhD and the support I received from UU. Honoured, grateful and ecstatic to be one of UU graduates. No one can break or even defy you ever, be strong ladies.
Dr Heba Hassan, Associate Professor at Cairo University (PhD Engineering)
I am passionate about female leaders in the business sector and I believe that hard work and determination is vital in helping to build a successful business.
Tracy Hamilton MBE, Founder, Director Mash Direct Ltd (Business Studies)
---
Broaden your horizons
The world is a big place - and the more experiences we can open ourselves up to, the greater our personal learning and development will be.
Niamh Cunningham is currently working as an artist in China but a look back through her career story is one of being in places where big change was happening.
My drifting from science to art was a gradual one as I travelled. I worked in a routine hospital lab in the UK, in education when I lectured in Johannesburg when Mandela was preparing for election (1993), in medical publishing in Hong Kong while witnessing the change of sovereignty (1997). The first time I exhibited any artwork was when I was in Tokyo 2002. I became a full-time artist in 2004 in Dubai where I worked on public projects and had my first solo exhibitions.
Niamh Cunningham, Artist in China (MSc Biomedical Science and BSc Hons Medical Laboratory Science)
This experience is similar in many ways to another of our contributors, Sonia Flynn.
I never had a long-term career plan. The best career advice I ever got was about staying true to what you're passionate about and "being yourself, everyone else is taken". After graduating and with an appreciation for travel and culture, I learned through my studies that what I like to do is throw myself into the new situations and enjoy being around people. My career to date has involved building and scaling new businesses in complex, rapid-growth environments - including Facebook, Google and Soundcloud. I am now based in Sydney, Australia where I am currently Chief Operating Officer at Hireup - a fast-growing online platform, giving Australians with disability the power to find, hire and manage their own support workers. This speaks to my passion for using technology to form meaningful, real life connections.
Sonia Flynn, Chief Operating Officer, Hireup (BA Hons Applied Languages)
---
Collective Responsibility
The whole is greater than the sum of its parts is an expression that we're all familiar with - and it was a recurring theme of our conversations as part of #IWD2021 and #ChooseToChallenge. A really good leader is able to work alongside your team, is a good decision-maker, is someone who can be relied upon, who takes responsibility and who works well with people.

Leaders need people skills, organisational skills and the ability to ask really good questions even when they don't always have all the answers.

Stand up for yourself without being overly aggressive and surround yourself with good people. Cultivate relationships with people you respect and admire by finding a commonality is also a key to success.
Jacinta Linehan, Programme Director, Origin Enterprises plc (MSc Executive Leadership and Diploma in Management Practice)
This International Women's Day, I invite you to challenge the status quo – why should we live in a world where only 10% of senior leaders are women, where only 35% of students in STEM related degrees globally are women, and where 71% of women in STEM have experienced harassment. The hardest thing can be to ask why and ask for change.

Does your workplace produce a gender pay gap report?

Have you worked with colleagues to remove gender bias from job adverts?

Have you volunteered to be a mentor for other women and girls?

I #ChooseToChallenge myself to always reach a hand to the woman beside me to lift her up and to share platforms I have with women whose voices need to be heard.

I #ChooseToChallenge the organisations I collaborate with, like Ulster University, to be leaders on gender equality by setting measurable goals and reporting their progress.
Dr Tara Shine, Director: Changes by Degrees (DPhil and BSc Hons Environmental Science)
I truly believe in championing others, seeing the very best and cheering everyone on – let's endeavour to always celebrate the success of others.
Grainne Allen, Director, Food & Innovation, McDonalds UK & Ireland (BA Hons Home Economics)
Grainne goes on to highlight two of her favourite quotes on the same subject:
"I alone cannot change the world, but I can cast a stone across the water to create many ripples". Mother Teresa

"Nothing is impossible, the word itself says 'I'm possible'!" Audrey Hepburn
Over the last 12 months we have all had to endure a level of uncertainty never seen before.
How we cope as we move out of the current situation with the global pandemic is a question that we will hear a lot of in the months ahead and that's a subject covered by Grainne McNamara.
We need the 'new normal' to be truly transformed, not just a tweak to the old way of thinking. This involves a different way of looking at the world. Yoga taught me that sometimes we need to go upside down. Sometimes our hearts need to go above our heads. The key is figuring out what you learned about yourself and the world that you are part of when you were upside down. Snapping back to the old grid won't work. Change is the only 'new normal' in our world so we need to be comfortable being uncomfortable.
Grainne McNamara, Principal, EY and Co-Chair, New York Women's Foundation (BA Hons European Business Studies)
Two roads diverged in a wood and I took the one less travelled by, and that has made all the difference. Don't be afraid of the unknown - embrace it and run with it. Be your own trailblazer and choose your own road.
Karen McConville, Attorney-at-Law, Pasha Law PC (LLB Law with Accounting)
---
Have a purpose
The human challenges we face in terms of education, addressing gender inequality and building confidence are there for all to see.
Another theme that emerged from the conversations we had revolved around the environmental challenge that we as a human population face in the years ahead.
At times of such wild uncertainty, the ocean is a place of constancy for me. I've never been more grateful for its ability to heal and hold me. This is what underpins my work as a marine social scientist, my drive and desire to understand our relationship with the ocean, and how we might heal and restore it.
Dr Easkey Britton, Surfer & Blue Health Expert (PhD and BSc Hons Environmental Science)
My doctoral research on Irish woodlands was a stepping stone to a career devoted to researching biodiversity in ecosystems around the world, ranging from Amazonian flooded forest to Iceland's arctic habitats. I have been privileged to work with colleagues in many countries, and am mindful of how much I have learnt from these meetings and friendships. At the same time I have had first hand experience of how the Earth's ecosystems, and the biodiversity on which the wellbeing of every one of us depends, are under unprecedented pressure as a result of human activities. The challenge of protecting our planet for future generations is one we all share.
Professor Anne Magurran, Professor of Ecology, University of St Andrews (DPhil and BSc Hons)
---
Celebrate Difference
Does creating a more equal world mean we all have to be the same?
Absolutely not - getting the best from everyone means understanding more about how our differences can be combined to deliver better results for everyone.
That was one of the subjects dealt with as part of our #ChooseToChallenge conversations.
The issues underpinning the inclusion and diversity agenda are much less now about discrimination but much more so about awareness and level playing field. The business environment, culture and systems of performance management were historically designed by men targeting the issues and drivers most familiar to them. However the female psyche is just different. It's not that men or women are better or worse. They are just different. So my focus in leading my business is making sure it's a true level playing field, allowing everyone to play to their strengths.
Michele Connolly, Partner, Head of Corporate Finance, KPMG (BA Hons Accounting)
This sentiment is echoed by Patricia O'Hagan when talking about her own experience working in the technology industry.
Working in ICT gave me the opportunity to make a difference. I came up with a product idea that led to US prisoners getting access to digital devices to keep in touch with their family and friends. Over 200,000 prisoners have benefited directly and it's now accepted practice in other prisons around the world. I challenge you to consider ICT as a career choice. We need more diversity to make user friendly software.
Patricia O'Hagan MBE, Managing Director, Core Systems NI Ltd (BSc Hons Engineering)
The global growth of women in sport in recent years has been there for all to see - and two of our former students are forging great careers at elite level.
I choose to challenge those who undervalue achievements and success in the world of sport based on gender, by celebrating the many achievements of successful sportswomen around the world.
Shannon Burke, Trainee Sport and Exercise Psychologist, The British Psychological Society (MSc Sport and Exercise Psychology)
I went to university to give myself more opportunities and to find a career I love. Take every opportunity available, you'll find your path. Mix your passion with your profession and you'll love your job. The braver you are the luckier you'll get.
Beth Healy, Team Operations Manager, Irish Women's Cricket (BSc Hons Sport and Exercise Sciences)
---
Challenge Accepted
Finally, let's celebrate those who #ChooseToChallenge by recognising that it is difficult. Anything that seeks to change behaviours and perceptions is going to require commitment and resilience.
We thank those who have accepted this challenge and continue to challenge the status quo in whatever area they work. Change is hard - and without an ongoing commitment from a determined community the change will not be achieved.
With that in mind, we'll leave you with these final words from Alyson Hogg MBE, Sinead Carville of FinTrU and Michele Connolly of KPMG.
When I started my business I knew nothing of spreadsheets or logistics, production or finance, sales or even marketing. I had never led a team bigger than 8 people, and my only contact with a bank was for my mortgage and personal account. To say that I started from zero is an understatement.

But looking back what I did have was an idea, a supportive family, an expectation from my previous careers in media and politics that I must be willing to work extremely hard and be utterly flexible, a desire to learn, lots of positive energy and a fearlessness around risk.

Can the things that you lack be taught or paid for? Can the qualities you possess support your idea, your resilience and your vision?

Then I #ChooseToChallenge you that it is time to stop making excuses and instead start making plans for your business.
Alyson Hogg MBE, Founder: Vita Liberata Beauty (BA Hons Philosophy)
On #IWD2021 as we reflect on the theme of "choose to challenge" let's not underestimate the level of bravery it takes to challenge gender bias, discrimination, and inequality. But let's also not underestimate the level of change we can drive by doing so and the personal growth that arises from such bravery.
Sinead Carville, Chief Human Resources Officer, FinTrU (MSc Human Resource Management)
My advice to others: 2 things

(1) Don't take no for an answer, you can do it, you are good enough - but maybe you need to go around the blockage and get to the end goal by a different route – my mother taught me that!

(2) Put your hand up, get involved, make your voice heard. The latter applies whether it's at college or in the workplace. It expands your network, builds your confidence and builds your profile.
Michele Connolly, Partner, Head of Corporate Finance, KPMG (BA Hons Accounting)