We all have our own unique stories - but our discussion with Kate Nicholl proved that some stories are more interesting than others.
Kate took up the role as Lord Mayor of Belfast in June 2021 - the first person born outside of Northern Ireland to be appointed to that role in more than 100 years.
Having moved to Northern Ireland from Zimbabwe at the turn of the century aged 13, Kate has built her life here and we talked about her experiences, the career path she has chosen and her ambitions for her year in office.
Kate is also a student of Ulster University Business School where she is studying a Masters in Digital Communications - and it's there that our conversation started.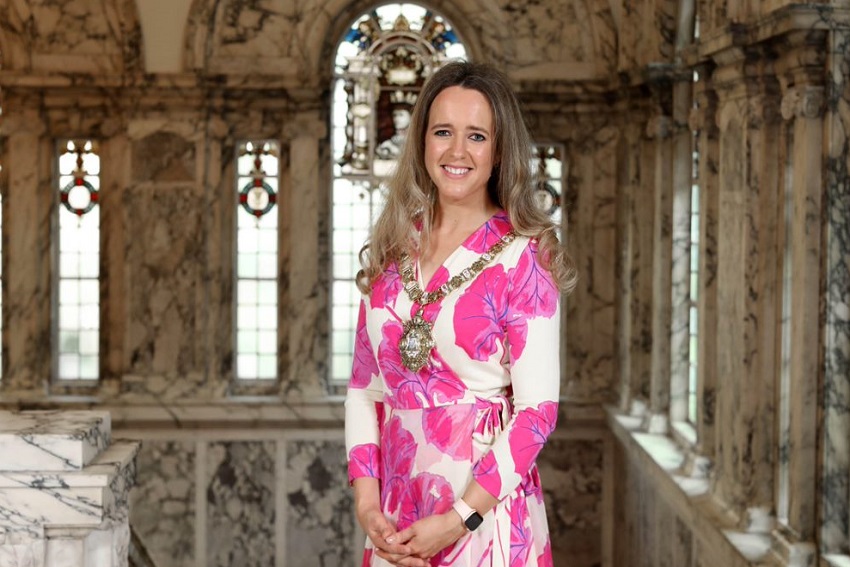 Q: What was it that motivated you to study the Masters in Digital Communications?
I always wanted to do a Masters and I think I had a bit of a chip on my shoulder that I hadn't done one.

I don't know why I chose last year to start, when I had a full-time job working in marketing, a part-time job as a local councillor, and I had just had a baby. Part of it was COVID and this realisation that a lot of it would be online. If I was ever going to manage to do a Masters, being able to do some of it online was going to help me.

But also, I think I had one of those moments of realisation that a lot of people have had during COVID about my life and what I wanted to do with it. So I was thinking, "Well, I've got an 18 month old child. I'm working full time. Politics is very demanding. It's only worth doing all of this if I feel like I'm contributing some good."

I don't want my decisions to be dictated by trying to keep a seat. I don't know how to articulate that best, but I think some of the worst politicians are paranoid ones who are only interested in keeping their seat. And the only way you maintain integrity is if you know that you could walk away at any point. In order for me to feel like I could walk away at any point, I needed more qualifications.
Q: Why did you choose Digital Communications as the course you were going to study?
In the work that I had been doing in politics, in working with children and young people, digital communication and how we communicate online and through different platforms is incredibly powerful, but also fascinating. I'm so interested in it.

So the Masters just ticked all the boxes, because it's digital communication, marketing, and leadership, and it's looking at the full spectrum. It potentially opens other career doors, but it's also so important as a politician to be able to engage with the public online.

I come from a party that is really interested in policy, and we have very long manifestos and we love a good policy document, which is a lot of detail. That doesn't mean anything to people. So how do you try and create positive change and communicate that in an accessible, digestible, meaningful way? The marketing element has just been eye-opening, because it's also given me a better understanding of business, which you need.

I think probably a lot of politicians, especially at the very local level, are very community focused and understandably so, but you need to understand economics and business because that's people and their livelihoods as well. So yes, I went for the Masters because I'm interested in communication and how we reach people, but the marketing element of it has been fascinating because it's just given me a much deeper understanding of what's actually at play.

One of my modules is on digital campaign planning, and I have one year as Lord Mayor of Belfast. If you don't plan that as a campaign then you're missing a massive trick.

So I've used a lot of what I've learnt even just in my approach of, "I have one year, I have core issues that I want to focus on, and I need to be able to communicate the work that I'm doing." Planning that and being strategic about it is essential.

I'd been toying between doing the Digital Communications one and the Public Affairs / Public Relations one and it probably would have been easy for me to do the public affairs one because I've worked in public affairs for so long, so I know it well. But this has definitely been more of a challenge and, as is so often the case, the things that are more challenging are the ones that are more worthwhile. So I am enjoying it. I'm surprised at how much the Masters has benefited me.
Q: If we go back in time can you tell us about your personal story and why you chose to get into politics?
I grew up in Zimbabwe. I lived in a society where there was gross inequality. I had the very good fortune to leave and start a new life, and to have opportunities that other people that I grew up with didn't. So I've always had a very strong sense of wanting to give back in some way.

I loved working for Anna Lo, and I had never really considered becoming a politician until I saw what she was doing. She was that connection between people and their experiences, and how to fix what was going wrong and how to make people's lives better. So I really saw that embodied in Anna, and it made me think, "Oh, well that's a wonderful vehicle for making a difference."

Even if you didn't agree with what she said, she was warm and she was honest and she had integrity. I was just really inspired by her and how she did things, and I wanted to be like her. She's to blame. She's the reason why I got involved. She was very encouraging, always has been.

She's still like a mentor of mine and is very supportive. But I had a certain idea of what politicians were like, and Anna shattered that. I'm quite a positive, optimistic person anyway. But I think, especially growing up in a society where the inequality is just extreme, and I had been very privileged... white African is the definition of white privilege.

So I always knew that I was very lucky, and I just felt that this was part of the luck in my life, to be able to start again and to have something new. I just feel like I'm generally quite a lucky person anyway. I'm the Mayor now, so quite lucky.
Q: What has your experience of living in Northern Ireland been like?
So often Northern Ireland is viewed through the lens of the Troubles, and that's not my experience of it. I'm someone who moved here in 2000, and I've only ever known it as a City that really welcomed me and gave me a home, and has been good to me.

Everyone here carries trauma in a different way, because of course you would. What's happened in the past has impacted everyone who was born here and raised here in different ways. But the fact that there's still that resilience and people have come through all of that and still can be so kind and self-deprecating and funny.

There's no one better, there are no people better than people in Belfast. There's a buzz and there's a life. There's just so much creativity and hope in the city.

I've lived here for 20 years, so I'm more of a Belfast girl than a Zimbabwean one.

I see not being born here as a wonderful tool because I can have that outsider's perspective. I think that it's a really positive message to give to outsiders to our city - they'll let a blow-in become the Mayor of Belfast, and that's fine and it's embraced.

So I think it sends a very positive message to newcomers or people who feel like they don't fit in.
Q: What are you hoping to achieve in your time as Mayor of Belfast?
The Masters has definitely helped me distil what I'm trying to communicate.

I think that as an elected representative, I've maybe built a reputation with those that I work with on caring about women's issues, caring about BAME communities, caring about the environment, arts.

There are a lot of issues that I've worked on, and I could quite happily spend my whole year just doing more of that work, but to do them justice and to have an impact, I really needed to think of three things that I was going to focus on. And it wasn't just what I wanted to focus on for my own personal gain, but what the council needed as well. I think that the Masters has really helped me think in terms of an organisation as opposed to just an individual.

My first area of focus is children and young people. It's been such a difficult time for them, but making sure their experiences and their views are highlighted is really important - and that means bringing their voices into our council meetings.

I'm starting each monthly council meeting with a letter from a child or young person about their hopes for the city, what they'd like us to work on. Then it's a focus on the environment.

I'm going to be working with a number of environmental organisations. I'm very interested in promoting cycling, and I'll have a monthly environmental challenge that's going to be set for me by a different organisation each month. That's about demonstrating that the changes we need to make start with individual choices and are not the sole responsibility of governments and legislators.

The third area of focus is a recognition that what people need is faith in politicians being able to work together and a better understanding of what their council offers. Actually what people need is faith in the institutions, and knowledge that the rates they are paying are going into something beneficial and useful. It's not just collecting the bins. There's so much more to council.

I think at the moment, people are crying out for collaborative leadership, and to see that politicians not only can work together, but they do. And I think that we do do that in Belfast, so I want to showcase that. And my legacy... If I can show Belfast to be a more inclusive, more forward-thinking kind of city, if people feel like there's been any change in that area at the end of the year, then I'll be delighted.

You can't be what you can't see, and I think political parties have to do a lot more in engaging and promoting people of a wide range of backgrounds into the ranks and into positions of responsibility. We're an entirely white council. That's crazy. A quarter of councillors are women. That's crazy. There's just a lot that we need to do to improve things, but I think we're going in the right way.

For so long, politics has always been about constitutional aspiration, but people want to talk about poverty. They want to talk about the environment. They want to talk about cycling infrastructure, and how we're creating a better society for everyone. I think for a lot of young people especially, regardless of what the constitutional outcome is of this place, we're always going to share it. We're always going to have to live together.

The issues about health, about education, the thematic issues, are so important. And I think how we engage on that level is really important, and not to always kind of reduce it to orange and green when it comes to election time. To keep talking about issues that matter.
Q: The new Ulster University campus in Belfast is nearing completion - what do you think that can do for the City in the future?
I think it represents the ambition of the city. The Belfast agenda or community plan for the city is to have a more vibrant city centre, to have more people living in the city centre, to reclaim the high streets and to think about things in a different way.

I mean, from a Belfast perspective, it's wonderful, because how we open the city up and connect it to other parts of the city is exactly what I want to do with the year, to show the city as one whole as opposed to the kind of quadrants that it's often looked at.

I think that if you look at Belfast as a city, just how it's constantly changing and growing and evolving, that's really exciting and really hopeful. So many young people, we educate them and then they go and they don't want to come back, or they go and try and find other opportunities. We lose talent that way, and we need to encourage those people to stay.

But it can also serve to inspire people to dream bigger - people who don't have an aspiration to go into further education and enjoy all the opportunities that brings. The visibility of the new campus building in Belfast can help to lift the ambitions of everyone in the city and in Northern Ireland as a whole - and that can only bring positive change for everyone who calls this place home.

From a purely personal point of view I'm delighted that it's going to be opening, because when I have to return to classes, it's going to be much easier for me to get from City Hall across town to my classes.
This article was created from a recorded video call with Kate Nicholl on behalf of Ulster University.