Workforce Development in Northern Ireland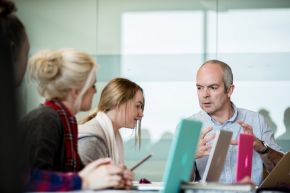 Changing Practice through, Skills, Partnership and Higher Level Apprenticeships
Ulster University invites you to a Workforce Development Seminar bringing together policy makers, employers and educators to demonstrate the benefits and impact of employer/educator collaborations.
Working in partnership is key to growing the Northern Ireland economy, shaping it around high value and high skill activities.
This seminar will enable you to hear from local and national policy makers about the current skills landscape, funding and opportunities to shape skills and apprenticeship delivery in the future. It will highlight innovative partnerships at both a National and Local level between employers and educators, and identify the benefits that grow from these collaborations.
Benefit from networking opportunities over a light lunch.
There is no seminar fee for this event. It is funded by Ulster University as part of Widening Participation of the Northern Ireland Workforce.
Register