Optometry Taster Day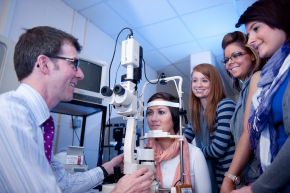 Date

Time

13:00 to 17:00

Location

Coleraine campus


School of Biomedical Sciences

Organiser

Patrick Richardson

Contact details

+44 (0)28 7012 4739
p.richardson@ulster.ac.uk
Register
We are offering year 13/14 students a 'Taster Day' at our Coleraine Campus 'Optometry Clinic'.
Students currently studying science based subjects who have an interest in working with the public will enjoy this opportunity to learn more about the growing and developing Optometry profession. During the taster day you will learn in a short lecture, bespoke practical and clinical session what it takes to be an optometry student. There will also be an opportunity to meet with staff and our current students and get an insight into the course.
As places are limited, please ensure you register at least one week in advance of the date.
Register